Search all Equipment Experts Listings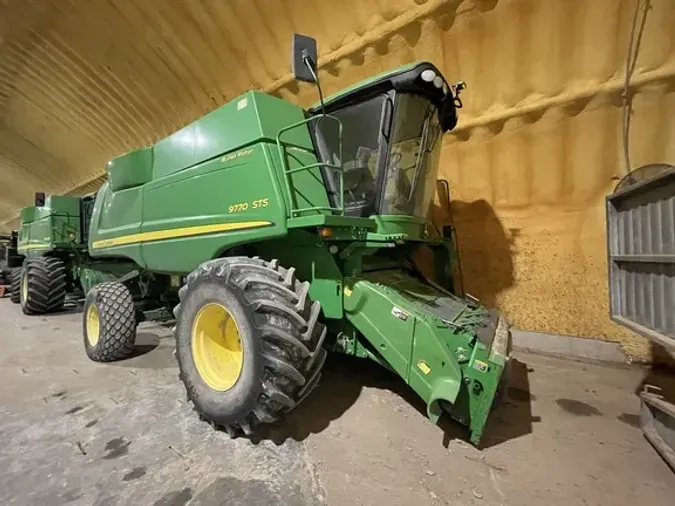 2009 John Deere 9770 STS For Sale
2,921 hrs
Stock#: I22Y0104
VIN#: H09770S731424
2009 John Deere 9770 STS For Sale
2,921 hrs
Stock#: I22Y0104
VIN#: H09770S731424
Equipment Specification
Description
2009 John Deere 9770 STS, 2847 Eng hrs, 2233 sep hrs.
Unit of Measurement
Extended Warranty (Powertrain) - 36m/750h - Expires 5/29/2012

Deluxe Cab, Contour-Master Feederhouse with Reverser and High-Torque Variable Speed Drive System, 2.75 In. (70 mm) Feederhouse Lift Cylinders, Premium Header Control Package, Small Wire/Small Grain Concave (Not available for Australia), General Purpose Adjustable Chaffer and Bottom Sieve, General Purpose Grain Handling System with High Capacity Unloading System and 22.5 Ft. (6.9M) 1-Piece Unloading Auger (Not available for Export), Wing Blade Wide-Spread, Fine Cut, 2-Speed Chopper with Integrated Chaff Spreader and Single-Point Adjustable Knife Bank, Heavy-Duty Final Drive and Heavy-Duty Hydrostatic Drive System, 800/65R32172A8R1W, Adjustable Rear Axle with Heavy-Duty Spindles, 18.4R-26 In.Two StarCleatR1, Clean Grain Auger and Fan Bottom Protection Shielding, 16 In. (400 mm) Axle Spacer, Goodyear Brand Preferred
Contour Master (Lateral Tilt Feederhouse)
Equipment Insights
$79,665
Previous

(09/01/22)
$65,811
Current
About the Dealer
Four Generations - Over 100 Years in the John Deere Business Stotz Equipment is a family-owned John Deere dealership that was established as Arizona Machinery in 1947 by Fred Elder and two partners. Although the name has since changed, the family is the same. Today, Stotz Equipment operates out of 25 locations in 8 western states. It still holds true to the founding values of the Elder and Rosztoczy families: Quality, Integrity, Loyalty, Caring, and Community. Their vision is to be the best equipment dealer in the world. To achieve this, they strive to provide exceptional customer service. They have made it their mission to make life easier for their customers by building long-term relationships, offering flexible solutions, providing their customers with uptime availability, and minimizing customer effort. They truly aim to create a better life for their families, communities, and those connected to the land.
View more listings from Stotz Equipment
Listing ID: 8800045