Search all Equipment Experts Listings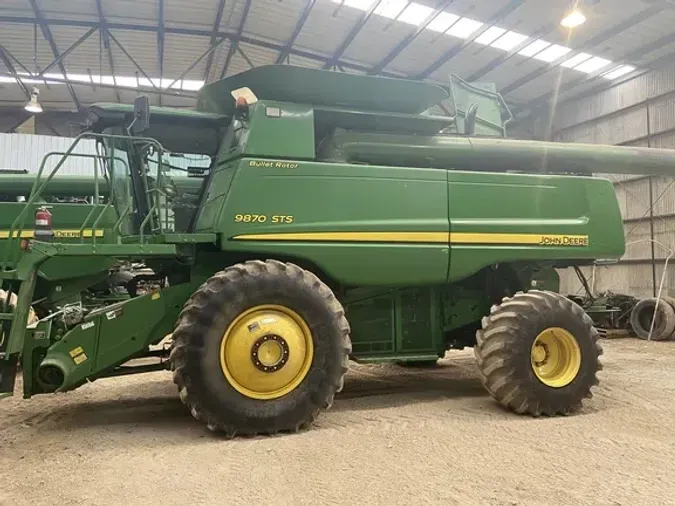 2009 John Deere 9870 STS For Sale
2,626 hrs
Stock#: 191544
VIN#: H09870S730522
2009 John Deere 9870 STS For Sale
2,626 hrs
Stock#: 191544
VIN#: H09870S730522
Equipment Specification
Description
2009 JOHN DEERE 9870 STS....4WD, Duals, Chopper, Powercast tailboard ....new fuel injection system butNeeds Engine Rebuild .......
Unit of Measurement
Contour Master (Lateral Tilt Feederhouse)
Performance Plus Custom Custom Cutter or Small Grain, Corn and Soybean Customer Requires small grain harvesting capability Requires advantages of extended wear components, Premium Cab, Contour-Master Feederhouse with Reverser and CommandTouch Multi-Speed Drive System, 3.15 In. (80 mm) Feederhouse Lift Cylinders, Custom Cutters Extended Wear Concave and Extended Wear Separator Package, General Purpose Adjustable Chaffer and Bottom Sieve, Extended Wear Grain Handling System with High Capacity Unloading System and 22.5 Ft. (6.9M) 1-Piece Unloading Auger (Not available for Export), Wing Blade Wide-Spread, Fine Cut, 2-Speed Chopper with Integrated Chaff Spreader and Single-Point Adjustable Knife Bank, Heavy-Duty Final Drive and Heavy-Duty Hydrostatic Drive System, 900/65R32172A8Cane & RiceR2Radial, Adjustable Rear Axle and 2-Speed, 4-Wheel Drive, 28L-26 In.12PRCane & RiceR2, 16 In. (400 mm) Axle Spacer, Goodyear Brand Preferred
Equipment Insights
$59,900
Previous

(07/30/22)
$55,900
Current
About the Dealer
Wright Implement was established in 1936 on a farm in Harned, KY and currently expanding with 16 locations throughout Kentucky and Indiana. At our dealership it is our mission to develop customers for life by providing the best choice of products and highest level of service to the farming, commercial, residential, and construction communities. We strive to exceed our customer's expectations in all that we do. We encourage you to explore our website and discover just why our dealership is your best choice for quality products and service.
View more listings from Wright Implement
Listing ID: 8422319