Search all Equipment Experts Listings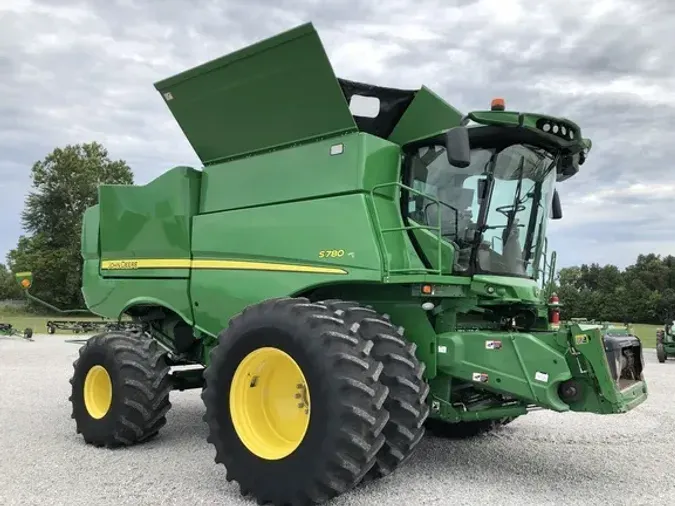 2018 John Deere S780 For Sale
1,706 hrs
Stock#: 323809
VIN#: 1H0S780SPJ0800766
2018 John Deere S780 For Sale
1,706 hrs
Stock#: 323809
VIN#: 1H0S780SPJ0800766
Equipment Specification
Description
Corn/Bean/PRWD/Duals/Chopper/Yield Monitor/Contour Master (Lateral Tilt Feederhouse)/Fore/Aft/Active Yield/Advisor Package/Powercast Tailboard/Power Folding Bin Extension/Header: No/NO RECEIVER INCLUDED, Custom Configuration/Premium Cab/Premium Cloth Seat with Swivel/LED Lighting Package & Header Extremity Lights/Basic Radio Package/Generation 4 CommandCenter 10 in. Color Display/CommandCenter Premium Activation/Harvest Mobile Ready/Combine Advisor Package/ActiveYield PLUS Moisture and Yield Sensors/ProDrive Transmission with Harvest Smart Feedrate Control/Powered Rear Axle, 2-Speed 4-Wheel Drive/202kw CommandTouch Multi-Speed Drive System, Dual-tilt Cylinders - 3.50 In. (90 mm) Lift Cylinders w/ Fore Aft Tilt/Round Bar Concave/Dyna-Flo Plus Cleaning Shoe Deep Tooth Adjustable Chaffer and Bottom Sieve with TouchSet (Electric Shoe Adjust)/TriStream Rotor Configuration Regular Wear (Densepack Ready)/Regular Wear Grain Handling System/Power Folding Grain Tank Covers/26 Ft. (7.9M) Unloading Auger/Deluxe Residue - In-cab operator controlled PowerCast Powered Tailboard with wind compensation/750/65R26 Steering/650/85R38 R1W Duals /Final Tier 4 Certified Engine/SideHill Performance Package/Additional "Full" Grain Tank Sensor/Extended Warranty June 1, 2022, 48M/2000H EXTENDED WARRANTY/POWERTRAIN
Unit of Measurement
Yield Monitor, Contour Master (Lateral Tilt Feederhouse), Active Yield, Fore/Aft, Advisor Package, Powercast Tailboard, Power Folding Bin Extension
http://www.machinefinder.com/eval/af82302934a226fbd9b9-447554

48M/2000H EXTENDED WARRANTY/POWERTRAIN

NO RECEIVER INCLUDED, CustomConfiguration/, PremiumCab/, Premium Cloth Seat with Swivel/, LED Lighting Package & Header Extremity Lights/, BasicRadio Package/, Generation 4 CommandCenter 10 in. Color Display/, CommandCenter Premium Activation/, Harvest Mobile Ready/, Combine Advisor Package/, ActiveYield PLUS Moisture and Yield Sensors/, ProDrive Transmission with Harvest Smart Feedrate Control/, Powered Rear Axle, 2-Speed 4-Wheel Drive/, 202kw CommandTouch Multi-Speed Drive System, Dual-tilt Cylinders - 3.50 In. (90 mm) Lift Cylinders w/ Fore Aft Tilt/, Round Bar Concave/, Dyna-Flo Plus Cleaning Shoe Deep Tooth Adjustable Chaffer and Bottom Sieve with TouchSet (Electric Shoe Adjust)/, TriStream Rotor Configuration Regular Wear (Densepack Ready)/, Regular Wear Grain Handling System/, PowerFolding Grain Tank Covers/, 26 Ft. (7.9M) Unloading Auger/, Deluxe Residue - In-cab operator controlled PowerCast Powered Tailboard with wind compensation/, 750/65R26 Steering/, 650/85R38 R1W Duals /,
About the Dealer
Hutson is a 13 location John Deere dealership in Indiana, Western KY, Illinois and Tennessee. Hutson specializes in sales and service of large ag equipment, small tractors, commercial worksite products from John Deere
View more listings from Hutson
* This calculator is intended for use as a guide only. This simulation and the resulting calculations do not constitute any form of agreement, application, or offer from the seller or Randall-Reilly. The figures and formulae used may change at any time without notice. Calculated results are for illustrative purposes only and accuracy is not guaranteed. Title and other fees are not included in the calculation. Other taxes may apply. Randall-Reilly accepts no responsibility for any losses arising from any use of or reliance upon any calculations or conclusions reached using the calculator.
Listing ID: 8754845