Search all Equipment Experts Listings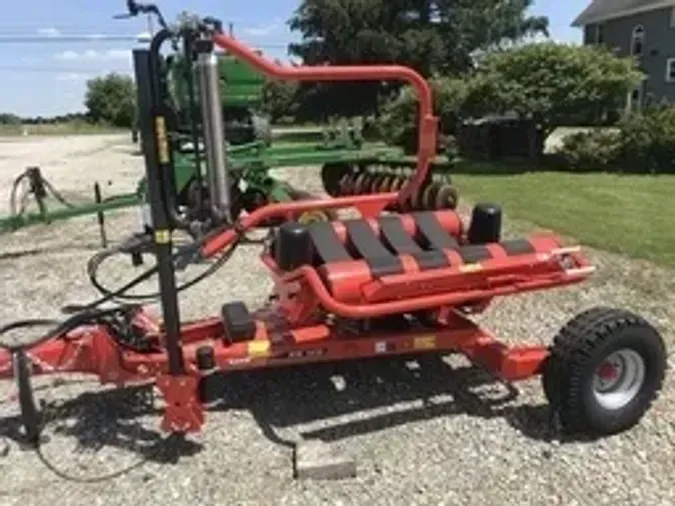 2023 Kuhn RW1410M For Sale
2023 Kuhn RW1410M For Sale
Equipment Specification
Description
2021 KUHN RW1410M BALE WRAPPER, The mid-range, standard pre-stretch, RW 1410 is the most versatile self-loading round bale wrapper. The RW 1410 will lift bales up to 150 cm in diameter and 1000 kg, due to its unique low-profile chassis design with wide track wheels. The new design of the RW 1410 has a wrapping table with 4 belts, stronger frame and high grip film cutter for optimal results. The RW 1410 can be operated via the 3-handle cable control or computer control box.Options available for the RW 1410 model are a bale turner, allowing the bale to be discharged on to its flat end, RF remote control, and a film roll holder for 4 rolls. The RW 1410 can be equipped with the innovative patented* e -TWIN pre-stretcher. CONTACT ETHAN DRZAZGA WITH AG PRO MILLERSBURG TODAY AT FOR MORE INFO.
Unit of Measurement
high grip film cutter, 3-handle cable control or computer control box, 4 belts and 2 rollers, Manual 3 lever/cable controlled or computer controlled
About the Dealer
Ag-Pro Companies, a certified John Deere Dealership, has 79 locations throughout the U.S. in Alabama, Georgia, Florida, South Carolina, North Carolina, Tennessee, Ohio and Kentucky. Ag-Pro offers a range of new and used farm and lawn care equipment for both residential and large corporate farms. Whether you are a large property owner looking for dependable commercial/agricultural equipment, a professional landscaper searching for a new zero-turn lawn mower or a home owner looking a new lawn mower, our experienced staff and service departments are available to offer you the best customer service or find you a custom solution. "Strong on Service" is more than a slogan, it's our way of life. Although we began with just one location in 1958, we've expanded through growth and acquisition to better serve our customers with stronger buying power and a larger selection of equipment with lower prices. Based out of Boston, Georgia, Ag-Pro is now one of the largest John Deere dealerships in the U.S. with locations near you in the southeast, Ohio and Kentucky. Call or stop in to any location today to book a service appointment, order a part or test-drive a tractor.
View more listings from Ag - Pro
Contact by Text Message
A Virtual Assistant will relay your contact information and message to the dealer.
Listing ID: 8600141