Search all Equipment Experts Listings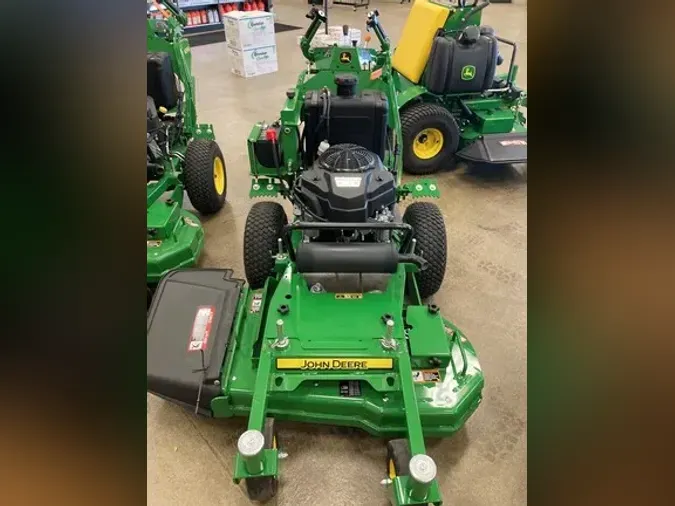 2023 John Deere W36R For Sale
1 hrs
Stock#: 18014764
VIN#: NA
2023 John Deere W36R For Sale
1 hrs
Stock#: 18014764
VIN#: NA
Equipment Specification
Description
36-inch floating mower deck, Powerful 14.5 hp V-twin engine, Self-propelled hydrostatic drive system, Easy-to-use controls for operator comfort and convenience, All of the controls are located within comfortable reach of the operator. Simplified operation of each control offers superior convenience, productivity, and safety:Color-coded and clearly marked levers, switches, and buttons enable simplified operation. Bilingual decals in English and Spanish are provided. The operator presence system requires that one of the bails must be depressed to operate the unit; the machine must be in neutral and the power take-off (PTO) must be disengaged to start. Operator presence control levers are recessed into control handle when engaged, provides a smooth contour and comfortable handle to hold during operation. Separate choke and throttle This takes the guesswork out of choke operation, with less chance of fowling the spark plugs. The W61R model with electronic fuel injection (EFI) does not require a choke. Electric PTO clutch on the engine powers the mower deck. The PTO switch on the dash is easy to see and use.John Deere commercial mower decks have always demonstrated quality, performance, and durability. Each commercial walk-behind mower is equipped with a high-quality fabricated mower deck:10-gauge, 0.135-in. (3.42-mm) fabricated steel deck top with added 10-gauge, 0.135-in. (3.42-mm) spindle mounting plate 7-gauge, 0.19-in. (4.8-mm) side skirts with reinforcement bar The fabricated, floating mower deck delivers an extremely high-quality cut in diverse conditions:Floating suspension enables the best possible cut Reinforced front lower edge gives strength and durability Deep-deck design for superior capacityCALL CODY:
Unit of Measurement
Equipment Insights
$7,499
Previous

(11/08/22)
$7,899
Current
About the Dealer
Ag-Pro Companies, a certified John Deere Dealership, has 79 locations throughout the U.S. in Alabama, Georgia, Florida, South Carolina, North Carolina, Tennessee, Ohio and Kentucky. Ag-Pro offers a range of new and used farm and lawn care equipment for both residential and large corporate farms. Whether you are a large property owner looking for dependable commercial/agricultural equipment, a professional landscaper searching for a new zero-turn lawn mower or a home owner looking a new lawn mower, our experienced staff and service departments are available to offer you the best customer service or find you a custom solution. "Strong on Service" is more than a slogan, it's our way of life. Although we began with just one location in 1958, we've expanded through growth and acquisition to better serve our customers with stronger buying power and a larger selection of equipment with lower prices. Based out of Boston, Georgia, Ag-Pro is now one of the largest John Deere dealerships in the U.S. with locations near you in the southeast, Ohio and Kentucky. Call or stop in to any location today to book a service appointment, order a part or test-drive a tractor.
View more listings from Ag - Pro
Contact by Text Message
A Virtual Assistant will relay your contact information and message to the dealer.
Listing ID: 8747603