Search all Equipment Experts Listings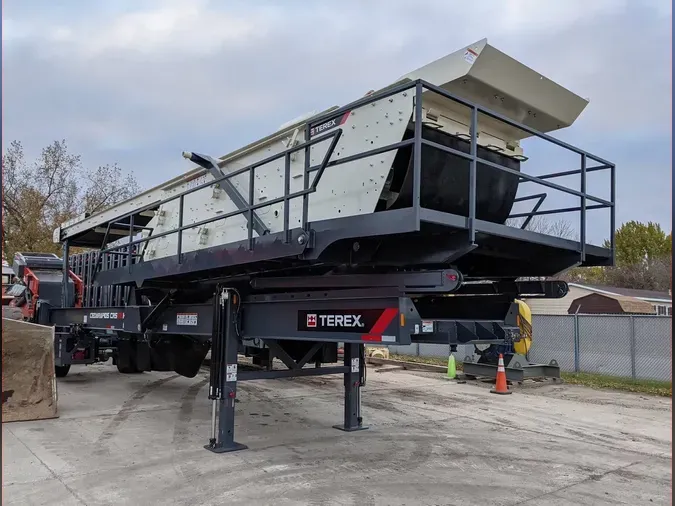 2021 Simplicity TX618HF For Sale
193 hrs
Stock#: E00061148
VIN#: TRX2618HJOKMJ1515
2021 Simplicity TX618HF For Sale
193 hrs
Stock#: E00061148
VIN#: TRX2618HJOKMJ1515
Equipment Specification
Description
SIMPLICITY TX618HF HIGH FREQUENCY SCREEN PLANT EQUIPPED AS PER BELOW:- 6- X 18- 2-DECK HIGH FREQUENCY SCREEN WITH 6- END TENSION DECK SECTIONS. INCLUDES 2ND DECK HAND ACCESS PORTS. STANDARD SCREEN CONTAINS (3) 6- TOP DECK SECTIONS & (2) 6- 2ND DECK SECTIONS- HEAVY I-BEAM SEMI-TRAILER CHASSIS FRAME WITH ADJUSTABLE SLOPE PIVOTING SCREEN SUPPORTWITH SINGLE AXLE SUSPENSIONFOUR TIRESFAIL SAFE SPRING APPLIED AIR BRAKESBRAKE AND DIRECTIONAL SIGNALSAND SPLASH GUARDS- HYDRAULIC ADJUSTABLE SLOPE SCREEN SUPPORT; HORIZONTAL TRAVEL/MAINTENANCE POSITION & OPERATES BETWEEN 35 AND 45 DEGREESINCLUDES PATENT PENDING MAINTENANCE LINK WITH TELESCOPING CONVEYOR SUPPORTLEG- 36" X 35- 10 HP FEED CONVEYOR INTEGRAL SELF ALIGNING DISTRIBUTION PLATE.- SELF ALIGNING "CHAINLESS" DISCHARGE LIPS WITH (2) FLOP GATES IN TOP DECK LIP TO BLEND 50% TO BOTTOM DECK LIP. LIPS DIRECT DECK PRODUCTS TO DISCHARGE CHUTES WITH RUBBER BOOTS- HINGED DIAMOND PLATE SCREEN FEED PLATFORMSTAIRS WITH HAND RAILS BOTH SIDES OF SCREEN AND OPERATORS PLATFORM WITH LADDER- UNDER-SCREEN FINES HOPPER WITH 1/4" THICK BOLTED UHMW LINERS AND RUBBER DISCHARGE BOOT- ENCLOSED GAS POWERED HYDRAULIC POWER UNIT FOR SCREEN SUPPORT LIFT AND 48" STROKE LIFTING JACK LEGS- (4) 48" STROKE PINNED SUPPORT LEGS TO RAISE PLANT UP TO 36" HIGHER OFF GROUND- STANDARD PAINT: 2-TONE GRAPHITE GRAY (RAL 7024) AND WHITE (RAL 1013)- DOES NOT INCLUDE SCREEN CLOTH- FIXED SPEED SWITCHGEAR NEMA 4 PANEL WITH SEPARATE TOP DECK AND BOTTOM DECK CONTROLS. INCLUDES CCM AUTOMATIC MOTOR CONTROLS & DIAGNOSTICS WITHIEC STYLE MOTOR STARTERS FOR SCREEN AND FEED CONVEYORAND (3) 25 HP OFF-PLANT CONVEYORS.INCLUDES PANEL MOUNTED OFF-PLANT RECEPTACLES AND MATING PLUGSE- STOP BUTTONAND HOUR METER150- OF MAIN POWER CORD.- GUARDING: FOR DRIVE AND TAIL PULLEYSV-BELT DRIVE AND RETURN IDLERS. GUARDS MAY NOT MEET ALL LOCAL CODES; CUSTOMER IS RESPONSIBLE TO HAVE GUARDINGINSPECTED.
Specific Details
No specification information is available for this equipment. Consider contacting the dealer to receive additional information.
Equipment Insights
$230,500
Previous

(08/23/22)
$250,000
Current
About the Dealer
Our company was founded in 1984 by four former employees of General Diesel and Equipment. Our primary focus has been to supply heavy construction and aggregate equipment to the construction, mining, oil exploration industries, as well as the municipal governments in North Dakota, South Dakota, Minnesota and Iowa. Starting with one location and 22 employees in 1984, we have grown to 250+ employees in ten U.S. locations including Fargo, Minot, Bismarck and Williston ND; Rapid City and Sioux Falls, SD; Shakopee, Duluth and Hibbing, MN; and Urbana, IA. We also have two locations in Canada in Regina, SK and Winnipeg, MB.
View more listings from General Equipment and Supplies
Contact by Text Message
A Virtual Assistant will relay your contact information and message to the dealer.
Listing ID: 3921706