Search all Equipment Experts Listings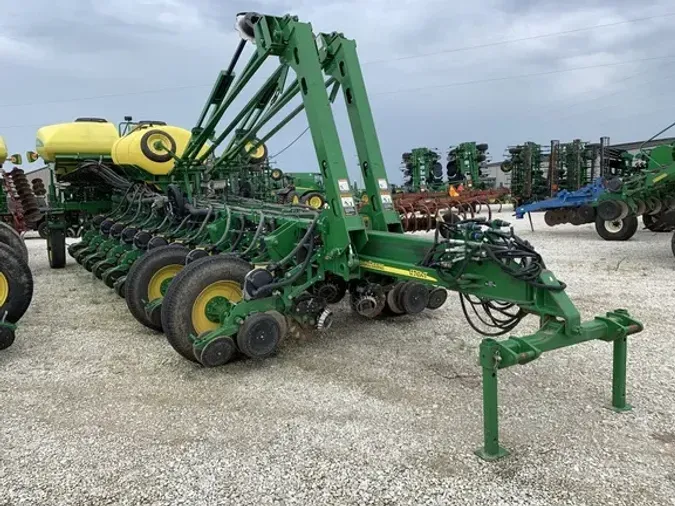 2014 John Deere 1770NT For Sale
Stock#: 175580
VIN#: 1A01770CLEM755863
2014 John Deere 1770NT For Sale
Stock#: 175580
VIN#: 1A01770CLEM755863
Equipment Specification
Description
2014 JOHN DEERE 1770NT...24 ROW 30" SPACING...CCS W/ MINI HOPPERS...HYDRAULIC DRIVE...ROW COMMAND CLUTCHES...SEEDSTAR XP...ACTIVE PNEUMATIC DOWNFORCE...RUBBER TIRE CLOSING WHEELS...COMBO MARTIN FLOATING ROW CLEANERS WITH NO-TILL COULTERS...JD CENTRAL INSECTICIDE SYSTEM W/ 450 GAL LIQUID TANK...PROMAX 40 CORN METERS...SOYBEAN METERS...NEW OPENERS BEFORE 2022 SEASON, Before driving to see this item, please call or email to confirm availability.
Unit of Measurement
English Operators Manual and Decal Kit, Central Commodity System, Markers with 16 In. Notched Disks, Depth Gauging Bandsand Control Independent of Planter Lift, Variable Drive with Two Hydraulic Motors with Half-Width Disconnect, Two Point Hitch, Pro-Shaft Drive for Pro-Series XP Row Units with RowCommand Clutches, Mini Seed Hoppers, Tru-Vee Openers with Single Walking Gauge Wheels, Rubber Tire Closing Wheels, SeedStar XP Monitor System Less Tractor Harness, Less Display, Less Radar, Regular Seed Tube with AccuCount Sensor, Active Pneumatic Down Force System, Steel Scrapers for Tru-Vee Openers, Unit Mounted Coulter with 0.7 In. 13 Fluted Blades, Regular Parallel Arms, Insecticide Tank and Mounting Bracket, Tractor Attaching Components for 8000, 8010, 8020, 8030 and 8R Series Wheel and Track Row Crop Tractors, ProMax 40 Flat Disks, Soybean Seed Metering Disk
SLOAN IMPLEMENT COMPANY, INC.
About the Dealer
Established in 1931, Sloan Implement is one of the largest John Deere dealerships in the world. With 22 locations and 500+ employees in Illinois and Wisconsin, Sloan's dealerships provide new and used John Deere equipment, parts, and service to customers around the world.
View more listings from Sloan Implement Co
Listing ID: 9167933