Search all Equipment Experts Listings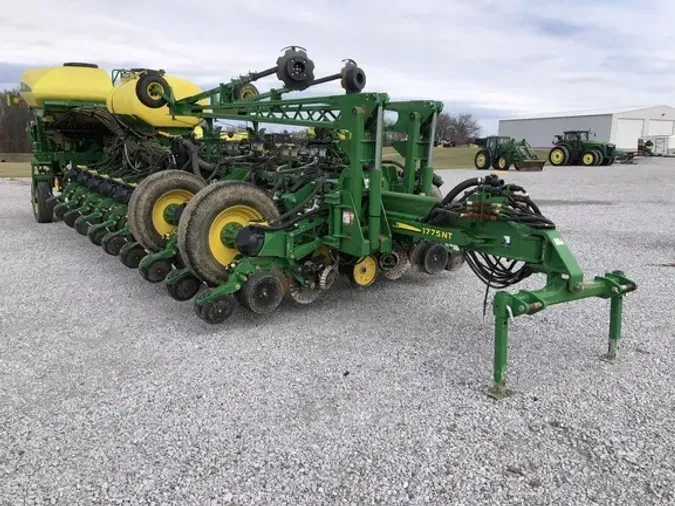 2018 John Deere 1775NT For Sale
Stock#: 339932
VIN#: 1A01775CCHM775104
2018 John Deere 1775NT For Sale
Stock#: 339932
VIN#: 1A01775CCHM775104
Equipment Specification
Description
Rows: 24/Row Spacing: 30 in/Frame: Flex Fold/Metering System: Exact Emerge/Hopper: Central Fill System/Row Command: Yes/Electric Drive/ExactEmerge Package/Central Commodity System/Liquid Fertilizer and Frame Mounted Single Disk Fertilizer Openers/Two Point Hitch/Electric Drive with Planter Power Generation/Electric Drive ExactEmerge Meter/Tru-Vee Openers with Single Walking Standard Gauge Wheels/Steel Scrapers/Mini Seed Hoppers with High-Performance Meter/Hydraulic Down Force System/Rubber Tire Closing Wheels/SeedStar 4 HP Monitor System for ExactEmerge with Settings Manager, Mobile Row Unit Runoff and Easy Fold/BrushBelt Delivery System for High Performance Meter/Unit Mounted Coulter with 0.63 In. 25 Fluted Blades/Markers with 16 In. Notched Disks, Depth Gauging Bands and Control Independent of Planter Lift/Long Parallel Arms/Frame Weight Distribution/Remote Hydraulic Outlet at rear of the Planter/Rock Guards/Tire Scrapers for Four Main Frame Wheels
Specific Details
No specification information is available for this equipment. Consider contacting the dealer to receive additional information.
About the Dealer
Hutson is a 13 location John Deere dealership in Indiana, Western KY, Illinois and Tennessee. Hutson specializes in sales and service of large ag equipment, small tractors, commercial worksite products from John Deere
View more listings from Hutson
Contact by Text Message
A Virtual Assistant will relay your contact information and message to the dealer.
Listing ID: 8980327