Search all Equipment Experts Listings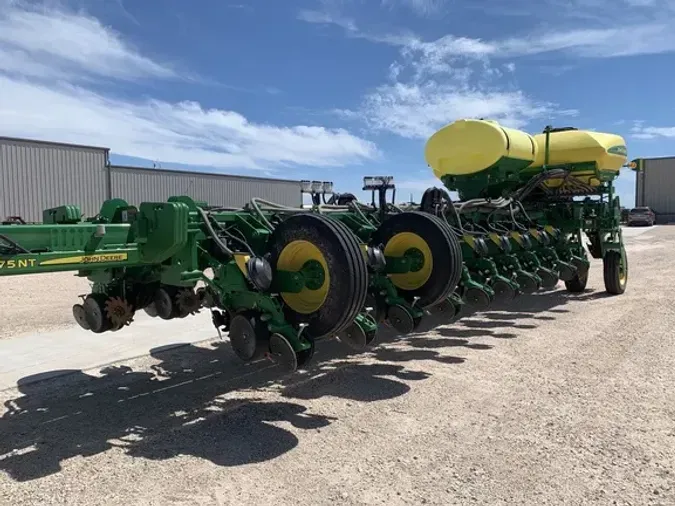 2018 John Deere 1775NT For Sale
Stock#: 239814
VIN#: 1A01775HCJM780224
2018 John Deere 1775NT For Sale
Stock#: 239814
VIN#: 1A01775HCJM780224
Equipment Specification
Description
2018 JD 1775NT 24R30 CCS ExactEmerge planter. Seedstar 4. Pneumatic downforce with row command. Screw adjust trash whippers. Comes with corn, cotton, and sorghum bowls. SureFire in furrow fertilizer system with 500 gal tank.For more information, contact Western Equipment.
Unit of Measurement
ExactEmerge Package, Connect Mobile Ready, Central Commodity System, Two Point Hitch, Electric Drive with Planter Power Generation, Electric Drive ExactEmerge Meter, Tru-Vee Openers with Single Walking Standard Gauge Wheels, Steel Scrapers, Mini Seed Hopperswith High-Performance Meter, Active Pneumatic Down Force System, Rubber Tire Closing Wheels, SeedStar 4 HP Monitor System for ExactEmerge with Settings Manager, Mobile Row Unit Runoff and Easy Fold, BrushBelt Delivery System for High Performance Meter, Screw Adjust Unit Mounted Row Cleaner, Regular Parallel Arms, ExactEmerge Corn Bowl, ExactEmerge Cotton / Popcorn Bowl, ExactEmerge Sorghum Bowl
Low interest financing available! For rate, down payment, and payment quotes, contact Western Equipment today!
About the Dealer
Western Equipment has come a long way over the last 100 years. The key is listening to and understanding our customers' needs, It's what we've done since day one. And it's what we'll always do.
View more listings from Western Equipment LLC
Listing ID: 9190361