Search all Equipment Experts Listings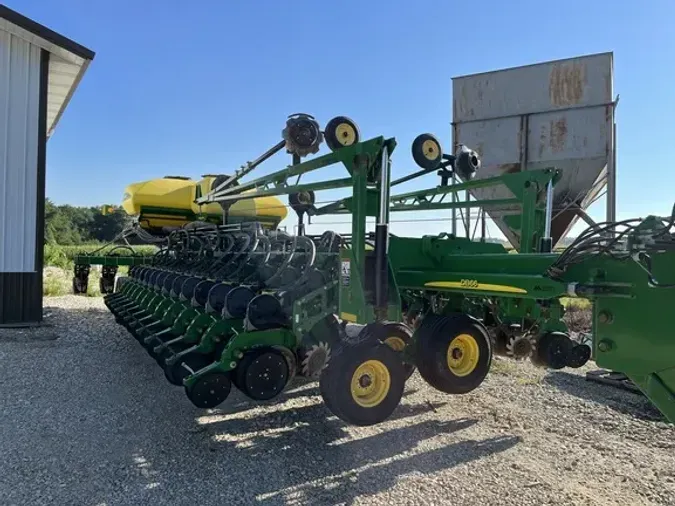 2014 John Deere DB66 For Sale
Stock#: 371633
VIN#: 1A0DB66XEEG755217
2014 John Deere DB66 For Sale
Stock#: 371633
VIN#: 1A0DB66XEEG755217
Equipment Specification
Description
JOHN DEERE DB66 PLANTER, 2014, 36R22" row spacing, central commodity system with Refuge plus (2-50 bu plus 1-25 bu tanks), variable rate hydraulic drive, 3 motor, 3 section disconnect, vacuum seed meter, mini seed hoppers, pro-shaft drive with Pro series XP row units and row command clutches, single walking gauge wheels, rubber closing wheels, SeedStar XP monitor system (less display, less radar), vacuum level sensor, regular seed tubes with AccuCount sensors, active pneumatic down force,screw adjust unit mounted row cleaners, markers w/16" notched blades, disk openers measure 14.75",ProMax 40 flat corn disk, & soybean seed disk, 445/50R22.5 duals on main frame,31X13.5-15 walking tandems on wings, Cat 4 single tine drawbar hitch.
Unit of Measurement
English Operators Manual and Decal Kit, Central Commodity System with Refuge Plus - Two 50 Bu. and One 25 Bu. Tanks, Pro Series XP Row Units Only, Two 16 In. Notched Disks with Depth Gauging Bands for DB Marker System, Variable Rate Drive with Three Hydraulic Motors and Three Section Disconnect, Pro-Shaft Drive with Pro-Series XP Row Units with RowCommand Clutches, Mini Seed Hoppers, Single Walking Gauge Wheels for Pro Series XP Row Units, Rubber Tire Closing System, SeedStar XP Monitor System Less Tractor Harness, Less Display, Less Radar, Vacuum Level Sensor for SeedStar Monitor System, Regular Seed Tube with AccuCount Sensor, Active Pneumatic Down Force System, Screw Adjust Unit Mounted Row Cleaner - Narrow, ProMax 40 Flat Disks, Soybean Seed Metering Disk
Sydenstricker Nobbe Partners, Inc.
About the Dealer
View more listings from Sydenstricker Nobbe Partners
Listing ID: 9131383