Search all Equipment Experts Listings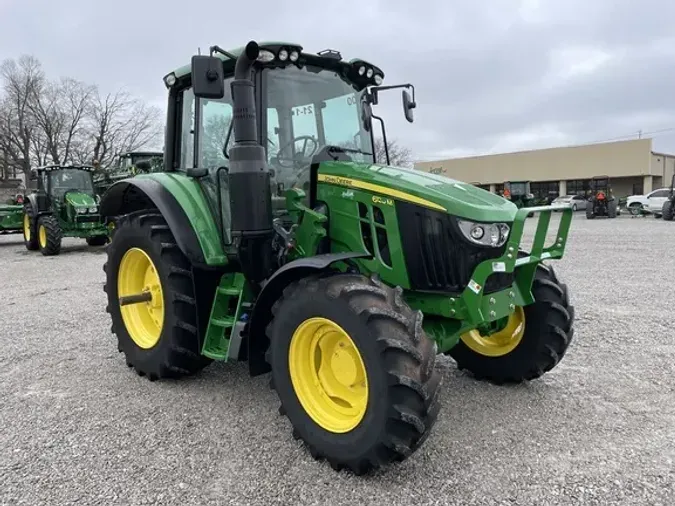 2021 John Deere 6120M For Sale
945 hrs
Stock#: 328059
VIN#: 1L06120MCMG120913
2021 John Deere 6120M For Sale
945 hrs
Stock#: 328059
VIN#: 1L06120MCMG120913
Equipment Specification
Description
Configuration: NarrowCabPartial Power ShiftMFWDRear PTO: 540/1000Tire Width: NarrowLoader ReadyPowrQuad Plus - 24/24, 40 km/h/ISOBUS Ready / GreenStar Ready/No AutoTrac Package/6M Cab - Standard Cab with RH Console/Standard Seat/Mirrors - Manual Telescopic/Standard Radio/Hydraulic Pump - 114 l/min/3 Mechanical SCVs (3 SCVs 450 Series)/Rear PTO - 540/1000 rpm/Draft Links with Telescopic Ball End - Category 2/Center Link with Ball End - Category 2/Sway Control Blocks/R&P Rear Axle - 79 mm Shaft/Cast Wheels (Cast Disk)/Rear Wheels Size 480/70R34/4WD Front Axle - Unsuspended/Adjustable Steel Wheels/Front Wheels Size 380/70R24/Toolbox/Front Fenders 4WD - Turnable/Rear Fender Extensions - Adjusted to Tire Size/Mechanical Cab Suspension/Cold Start Package II/Fuel Heater System/Fuel Tank Bottom Guard/PTO Remote Control/AutoDifflock/Light Package - Economy/Battery 12 V/174 AH/Battery Circuit Breaker/Panorama roof/M-SCV 3F (Mechanical Valve, 3 Functions), Mounting Frames/Original Warranty October 28, 2023, 24M/2000H BASIC WARRANTY
Powrquad Plus 24f/24r (25 Mph/40 Kph)
Autoquad Plus 24f/24r (25 Mph/40 Kph)

Gear Std; Axial Piston Opt.
PowrQuad Plus - 24/24, 40 km/h/, ISOBUS Ready / GreenStar Ready/, No AutoTrac Package/, 6M Cab - Standard Cab with RH Console/, Standard Seat/, Mirrors - Manual Telescopic/, Standard Radio/, Hydraulic Pump - 114 l/min/, 3 Mechanical SCVs (3 SCVs 450 Series)/, Rear PTO - 540/1000 rpm/, Draft Links with Telescopic Ball End - Category 2/, Center Link with Ball End- Category 2/, Sway Control Blocks/, R&P Rear Axle - 79 mm Shaft/, Cast Wheels (Cast Disk)/, Rear Wheels Size 480/70R34/, 4WD Front Axle - Unsuspended/, Adjustable Steel Wheels/, Front Wheels Size 380/70R24/, Toolbox/, Front Fenders 4WD - Turnable/, Rear Fender Extensions - Adjusted to Tire Size/, Mechanical Cab Suspension/, Cold Start Package II/, Fuel Heater System/, Fuel Tank Bottom Guard/, PTO Remote Control/, AutoDifflock/, Light Package - Economy/, Battery 12 V/174 AH/, Battery Circuit Breaker/, Panorama roof/, M-SCV 3F (Mechanical Valve, 3 Functions), Mounting Frames/, Original Warranty October 28, 2023, 24M/2000H BASIC WA
Equipment Insights
$112,000
Previous

(01/06/23)
$109,500
Current
About the Dealer
Hutson is a 13 location John Deere dealership in Indiana, Western KY, Illinois and Tennessee. Hutson specializes in sales and service of large ag equipment, small tractors, commercial worksite products from John Deere
View more listings from Hutson
Contact by Text Message
A Virtual Assistant will relay your contact information and message to the dealer.
Listing ID: 8894356