Search all Equipment Experts Listings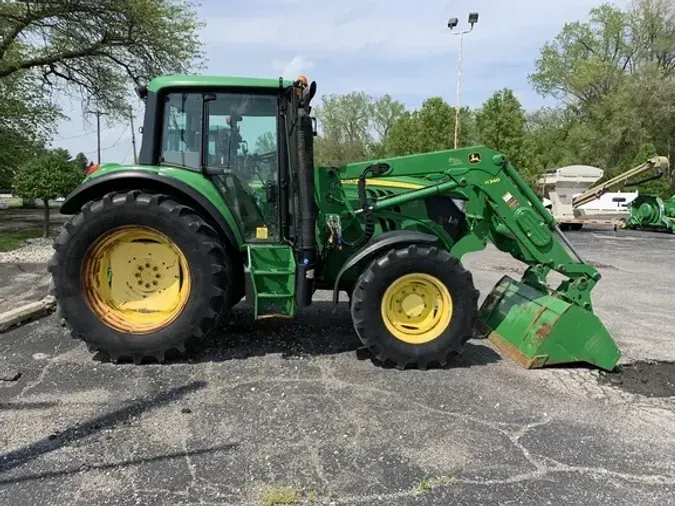 2015 John Deere 6125M For Sale
1,992 hrs
Stock#: 332808
VIN#: 1L06125MVEH817088
2015 John Deere 6125M For Sale
1,992 hrs
Stock#: 332808
VIN#: 1L06125MVEH817088
Equipment Specification
Description
Configuration: Standard/Cab/Power Reverser/MFWD/Rear PTO: 540/1000/Tire Width: Mid/Loader: Yes/Loader Ready/Standard Cab Plus/Series Tractor/PowrQuad PLUS 16F/16R Transmission with Left-hand PowrReverser (19 mph/30 km/h)/Standard Cab/Basic Specification Seat with Air Suspension/Mirrors Manually Adjustable and Telescopic/Air Conditioning/Panorama Windshield with Right-hand (RH) Door/Pressure-and-flow-compensated (PFC) Hydraulic System/2 SCV Mechanical (3 Detents - 450 Series) with Deluxe Couplers/Rear Independent 540/1000 rpm PTO/Two Telescopic Draft Links, Category 3N/Category 2/Centre Link with Ball End, Category 3/Sway Control Blocks/Flanged Axle, 8-Position Adjustable Steel Wheels/480/70R38 145A8 R1W Radial/Mechanical Front Wheel Drive (MFWD) Axle, 8-Position Adjustable Rims/420/70R24 130A8 R1W Radial/Toolbox/Front Fenders for MFWD (Rigid)/Fender Extension, 1-Piece Side and Rear Extension (Qty. 2)/Glass Roof Hatch with Sun Visor/7-Pin Signal Interface Socket/Inner Rear View Mirror/3-Pin Power Outlet Socket/Deluxe Radio/Speaker and Antenna Installation/SUN VISOR/Rear Window Wiper & Washer/Cold Start Package I/2-Function Mechanical Independent Control Valve (M-ICV) Loader Ready Package/Swinging Drawbar with Hammerstrap/Rear Hitch Remote Control/No Handbrake/PowerFill Brakes/Cup Holder
Powrquad Plus 16f/16r (19 Mph/30 Kph)

Gear Std; Axial Piston Opt.
Powrquad Plus 24f/24r (25 Mph/40 Kph)
FOAM FILLED TIRES, Standard Cab Plus/, Series Tractor/, PowrQuad PLUS 16F/16R Transmission with Left-hand PowrReverser (19 mph/30 km/h)/, Standard Cab/, Basic Specification Seat with Air Suspension/, Mirrors Manually Adjustable and Telescopic/, Air Conditioning/, Panorama Windshield with Right-hand (RH) Door/, Pressure-and-flow-compensated (PFC) Hydraulic System/, 2 SCV Mechanical (3 Detents - 450 Series) with Deluxe Couplers/, Rear Independent 540/1000 rpm PTO/, Two Telescopic Draft Links, Category 3N/Category 2/, Centre Link with Ball End, Category 3/, Sway Control Blocks/, Flanged Axle, 8-Position Adjustable Steel Wheels/, 480/70R38 145A8 R1W Radial/, Mechanical Front Wheel Drive (MFWD) Axle, 8-Position Adjustable Rims/, 420/70R24 130A8 R1W Radial/, Toolbox/, Front Fenders for MFWD (Rigid)/, Fender Extension, 1-Piece Side and Rear Extension (Qty. 2)/, Glass Roof Hatch with Sun Visor/, 7-Pin Signal Interface Socket/, Inner Rear View Mirror/, 3-Pin Power Outlet Socket/, Deluxe Radio/,
About the Dealer
Hutson is a 13 location John Deere dealership in Indiana, Western KY, Illinois and Tennessee. Hutson specializes in sales and service of large ag equipment, small tractors, commercial worksite products from John Deere
View more listings from Hutson
* This calculator is intended for use as a guide only. This simulation and the resulting calculations do not constitute any form of agreement, application, or offer from the seller or Randall-Reilly. The figures and formulae used may change at any time without notice. Calculated results are for illustrative purposes only and accuracy is not guaranteed. Title and other fees are not included in the calculation. Other taxes may apply. Randall-Reilly accepts no responsibility for any losses arising from any use of or reliance upon any calculations or conclusions reached using the calculator.
Listing ID: 8931166