Search all Equipment Experts Listings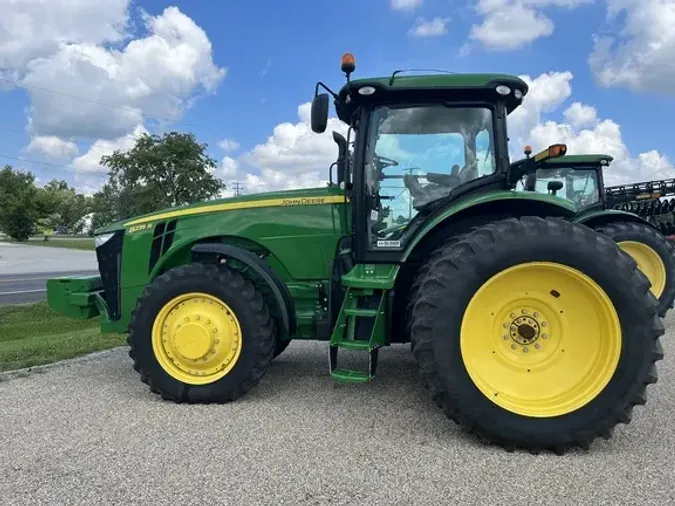 2013 John Deere 8235R For Sale
1,532 hrs
Stock#: 176133
VIN#: 1RW8235RPDP074378
2013 John Deere 8235R For Sale
1,532 hrs
Stock#: 176133
VIN#: 1RW8235RPDP074378
Equipment Specification
Description
2013 MODEL 8235R, PST 16F/4R, PREMIUM CAMMANDVIEW II CAB, DLX RADIO, 60 GPM HYD PUMP, 4 SCV'S, 540/1000 PTO, CA 3 DRAWBAR, 480/80R46 AND DUALS 70%,380/85R34 FRONT 60%, 1300 MFWD FRONT AXLE, WORK LIGHT PACKAGE, FRONT FENDERS, DUAL BEAM RADAR, COLD WEATHER PACKAGE, BATTERY DISCONNECT, 14 FRONT WEIGHTS, 1500LB INSIDE REAR WHEELS, PLANTER RETURNS, SHARP WELL CARED FOR TRACTOR, Before driving to see this item, please call or email to confirm availability.
16F/5R Speed PowerShift Transmission 42 km/h (26 mph), Touchscreen GS3 CommandCenter 7 Color Display, Video Capable, Premium CommandView II Cab with Active Seat, Deluxe Radio Package, 227.1 lpm (60 gpm) 85 cc Hydraulic Pump Displacement, Four Remote Selective Control Valves with Push/Pull Breakaway Couplersand High Pressure Relief Levers, 45 mm (1-3/4 In.) 1000 rpm (20 Spline) with 35 mm (1-3/8 In.) 540 (6 Spline) / 1000 (21 Spline) rpm PTO, 6159 kg (13600 Lb.) Capacity 3-Point Hitch (Cat 3/3N) with Sway Blocks and Quick Coupler, Cat. 3 Adjustable Swinging Drawbar with 38 mm (1.5 In.) Pin, 110 mm (4.33 In.) Diameter x 3010 mm (118.5 In.) Length, 480/80R46 In. 158A8 R1 Radial in Dual Wheel Configuration, 1300 Series Mechanical Front Wheel Drive - Group 47 Rear/Group 42 Front, 380/85R34 145A8 R1 Radial in Single Wheel Configuration, Deluxe Lighting, Fenders, Deluxe Pivoting Front for MFWD or ILS -480 mm (18.9 In.) Wide, Radar, Dual Beam Sensor, Antenna Mount and Wiring for Business Band
SLOAN IMPLEMENT COMPANY, INC.
About the Dealer
Established in 1931, Sloan Implement is one of the largest John Deere dealerships in the world. With 22 locations and 500+ employees in Illinois and Wisconsin, Sloan's dealerships provide new and used John Deere equipment, parts, and service to customers around the world.
View more listings from Sloan Implement Co
Listing ID: 9179673