Search all Equipment Experts Listings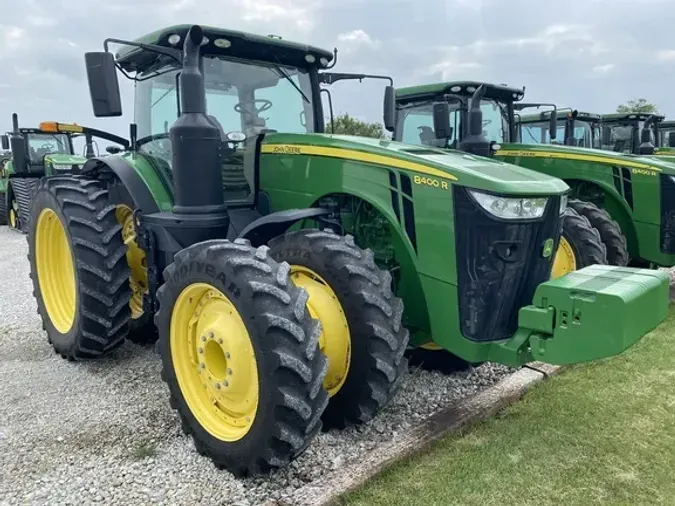 2018 John Deere 8400R For Sale
2,306 hrs
Stock#: 178144
VIN#: 1RW8400RTJS134523
2018 John Deere 8400R For Sale
2,306 hrs
Stock#: 178144
VIN#: 1RW8400RTJS134523
Equipment Specification
Description
2018 John Deere 8400R, Premium Cab, Gen 4 Display, 4600 Processor, E23 Trans, 60GPM Hydraulic Pump, 4 SCVs, Auxillary Hyd., ILS, 380/80R38 Front Duals 35%, 480/80R50 Rear Duals 25%, Dual Hyd Trailer Brake, 1 Pair 1400# Rear Weight, 22 Front Suitcase Weights, Front and Rear Fenders, Radar, Bus. Band Antenna, Cold Weather Package, Batt. Disconnect. Powertrain Powergard until 11 Sept 2023 or 3000 Hours, Before driving to see this item, please call or email to confirm availability.
1000 Std; 1000 / 1000e Opt.

E23 W/ Efficiency Manager

Category 4n/3 W/quik-coupler
E23, 31 Mph (50 Kph), W/ Efficiency Mgr.

Electrohydraulic Sensing, Lower Draft Shaft Bending Bar
e23 Transmission 42 km/h (26 mph) with Efficiency Manager, 4600 CommandCenter, StarFire 6000 Receiver - SF1, 4600 Processor, Premium CommandView III Cab with ActiveSeat, Premium Radio Package, Right-hand Reverser Bump-Shift-Type Transmission Controls, John Deere PowerTech 9.0 L (549 cu. in.) 6 Cylinder Tier 4/Stage V Compliant Diesel Engine, 227.1 L/min (60 gpm) Hydraulic Pump, Four Premium Rear Remote SCVs with Electrohydraulic (EH) Controls, Premium Couplers, and High Pressure Relief Levers, 45 mm (1-3/4 in.) 1000 rpm (20-spline) PTO, 6803 kg (15000 lb) capacity 3-Point Hitch (Cat 4N/3) Hitch with Sway Blocks and Quik-Coupler, Category 4 adjustable Swinging Drawbar with 50 mm (2 in.) Pin, 120 mm (4.72 in.) diameter x 3010 mm (118.5 in.) length Double Flat Wheel Hubs, 480/80R50159A8R1WRadial in Dual Wheel Configuration, Michelin Brand Only, ILS with hydraulic differential lock, fully-enclosed driveline and Group 48 Rear Tires, 380/80R38 142A8R1WRadial in Dual Wheel Configuration- Eigh
SLOAN IMPLEMENT COMPANY, INC.
About the Dealer
Established in 1931, Sloan Implement is one of the largest John Deere dealerships in the world. With 22 locations and 500+ employees in Illinois and Wisconsin, Sloan's dealerships provide new and used John Deere equipment, parts, and service to customers around the world.
View more listings from Sloan Implement Co
Listing ID: 9217214