Search all Equipment Experts Listings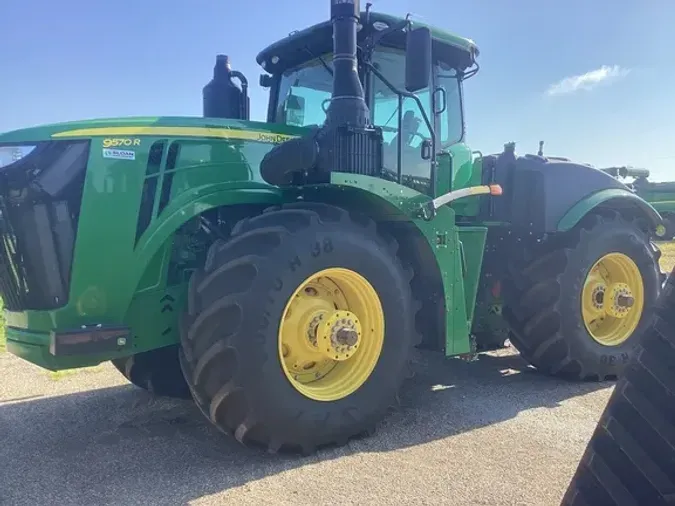 2018 John Deere 9570R For Sale
879 hrs
Stock#: 169780
VIN#: 1RW9570RCJP060810
2018 John Deere 9570R For Sale
879 hrs
Stock#: 169780
VIN#: 1RW9570RCJP060810
Equipment Specification
Description
PREM CAB, PREM RADIO, ACTIVE SEAT, 5 HYD, **HI FLOW HYD**, GEN 4 10" DISPLAY, PTO, LED LIGTHS, LEATHER TRIM, HD GUDGEON, 2800# FRT & 5830# REAR WTS, 800/70R38 DUALS, EXT WTY TILL 24OCT23 OR 2000 HRS. Before driving to see this item, please call or email to confirm availability.
Unit of Measurement
SLOAN IMPLEMENT COMPANY, INC.

e18Transmission, 18 F/6 R Speeds with Efficiency Manager, Premium CommandView III Cab with ActiveSeat, Premium Radio Package, Cummins X15 14.9L (912 cu. in.) 6 Cylinder Tier 4/Stage V Compliant DieselEngine, 435 L/min (115 gpm) Dual Hydraulic Pump, Five Rear Remote SCVs with Electrohydraulic (EH) Controls (Dual Hydraulic Pump Hydraulic System), 45 mm (1-3/4 in.) 1000 rpm (20-Spline) PTO, Cat. 5 Drawbar (2 position) with Heavy-Duty Drawbar Supportwith 70 mm (2.75 in.) Pin, 120 mm (4.72 in.) diameter by 3048 mm (120 in.) length Double Reduction w/ HydraCushion Suspension System, 800/70R38 173A8 R1W Radial in Dual Wheel Configuration, Premium Lighting, HD Frame with Tapered Roller Bearing Gudgeon, Ethernet Switch, Leather Comfort Package, 3874 kg (8542 lb) Total Weight
About the Dealer
Established in 1931, Sloan Implement is one of the largest John Deere dealerships in the world. With 22 locations and 500+ employees in Illinois and Wisconsin, Sloan's dealerships provide new and used John Deere equipment, parts, and service to customers around the world.
View more listings from Sloan Implement Co
Listing ID: 8999518