Search all Equipment Experts Listings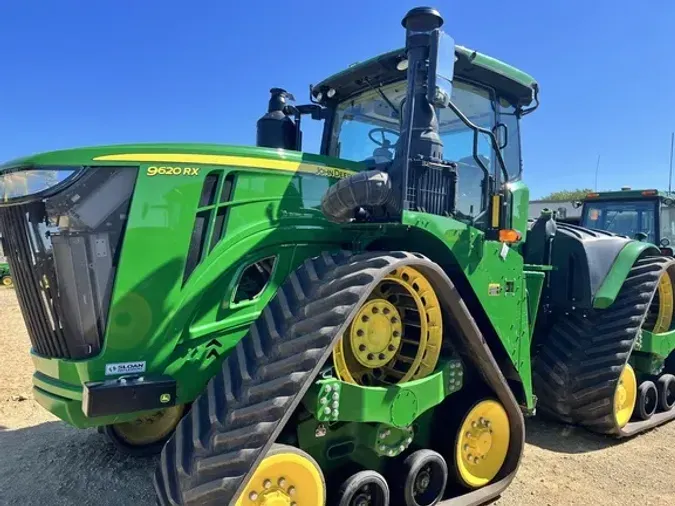 2020 John Deere 9620RX For Sale
680 hrs
Stock#: 174357
VIN#: 1RW9620RCLP809320
2020 John Deere 9620RX For Sale
680 hrs
Stock#: 174357
VIN#: 1RW9620RCLP809320
Equipment Specification
Description
18 SPEED POWERSHIFT TRANSMISSION...PREMIUM CAB W/SUSPENSION...PREMIUM LIGHTING...59 GPM HYD. PUMP...5 SCV...36" CAMSO 3500 TRACKS...87" TRACK SPACING...POLY MID-ROLLERS...GEN 4 4600 DISPLAY WITH AUTOTRAC ACTIVATION...GREASABLE STEERING PINS...LEATHER SEAT... HD GUNDEON BEARINGS... AUX HYD CONNECTIONS... REFRIDGERATOR... ANT BUSINESS BAND... ELECTRIC MIRROS, Before driving to see this item, please call or email to confirm availability.
E18 Powershift With Efficiency Manager
Single Pump Std; Second Opt.

4 To 6 Factory; 7th & 8th Field Installed
Equipment Insights
$549,900
Previous

(07/16/22)
$559,900
Current
About the Dealer
Established in 1931, Sloan Implement is one of the largest John Deere dealerships in the world. With 22 locations and 500+ employees in Illinois and Wisconsin, Sloan's dealerships provide new and used John Deere equipment, parts, and service to customers around the world.
View more listings from Sloan Implement Co
Listing ID: 9117890