Search all Equipment Experts Listings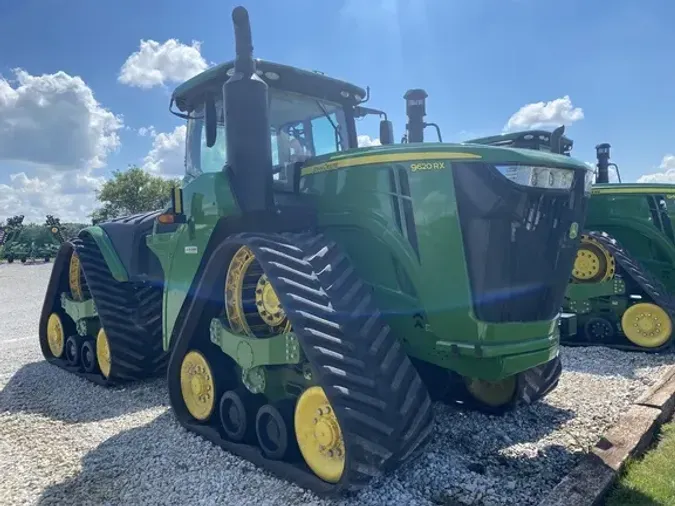 2019 John Deere 9620RX For Sale
662 hrs
Stock#: 176381
VIN#: 1RW9620RAKP807298
2019 John Deere 9620RX For Sale
662 hrs
Stock#: 176381
VIN#: 1RW9620RAKP807298
Equipment Specification
Description
2019 John Deere 9620RX, Premium Cabw/ Suspension, Gen 4 Display, 4600 Processor, CommandCenter AT Activation, 18/6 Powershift Trans, 59GPM Hyadraulic Pump, 5 SCVs, 15L Cummins Engine, 36" Durabilt 6500 Tracks, Greasable Sterring Pins, Premium Lights, Leather, Dual Beam Radar, Bus. Band Antenna, Refrigerator, Before driving to see this item, please call or email to confirm availability.
E18 Powershift With Efficiency Manager
Single Pump Std; Second Opt.

4 To 6 Factory; 7th & 8th Field Installed
e18Transmission, 18 F/6 R Speeds with Efficiency Manager, 4600 CommandCenter, CommandCenter AutoTrac Activation, 4600 Processor, Premium CommandView III Cab with Cab Suspension, Premium Radio Package, Cummins X15 14.9L (912 cu. in.) 6 Cylinder Tier 4/Stage V Compliant DieselEngine, 220 L/min (58 gpm) Single Hydraulic Pump, Five Rear Remote SCVs with Electrohydraulic (EH) Controls (Single Hydraulic Pump Hydraulic System), Cat. 5 Drawbar (2 position) with Heavy-Duty Drawbar Supportwith 70 mm (2.75 in.) Pin, Standard Mid-Rollers, 914 mm (36 in.) width Camso AG6500 Tracks, Fixed 2218 mm (87 in.) Spacing for 762 mm (30 In.) and 914 mm (36 In.) Tracks, Premium Lighting, Ethernet Switch, Leather Comfort Package, Radar, Dual Beam Sensor, Antenna Mount and Wiring for Business Band (2-Way) Radio, Actively Cooled Refrigeration Unit 6.4 L (391 cu. in.), Greaseable Steering Cylinder Pins
SLOAN IMPLEMENT COMPANY, INC.
About the Dealer
Established in 1931, Sloan Implement is one of the largest John Deere dealerships in the world. With 22 locations and 500+ employees in Illinois and Wisconsin, Sloan's dealerships provide new and used John Deere equipment, parts, and service to customers around the world.
View more listings from Sloan Implement Co
Listing ID: 9182045