Search all Equipment Experts Listings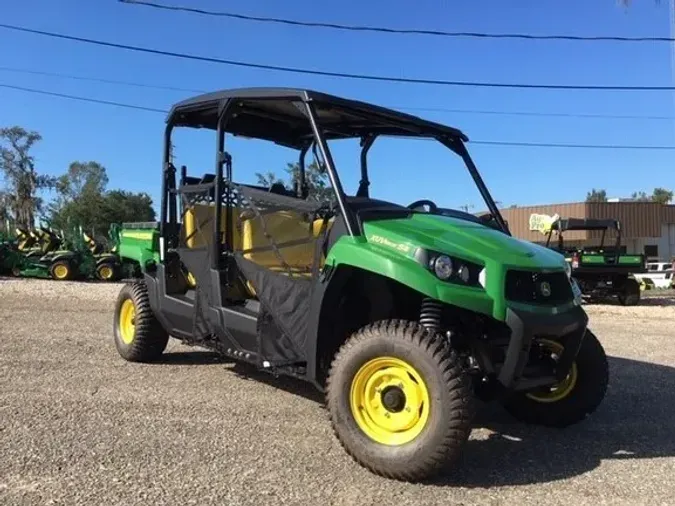 2023 John Deere XUV560E For Sale
1 hrs
Stock#: 02560202002
VIN#: 2TAL2020JDXUV560E1
2023 John Deere XUV560E For Sale
1 hrs
Stock#: 02560202002
VIN#: 2TAL2020JDXUV560E1
Equipment Specification
Description
CALL AG-PRO TALLAHASSEEXUV560ECrossover Utility VehicleFour-wheel independent suspension for excellent ride and handlingErgonomic operator station with easy-to-use controlsVersatile customizationExport to ExcelCALL AG-PRO TALLAHASSEEKey SpecsEngine power11.9* kW16 hpMaximum traveling speed0-28 mph (0-45 kph) High Forward, 0-21 mph (0-34 kph) Low Forward, 0-16 mph (0-26 kph) ReverseCargo box dimensions82L x 120.9W x 29.7D (0.25 m3) cm32.3L x 47.6W x 11.7D (8.9 ft3) in.Cargo box capacity (weight)227 kg500 lbTowing capacity1500 lb680 kgFront suspensionFully independent dual A-Arm with adjustable coil over shocks, 8 in. (203 mm) travel, Anti-roll barRear suspensionFully independent with lower H-arm and upper camber link with adjustable coil over shocks, 8 in. (203 mm) travelFinal driveHigh, Low, Neutral, Reverse TransaxleFour wheel driveDash lever actuated four-wheel drive system with limited slip front differential, plus locking rear differentialFuel capacity18.5 L4.9 U.S. gal.
Unit of Measurement
Equipment Insights
$12,299
Previous

(01/11/23)
$14,499
Current
About the Dealer
Ag-Pro Companies, a certified John Deere Dealership, has 79 locations throughout the U.S. in Alabama, Georgia, Florida, South Carolina, North Carolina, Tennessee, Ohio and Kentucky. Ag-Pro offers a range of new and used farm and lawn care equipment for both residential and large corporate farms. Whether you are a large property owner looking for dependable commercial/agricultural equipment, a professional landscaper searching for a new zero-turn lawn mower or a home owner looking a new lawn mower, our experienced staff and service departments are available to offer you the best customer service or find you a custom solution. "Strong on Service" is more than a slogan, it's our way of life. Although we began with just one location in 1958, we've expanded through growth and acquisition to better serve our customers with stronger buying power and a larger selection of equipment with lower prices. Based out of Boston, Georgia, Ag-Pro is now one of the largest John Deere dealerships in the U.S. with locations near you in the southeast, Ohio and Kentucky. Call or stop in to any location today to book a service appointment, order a part or test-drive a tractor.
View more listings from Ag - Pro
Contact by Text Message
A Virtual Assistant will relay your contact information and message to the dealer.
Listing ID: 6675499