Search all Equipment Experts Listings
2018 DYNAPAC CC1300 For Sale
Equipment Insights
$0
Original (09/07/20)
---
$0
Current
2018 DYNAPAC CC1300 For Sale
Get More Info
Detailed Specification
Base Url:

https://www.mecomiami.com

Categorization Description:

Twin Drum Compactors

Condition:

Rental

Engine Hours:

482

Height:

W/o ROPS/cab: 1855 mm

Make:

DYNAPAC

Meter Hours:

hours

Rental:

Click for a Quote

V I N:

10000374EJA022828

Year:

2018
Bodyinfo:

2018 DYNAPAC CC1300

Color:

White

Engine:

Kubota V2203-M

Fuel Type:

Diesel

Horsepower:

44

Meter:

482

Model:

CC1300

Stock Number:

18S-185

Width:

1450 mm | Drum: 1300 mm
Description
Info2018 Dynapac CC1300 DYNAPACS ARTICULATED COMPACT TANDEM ROLLERthe Dynapac CC1300is designed for compaction on city streets where size and noise matter most. The roller has an operating weight of 4 tons and is available with double steel vibratory drums or one vibration drum and four static rubber tires - a combi version. All models feature design improvements and an engine, which is quieter than ever.ON THE SURFACE The double drum model feature vibration and drive on both drums. A large drum diameter makes them especially effective on soft asphalt. The ratio of drum diameter to static linear load reduces the risk of cracks. The CC1300 is perfect for urban areas, streets and roads. The roller is also suitable for compacting subbases and bases and has the capacity to follow a small paver.EASE OF MAINTENANCE Three separate filters in the sprinkler water system ensure no clogged sprinkler nozzles. The entire system can be drained easily without special tools. Filters for hydraulic fluid, engine oil and fuel are easily accessible. Modularity is one of the corner-stones when it comes to building Dynapac rollers.These are built from a lot of existing parts. That means parts will be available in the future and that these models will be offered for several years to comethus underscoring the high second-hand value of Dynapac equipment.SUSTAINABLE PRODUCTIVITY Dynapac develops and manufactures products with the goal of sustainability: low operating costs and long-lasting quality equipment that creates high-quality results for the companies who use Dynapac. These articulated small tandem asphalt rollers are no exception. The rollers are powered by a water-cooled Kubota diesel engine. The Dynapac CC1300 proves 33 kW of power. The low noise level benefits the operator and the surroundings, especially during night work. Long service intervals mean fewer oil changes and less money spent on routine maintenance. The corrosion-free water tanks are made of impact-resistant and recyclable polyethylene plastic. As an option, the machines can be equipped with biodegradable hydraulic oil.Specifications MassesMax. operating mass 8,900 lbs Operating mass (incl. ROPS) 8,600 lbs Module mass (front/rear) 4,200/4,400 lbsPropulsionSpeed range 0-6 mph Vertical oscillation 10 Theor. gradeability 37 %CompactionCentrifugal force 7,400/ Nominal amplitude 0.020 in Static linear load (front/rear) 82/86 lbs/in Vibration frequency 3,120/ Water tank 53 galEngineManufacturer/Model Kubota V2203-M (T4i) Type Water cooled Rated power, SAE J1995 44 hp @ 2,600 rpm Fuel tank capacity 13 galHydraulic systemDrivingAxial piston pump with variable displacement. Radial piston motors (2) with constant displacement.VibrationGear pump/motors with constant displacement.SteeringGear pump with constant displacement.Service brakeHydrostatic in forward and reverse lever.Parking/Emergency brakeFailsafe multidisc brake in both drums.
Equipment Details *
powered by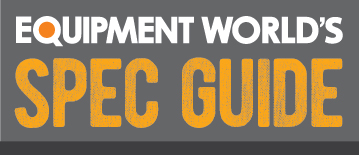 Operating weight w/ballast (metric tons)

3.9

Operating weight w/ballast (lbs)

8,600

Drum width (in)

51"

Drum diameter (in)

32"

Nominal amplitude range (in)

0.020"

Vibration frequency range (hz)

52

Centrifugal force range (lbs)

7,400

Engine make

Kubota

Engine model

V2203

Gross power (hp)

49
Compare Similar Equipment
You can compare up to 6 equipment at a time.
* This calculator is intended for use as a guide only. This simulation and the resulting calculations do not constitute any form of agreement, application, or offer from the seller or Randall-Reilly. The figures and formulae used may change at any time without notice. Calculated results are for illustrative purposes only and accuracy is not guaranteed. Title and other fees are not included in the calculation. Other taxes may apply. Randall-Reilly accepts no responsibility for any losses arising from any use of or reliance upon any calculations or conclusions reached using the calculator.
Listing ID: 110235-7308044