Search all Equipment Experts Listings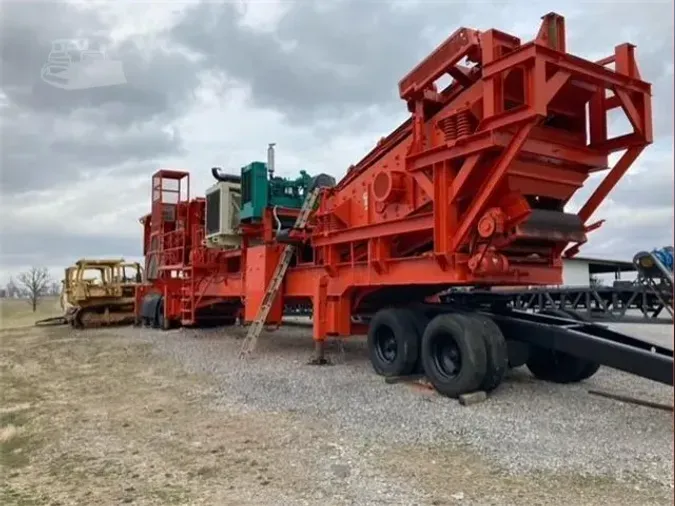 1994 EAGLE CRUSHER ULTRAMAX 1000-15CC For Sale
0 hrs
Stock#: NA
VIN#: NA
1994 EAGLE CRUSHER ULTRAMAX 1000-15CC For Sale
0 hrs
Stock#: NA
VIN#: NA
Equipment Specification
Description
Features closed-circuit crushing and screening on one chassis. Replaces Jaw/Cone/Screen multiunit systems for a much lower initial investment while maintaining a high production of cubical spec product. Greatly reduces maintenance and fuel costs and is easily transported Features unique two-step, 5 grizzly deck to remove fines before crushing. Features standard grizzly bypass chute and available cross-belt conveyor with flop gate to allow for either removal of the material that passes through the grizzly deck for stockpiling or blending back with the crushed material. Includes plant-mounted electrical control panel featuring pre-wired receptacles for radial stackers. Transports easily with the hydraulic retractable return conveyor and folding side conveyor. Manage the feeder speed for complete control of the flow of material into the impactor with Variable Frequency Drive (VFD). Includes wireless remote control for the feeder shutdown and all motor stop.1000-15 CC Closed Circuit PlantPhoto Detail1000-15 CC Closed Circuit Plant SchematicsLine Drawing1000-15 CC:Technical Specifications*Impactor UM-15Overall length 63' 5" / 19.3MGross Weight 117000lbs / 53100kgsTravel Length 57' 0" / 17.4MTravel Width 11' 11" / 3.6MTravel Height 13' 5" / 4.1MFeed Hopper Capacity 11yd3 / 8.4M3Feed Hopper Capacity (Tons) 14.9T / 13.5MTVibrating Feeder 16' x 39" / 4.9M x 1.0MFeeder Grizzly Deck 60 long 2 step / 1524mm 2 stepOn-Plant Power Supply DieselOn-Plant Power Supply Electric 325HP / 242kW diesel engine and 140kW generator200HP / 149kW all-electric powerDischarge Conveyor Width 42" / 1067mmTwo Deck Inclined Screen 5' x 14' / 1.5M x 4.3MTop Screen Deck Cross Conveyor Width 18" / 457mmBottom Screen Deck Cross Conveyor Width 18 / 457mmFines Screen Conveyor Width 48 / 1219mmReturn Conveyor (Hydraulic Fold) Width 24" / 610mm
Specific Details
No specification information is available for this equipment. Consider contacting the dealer to receive additional information.
5 Grizzly Deck To Remove Fines Before Crushing. Features Standard Grizzly Bypass Chute And Available Cross-Belt Conveyor With Flop Gate To Allow For Either Removal Of The Material That Passes Through:

Technical Specifications* Impactor UM-15 Overall length 63' 5" / 19.3M Gross Weight 117000lbs / 53100kgs Travel Length 57' 0" / 17.4M Travel Width 11' 11" / 3.6M Travel Height 13' 5" / 4.1M Feed Hopper Capacity 11yd3 / 8.4M3 Feed Hopper Capacity (Tons) 14.9T / 13.5MT Vibrating Feeder 16' x 39" / 4.9M x 1.0M Feeder Grizzly Deck 60 long 2 step / 1524mm 2 step On-Plant Power Supply Diesel On-Plant Power Supply Electric 325HP / 242kW diesel engine and 140kW generator 200HP / 149kW all-electric power Discharge Conveyor Width 42" / 1067mm Two Deck Inclined Screen 5' x 14' / 1.5M x 4.3M Top Screen Deck Cross Conveyor Width 18" / 457mm Bottom Screen Deck Cross Conveyor Width 18 / 457mm Fines Screen Conveyor Width 48 / 1219mm Return Conveyor (Hydraulic Fold) Width 24" / 610mm
Crusher Aggregate Equipment
* This calculator is intended for use as a guide only. This simulation and the resulting calculations do not constitute any form of agreement, application, or offer from the seller or Randall-Reilly. The figures and formulae used may change at any time without notice. Calculated results are for illustrative purposes only and accuracy is not guaranteed. Title and other fees are not included in the calculation. Other taxes may apply. Randall-Reilly accepts no responsibility for any losses arising from any use of or reliance upon any calculations or conclusions reached using the calculator.
Listing ID: 55729202792787