Search all Equipment Experts Listings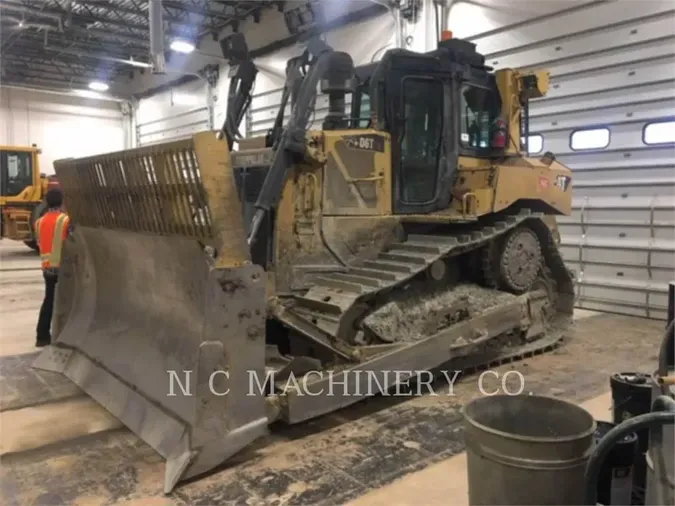 2014 CATERPILLAR D6T For Sale
10,389 hrs
Stock#: 20A0140
VIN#: GMK01413
2014 CATERPILLAR D6T For Sale
10,389 hrs
Stock#: 20A0140
VIN#: GMK01413
Equipment Specification
Description
STRIKER BAR, REAR BOX WASTE HANDLING ARRANGEMENT FRONT STRIKER BARS PRODUCT LINK, CELLULAR PL522 GUARD, LIGHTS FRONT SCREEN COUNTERWEIGHT, ADDITIONAL STARTER, HEAVY DUTY HITCH, FRONT VISIBILITY AR, SINGLE CAMERA GUARD, FUEL TANK CYLINDER, LIFT WITH LINES - RH CYLINDER, LIFT WITH LINES - LH FUEL TANK, BASIC SCREEN, REAR ALARM, BACKUP, GUARDED FENDER, SEALED NON-ACCUGRADE HEATER, ENGINE COOLANT 120V OIL CHANGE, HIGH SPEED HANDLES, HEAVY DUTY WINTER PACKAGE DETAILED ON W/O ENGINE COOLANT, ARCTIC (-51C) PACK, DOMESTIC RAIL, MTTT FINAL DRIVE, XL, CLAMSHELL 6SU XL BULLDOZER, GUARDED SE89195 KENWORTH TK8160 MOBILE RADIO C9.3 TIER 4 ENG SN:MYE07183 ABC FIRE EXTINGUSIHER FB36981 MODIFICATIONS DETAILED ON W/O COVER, CONSOLE, WINCH & RIPPER CONTROL, WINCH / RIPPER, GUARD SCREENS, GRILL DOOR BLADE, 6SU XL LANDFILL GUARD, CHASSIS, NON VPAT ANSUL FIRE SUPRESSION SYSTEM CAB, ENHANCED, DUAL PANE GLASS TRACK, 610MM / 24\ ES TRAP HD UNDERCARRIAGE, HD, WASTE
Specific Details
No specification information is available for this equipment. Consider contacting the dealer to receive additional information.
STRIKER BAR, REAR BOX WASTE HANDLING ARRANGEMENT FRONT STRIKER BARS PRODUCT LINK, CELLULAR PL522 GUARD, LIGHTS FRONT SCREEN COUNTERWEIGHT, ADDITIONAL STARTER, HEAVY DUTY HITCH, FRONT VISIBILITY AR, SINGLE CAMERA GUARD, FUEL TANK CYLINDER, LIFT WITH LINES - RH CYLINDER, LIFT WITH LINES - LH FUEL TANK, BASIC SCREEN, REAR ALARM, BACKUP, GUARDED FENDER, SEALED NON-ACCUGRADE HEATER, ENGINE COOLANT 120V OIL CHANGE, HIGH SPEED HANDLES, HEAVY DUTY WINTER PACKAGE DETAILED ON W/O ENGINE COOLANT, ARCTIC (-51C) PACK, DOMESTIC RAIL, MTTT FINAL DRIVE, XL, CLAMSHELL 6SU XL BULLDOZER, GUARDED SE89195 KENWORTH TK8160 MOBILE RADIO C9.3 TIER 4 ENG SN:MYE07183 ABC FIRE EXTINGUSIHER FB36981 MODIFICATIONS DETAILED ON W/O COVER, CONSOLE, WINCH & RIPPER CONTROL, WINCH / RIPPER, GUARD SCREENS, GRILL DOOR BLADE, 6SU XL LANDFILL GUARD, CHASSIS, NON VPAT ANSUL FIRE SUPRESSION SYSTEM CAB, ENHANCED, DUAL PANE GLASS TRACK, 610MM / 24 ES TRAP HD UNDERCARRIAGE, HD, WASTE

Categorization Description:
* This calculator is intended for use as a guide only. This simulation and the resulting calculations do not constitute any form of agreement, application, or offer from the seller or Randall-Reilly. The figures and formulae used may change at any time without notice. Calculated results are for illustrative purposes only and accuracy is not guaranteed. Title and other fees are not included in the calculation. Other taxes may apply. Randall-Reilly accepts no responsibility for any losses arising from any use of or reliance upon any calculations or conclusions reached using the calculator.
Listing ID: 100080-66d8434e-0199-4c2e-bc79-42c4bc79f640