Search all Equipment Experts Listings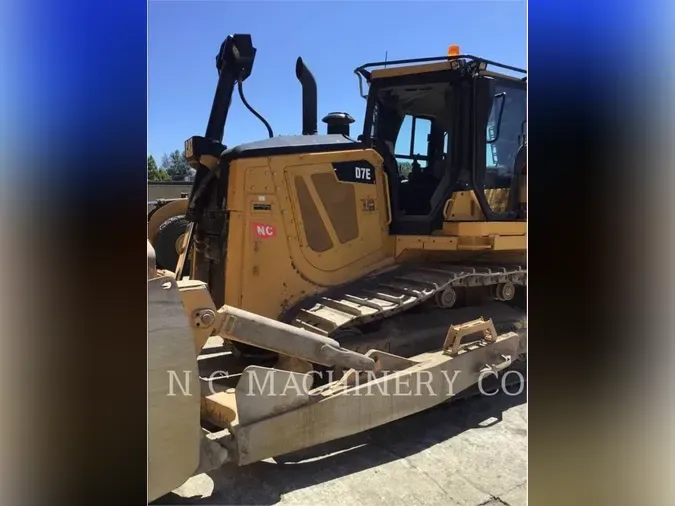 2012 CATERPILLAR D7E For Sale
6,505 hrs
Stock#: B15624
VIN#: TAN01233
2012 CATERPILLAR D7E For Sale
6,505 hrs
Stock#: B15624
VIN#: TAN01233
Equipment Specification
Description
7 RIPPER, MULTI-SHANK 7S/SU/U DOZER, SNGL TILT GUARD BATTERIES, ARCTIC & STARTER HD BLADE, 7SU ROCK GRD & WEAR PLT CONVERTER, 24 VOLT TO 12 VOLT DOORS, BASIC ENGINE, BASIC FAN, BASIC FINAL DRIVE, STD, COLD WEATHER FLUIDS, STANDARD, COLD WEATHER FUEL FILL, BASIC FUEL GROUP, HEATER FUEL TANK GUARD, BOTTOM STANDARD GUARD, FUEL TANK GUARD, LIGHTS, PREMIUM HEATER, ENGINE COOLANT (120V) HOOD & BLADE, BLACK HYDRAULICS, RIPPER INSTALLATION, ACCUGRADE READY INSTRUCTIONS, DOMESTIC MOUNTING, CYLINDER OIL DRAIN, BASIC PRECLEANER, BASIC PRODUCT LINK, SATELLITE PL321 SWITCH, DISCONNECT, REMOTE MTD AN67854 C9.3 TIER 4 ENG SN:MME08832 SN:BBC00349 SN:JEJ00366 BATTERY BLANKET CAB, ENHANCED, CLEAN MOUNTING, ACCUGRADE RECEIVERS HYDRAULIC TANK OILS CHANGED TO SYNTHETIC 0W30 PACK, DOMESTIC RAIL, MTTT BASIC ARRANGEMENT, STD CYLINDER, 7 STD, LIFT W/LINES GUARD, FINAL DRV SPROCKET, HD HYDRAULICS, SINGLE TILT NO SWEEPS NO WINDOW SCREENS SEAT, CLOTH, HEATED, AIR SUSP ENGINE COOLANT, ARCTIC (-51C) LIGHT, WARNING, STROBE TOOTH, RIPPER, ADDITIONAL UNDERCARRIAGE, STD, ARCTIC VISIBILITY AR, SINGLE CAMERA WINTERIZATION DETAILED ON W/O HEATER PADS ON OIL PAN, TRANS & LIGHTS, PREMIUM WINDOW, REAR, SOLID TRACK, 610MM / 24\ ES HD WINTER COVERS
Specific Details
No specification information is available for this equipment. Consider contacting the dealer to receive additional information.
7 RIPPER, MULTI-SHANK 7S/SU/U DOZER, SNGL TILT GUARD BATTERIES, ARCTIC & STARTER HD BLADE, 7SU ROCK GRD & WEAR PLT CONVERTER, 24 VOLT TO 12 VOLT DOORS, BASIC ENGINE, BASIC FAN, BASIC FINAL DRIVE, STD, COLD WEATHER FLUIDS, STANDARD, COLD WEATHER FUEL FILL, BASIC FUEL GROUP, HEATER FUEL TANK GUARD, BOTTOM STANDARD GUARD, FUEL TANK GUARD, LIGHTS, PREMIUM HEATER, ENGINE COOLANT (120V) HOOD & BLADE, BLACK HYDRAULICS, RIPPER INSTALLATION, ACCUGRADE READY INSTRUCTIONS, DOMESTIC MOUNTING, CYLINDER OIL DRAIN, BASIC PRECLEANER, BASIC PRODUCT LINK, SATELLITE PL321 SWITCH, DISCONNECT, REMOTE MTD AN67854 C9.3 TIER 4 ENG SN:MME08832 SN:BBC00349 SN:JEJ00366 BATTERY BLANKET CAB, ENHANCED, CLEAN MOUNTING, ACCUGRADE RECEIVERS HYDRAULIC TANK OILS CHANGED TO SYNTHETIC 0W30 PACK, DOMESTIC RAIL, MTTT BASIC ARRANGEMENT, STD CYLINDER, 7 STD, LIFT W/LINES GUARD, FINAL DRV SPROCKET, HD HYDRAULICS, SINGLE TILT NO SWEEPS NO WINDOW SCREENS SEAT, CLOTH, HEATED, AIR SUSP ENGINE COOLANT, ARCTIC (-51C) LIGHT, WARNING,

Categorization Description:
* This calculator is intended for use as a guide only. This simulation and the resulting calculations do not constitute any form of agreement, application, or offer from the seller or Randall-Reilly. The figures and formulae used may change at any time without notice. Calculated results are for illustrative purposes only and accuracy is not guaranteed. Title and other fees are not included in the calculation. Other taxes may apply. Randall-Reilly accepts no responsibility for any losses arising from any use of or reliance upon any calculations or conclusions reached using the calculator.
Listing ID: 100080-d9fbd031-891e-44a8-adc5-6a68e8d64247