Search all Equipment Experts Listings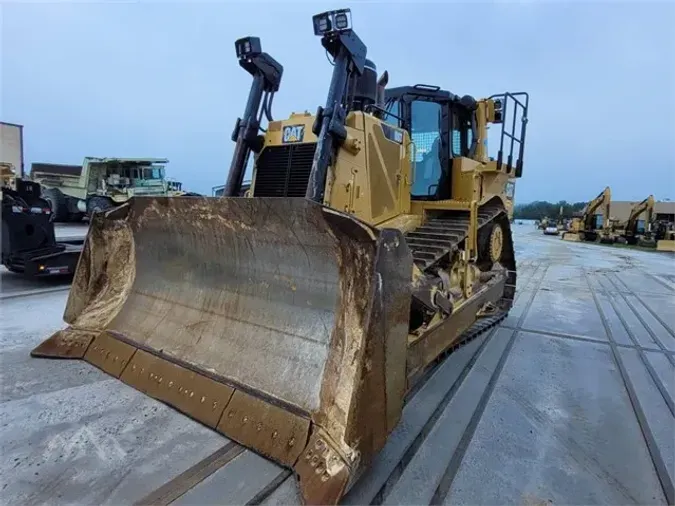 2019 CATERPILLAR D8T For Sale
3,616 hrs
Stock#: AW400437
VIN#: AW400437
2019 CATERPILLAR D8T For Sale
3,616 hrs
Stock#: AW400437
VIN#: AW400437
Equipment Specification
Description
LANE 2 ORDERROLL ON-ROLL OFFANTIFREEZE WINDSHIELD WASHERTRACK, 660MM / 26" ES, PPRLIGHTS, PREMIUM, REAR SCREENPRECLEANER WITH SCREENOIL CHANGE SYSTEM HIGH SPEEDBASIC SINGLE TILT CONTROLUC, HD, SUSPENDEDPREMIUM CORP RADIO (12V)GUARDS, BOTTOM, STANDARDCYLINDERS, LIFT, BASICManual: ENGLISHGuard: FUEL TANKLines: SINGLE TILTHeater: ENGINE COOLANT 120VInstruction: DOMESTICAlternator: 150AMP STDBasic ArrangementEngine Coolant: STD (-37C)Visibility Ar: CAMERACarrier Rollers: SUSPENDEDProtection: CYLINDER RODFuel System: STANDARDOperators Ar: STANDARDFluids: STANDARD8su/u Bulldozer: BASICGrab Handles: PUSH ARMBrakes: BASICFinal Drives: STANDARDGauge: STANDARDFuel Antifreeze: -25C (-13F)Push ArmsEquipment-certification-code: NCRBatteryType: HeavyDutyBladeTilt: 8SUSeatType: Air RideCounterweightType: Static
Unit of Measurement
SINGLE TILTENGINE COOLANT

A I R S U S P E N S I O N Counterweight:

A I R S U S P E N S I O N Heated Seat:

ENGLISH Guard: FUEL TANK Lines: SINGLE TILT Heater: ENGINE COOLANT 120V Instruction: DOMESTIC Alternator: 150AMP STD Basic Arrangement Engine Coolant: STD (-37C) Visibility Ar: CAMERA Carrier Rollers: SUSPENDED Protection: CYLINDER ROD Fuel System: STANDARD Operators Ar: STANDARD Fluids: STANDARD 8su

SINGLE TILT Heater: ENGINE COOLANT 120V Instruction: DOMESTIC

ENGLISH Guard: FUEL TANK Lines: SINGLE TILT Heater: ENGINE COOLANT 120V Instruction: DOMESTIC Alternator: 150AMP STD Basic Arrangement Engine Coolant: STD (-37C) Visibility Ar: CAMERA Carrier Rollers: SUSPENDED Protection: CYLINDER ROD Fuel System: STANDARD Operators Ar: STANDARD Fluids: STANDARD 8su

S T A N D A R D Seat Material:

S T D(-37 C) Visibility Ar:

CAMERA Carrier Rollers: SUSPENDED

BASIC Grab Handles: PUSH ARM Brakes: BASIC Final Drives: STANDARD Gauge: STANDARD Fuel Antifreeze: -25C (-13F) Push Arms Equipment-certification-code: NCR BatteryType: HeavyDuty BladeTilt: 8SU SeatType: Air Ride CounterweightType: Static
ENGINE COOLANT 120VPROTECTION

STD (-37C)REAR HYDRAULICS

REARANTIFREEZE WINDSHIELD WASHERBASIC ARRANGEMENTBASIC SINGLE TILT CONTROLLANE 2 ORDEROIL CHANGE SYSTEM HIGH SPEEDPRECLEANER WITH SCREENPUSH ARMSROLL ON-ROLL OFFUNDERCARRIAGE

A I R S U S P E N S I O N Battery Type:

A I R S U S P E N S I O N Counterweight Type:

C Y L I N D E R R O D Fuel System:

D O M E S T I C Alternator:

150AMP STD Basic Arrangement Engine Coolant: STD (-37C)

H E A V Y D U T Y Screens:

Machine Current Location:

8SU SeatType: AIR SUSPENSION

S T A N D A R D Operators Ar:

STANDARD Fluids: STANDARD STANDARD 8su

S T A N D A R D Seat Type:

S U S P E N D E D Manual:

ENGLISH Guard: FUEL TANK Lines: SINGLE TILT Heater: ENGINE COOLANT 120V Instruction: DOMESTIC Alternator: 150AMP STD Basic Arrangement Engine Coolant: STD (-37C) Visibility Ar: CAMERA Carrier Rollers: SUSPENDED Protection: CYLINDER ROD Fuel System: STANDARD Operators Ar: STANDARD Fluids: STANDARD 8su

S U S P E N D E D Protection:
About the Dealer
Your nationwide source for quality used equipment. Ring Power strives to pair our quality used equipment with a team of sales and service professionals to make your buying experience one to remember. Used equipment sales are an important part of our business. With a tremendous inventory of previously owned machines and power systems, Ring Power has built a solid reputation as a leading provider of genuine value on quality used equipment. Our used inventory is drawn largely from our own rental fleets, which consist of late model equipment that has been expertly maintained and serviced by our own technicians. Ring Power backs used equipment with the same responsive customer support that has made us an industry leader. This includes Ring Power preventive maintenance programs, comprehensive parts inventory and the expertise of our skilled service teams in the field and in the shop. Visit us at www.ringpower.com for more information.
View more listings from Ring Power CAT
Contact by Text Message
A Virtual Assistant will relay your contact information and message to the dealer.
Listing ID: 26797192814005