Search all Equipment Experts Listings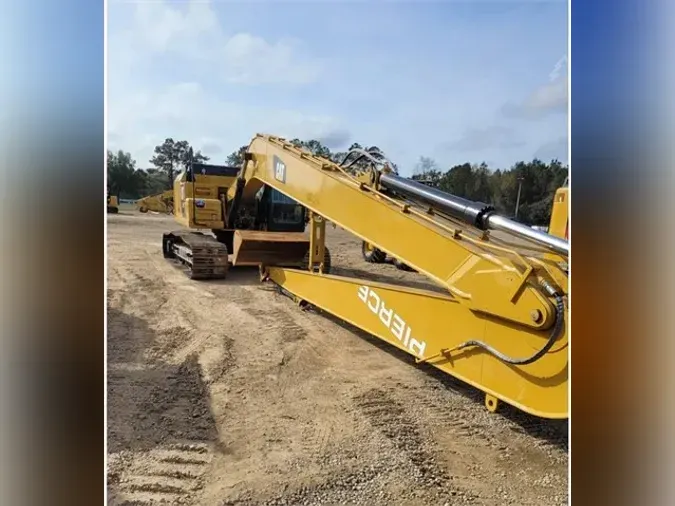 2019 CATERPILLAR 326F For Sale
1,051 hrs
Stock#: FBR20706
VIN#: FBR20706
2019 CATERPILLAR 326F For Sale
1,051 hrs
Stock#: FBR20706
VIN#: FBR20706
Equipment Specification
Description
LANE 3 ORDER*SEAT, H-BACK, W/HEATER,S/AIR*GUARD, TRAVEL MOTOR, HD*CAMERA, REAR VIEW, MIRRORS RH*HEATER, ENGINE COOLANT, 120V*CAB-ROPS,70/30,W/VANDAL-G BOSS*COLD WEATHER PKG READYSTORAGE PROTECTION (EXPORT)*SUN SCREEN (70/30)*REACH BOOM HD PKGROLL ON-ROLL OFF W/O BKT QC CBBUCKET 54" 2.40YD3 GD CB*COUNTERWEIGHT, 8,820LBS*326F L HEX*STANDARD ARRANGEMENT*guard: SWIVEL, TRACK GUIDING SEGMENTED, BOTTOM HEAVY DUTYInstructions: ENGLISH*radio: 24V AM/FM*cylinder: STICK (W/O SLCV), BOOM*alarm: TRAVEL*control: FINE SWING*joystick: STD STP PKG*lines: SDRV (STD/PGQC), BOOM-UP (STD)*wiper-radial: 70/30 W/O LOWER*air Cleaner: STANDARD*ctrl: CAT PIN GRABBER COUPLER*front Lines: PGQC*decals: EXTERIOR ANSI, CAB ANSIEquipment-certification-code: NCRArm: R9'8" (CB1) HDFrontFenders
Unit of Measurement
B O O M- U P( S T D)*Stick:

R9'8" (CB1) HD *wiper-radial: 70/30 W/O LOWER *air Cleaner: STANDARD *track: 31" TG (GLT) *ctrl: CAT PIN GRABBER COUPLER *front Lines: PGQC *decals: EXTERIOR ANSI

B O T T O M H E A V Y D U T Y Instructions:
8820 L B S*326 F L H E X*Guard:

TRAVEL *control: FINE SWING *joystick: STD STP PKG *lines: SDRV (STDPGQC)

B O O M- U P( S T D)*Wiper-Radial:

C A B A N S I Equipment-Certification-Code:

NCR Arm: R9'8 (CB1) HD FrontFenders

Machine Current Location:

6724 33Rd Street East, FL

STANDARD *ctrl: CAT PIN GRABBER COUPLER *front Lines: PGQC *decals: EXTERIOR ANSI
About the Dealer
Your nationwide source for quality used equipment. Ring Power strives to pair our quality used equipment with a team of sales and service professionals to make your buying experience one to remember. Used equipment sales are an important part of our business. With a tremendous inventory of previously owned machines and power systems, Ring Power has built a solid reputation as a leading provider of genuine value on quality used equipment. Our used inventory is drawn largely from our own rental fleets, which consist of late model equipment that has been expertly maintained and serviced by our own technicians. Ring Power backs used equipment with the same responsive customer support that has made us an industry leader. This includes Ring Power preventive maintenance programs, comprehensive parts inventory and the expertise of our skilled service teams in the field and in the shop. Visit us at www.ringpower.com for more information.
View more listings from Ring Power CAT
Contact by Text Message
A Virtual Assistant will relay your contact information and message to the dealer.
Listing ID: 26797210447131