Search all Equipment Experts Listings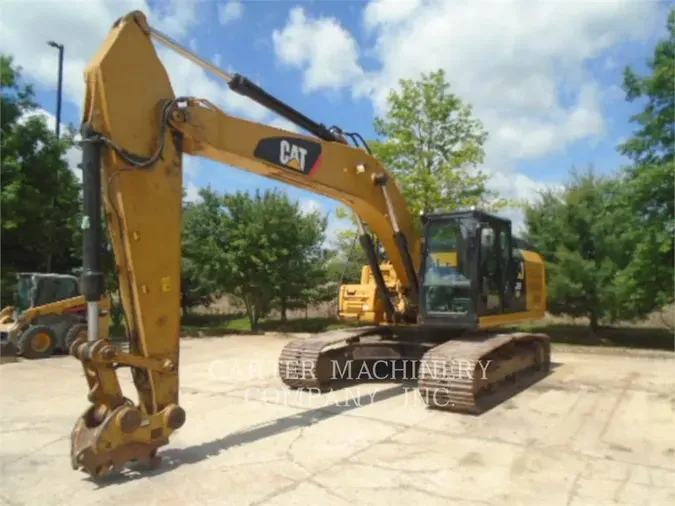 2015 Caterpillar 326F For Sale
4,923 hrs
Stock#: NA
VIN#: 0WGL00662
2015 Caterpillar 326F For Sale
4,923 hrs
Stock#: NA
VIN#: 0WGL00662
Equipment Specification
Description
LANE 1 FROM FACTORY ROLL ON-ROLL OFF W/O BKT QC CB STORAGE PROTECTION (EXPORT) *326F L HYD EXCAVATOR *326F L STANDARD ARRANGEMENT *AIR CLEANER, STANDARD *ALARM, TRAVEL *CAB-ROPS,70/30,W/VANDAL-G BOSS *CHANGER,HAND CTRL 2-WAY (ANSI) *COLD WEATHER PKG READY *CONTROL, FINE SWING *COUNTERWEIGHT, 8,820LBS *COVER, FENDER *CYLINDER, BOOM *CYLINDER, STICK (W/O SLCV) *FILMS, CAB ANSI *FILMS, EXTERIOR ANSI *GUARD, BOTTOM, HEAVY DUTY *GUARD, SWIVEL *GUARD, TRACK GUIDING SEGMENTED *GUARD, TRAVEL MOTOR, HD *HEATER, ENGINE COOLANT (120V) *JOYSTICK STD STP PKG *LIGHT, R BOOM *LINES, PILOT BOOM UP, STD *LINES, PILOT SDRV (STD/UQC) *MAIN LINES, BUCKET, QC *PRODUCT LINK, SATELLITE PL321 *RADIO, 24V AM/FM *SEAT, H-BACK, W/HEATER,S/AIR *SUN SCREEN (70/30) *TRACK, 31\ TG (GLT) *WIPER-RADIAL, 70/30 W/O LOWER INSTRUCTIONS, ENGLISH *STICK, R9'8\ (CB1) *CTRL,CAT PIN GRAB COUPLER ANSI *REACH BOOM PKG
Arm (stick) length used for dimensions & forces

Max depth of vertical wall

Max normal relief valve pressure
Bucket capacity, SAE heaped, min-max

Total flow of main pumps, implement & swing
LANE 1 FROM FACTORY ROLL ON-ROLL OFF W/O BKT QC CB STORAGE PROTECTION (EXPORT) *326F L HYD EXCAVATOR *326F L STANDARD ARRANGEMENT *AIR CLEANER, STANDARD *ALARM, TRAVEL *CAB-ROPS,70/30,W/VANDAL-G BOSS *CHANGER,HAND CTRL 2-WAY (ANSI) *COLD WEATHER PKG READY *CONTROL, FINE SWING *COUNTERWEIGHT, 8820LBS *COVER, FENDER *CYLINDER, BOOM *CYLINDER, STICK (W/O SLCV) *FILMS, CAB ANSI *FILMS, EXTERIOR ANSI *GUARD, BOTTOM, HEAVY DUTY *GUARD, SWIVEL *GUARD, TRACK GUIDING SEGMENTED *GUARD, TRAVEL MOTOR, HD *HEATER, ENGINE COOLANT (120V) *JOYSTICK STD STP PKG *LIGHT, R BOOM *LINES, PILOT BOOM UP, STD *LINES, PILOT SDRV (STD/UQC) *MAIN LINES, BUCKET, QC *PRODUCT LINK, SATELLITE PL321 *RADIO, 24V AM/FM *SEAT, H-BACK, W/HEATER,S/AIR *SUN SCREEN (70/30) *TRACK, 31 TG (GLT) *WIPER-RADIAL, 70/30 W/O LOWER INSTRUCTIONS, ENGLISH *STICK, R9'8 (CB1) *CTRL,CAT PIN GRAB COUPLER ANSI *REACH BOOM PKG

Categorization Description:
Equipment Insights
$167,900
Previous

(06/21/22)
$159,900
Current
About the Dealer
Ensuring continued growth of a company requires a solid plan. At Carter Machinery, we are steadfastly focused on achieving success by leveraging all the available resources at our disposal. Our mission is to enable every customer to help them achieve their highest level of success.
View more listings from Carter Machinery Company, Inc
Listing ID: 100080-694d467b-1522-432a-983d-a4ef88c5f547