Search all Equipment Experts Listings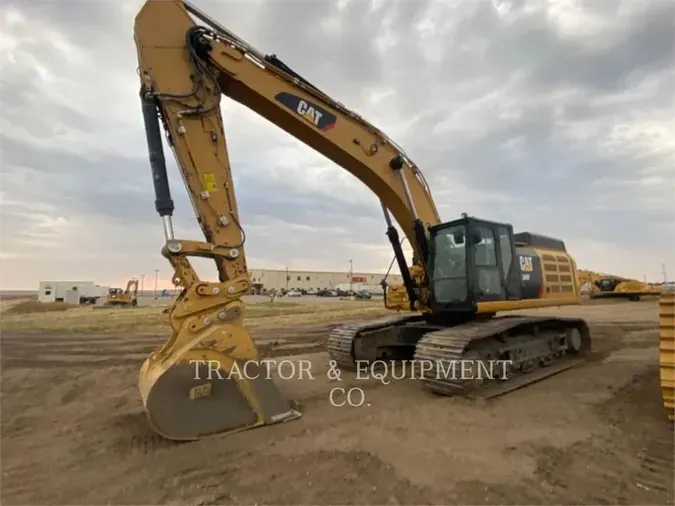 2020 CATERPILLAR 349F For Sale
Stock#: 306447
VIN#: HPD21102
2020 CATERPILLAR 349F For Sale
Stock#: 306447
VIN#: HPD21102
Check for Availability
Equipment Specification
Description
MIRROR, CAB, W/O GUARD *AIR CONDITIONER LINES-HP, R12'10\ STICK LINES-QC, R12'10\ STICK ENG SN T4F17550 MSO AHTMN WASHER, WINDSHIELD UPPER/LOWER LANE 3 ORDER QUICK DRAINS, READY (OIL) *CONTROL, FINE SWING COOLANT, COLD WEATHER STICK, REACH 12'10\ TB *CYLINDER, STICK (W/O SLCV) LIGHTS, HALOGEN, R/M-BOOM *ACCUMULATOR WITH CRN WIPER-RADIAL, 70/30 W/LOWER COMBINED CIR STP PKG IDLERS, STANDARD CTRL, CAT PIN GRABBER COUPLER COLD WEATHER START PKG *SEAT BELT, 2\ DECALS, CAB ANSI *ROLLERS, SINGLE FLANGE, LC-FG *COVER, FENDER, STANDARD *RADIO, 24V AM/FM *GUARD, SWIVEL (FG) LINES, PILOT, BUCKET, QC *SEAT,H-BACK,HEATER,S/AIR,COOL CHANGER,HAND CTRL 2-WAY (ANSI) *SUN SCREEN (70/30) *CYLINDER, BOOM (W/O BLCV) PRODUCT LINK, CELLULAR PL641 *LINES, PILOT, BOOM, STD PACK, ROLL ON ROLL OFF-TRUCK STORAGE PROTECTION (DOMESTIC) *COUNTERWEIGHT, 19,840LBS *349F L FG EXCAVATOR *CAMERA, REAR VIEW, MIRRORS(RH) *AIR CLEANER, HIGH EFFICIENCY *PANEL, STD START SWITCH LINES, QC, REACH BOOM CERT EMISSIONS, EPA TIER 4 *GUARD, BOTTOM, HEAVY DUTY *FAN, VARIABLE SPEED LINES, HP, REACH BOOM GUARD, TRACK GUIDING SEGMENTED BOOM PKG, REACH *ALARM, TRAVEL *CAB-ROPS, 70/30 LIGHTING CAB PKG DECALS, EXTERIOR ANSI *STARTING AID, ETHER TRACK, 35\ TG, FG COUPLER PG W/O PIN TB
Specific Details
MIRROR, CAB, W/O GUARD *AIR CONDITIONER LINES-HP, R12'10 STICK LINES-QC, R12'10 STICK ENG SN T4F17550 MSO AHTMN WASHER, WINDSHIELD UPPER/LOWER LANE 3 ORDER QUICK DRAINS, READY (OIL) *CONTROL, FINE SWING COOLANT, COLD WEATHER STICK, REACH 12'10 TB *CYLINDER, STICK (W/O SLCV) LIGHTS, HALOGEN, R/M-BOOM *ACCUMULATOR WITH CRN WIPER-RADIAL, 70/30 W/LOWER COMBINED CIR STP PKG IDLERS, STANDARD CTRL, CAT PIN GRABBER COUPLER COLD WEATHER START PKG *SEAT BELT, 2 DECALS, CAB ANSI *ROLLERS, SINGLE FLANGE, LC-FG *COVER, FENDER, STANDARD *RADIO, 24V AM/FM *GUARD, SWIVEL (FG) LINES, PILOT, BUCKET, QC *SEAT,H-BACK,HEATER,S/AIR,COOL CHANGER,HAND CTRL 2-WAY (ANSI) *SUN SCREEN (70/30) *CYLINDER, BOOM (W/O BLCV) PRODUCT LINK, CELLULAR PL641 *LINES, PILOT, BOOM, STD PACK, ROLL ON ROLL OFF-TRUCK STORAGE PROTECTION (DOMESTIC) *COUNTERWEIGHT, 19840LBS *349F L FG EXCAVATOR *CAMERA, REAR VIEW, MIRRORS(RH) *AIR CLEANER, HIGH EFFICIENCY *PANEL, STD START SWITCH LINES, QC, REACH BOOM CERT EMISSIONS, EPA TIER 4 *GUA

Categorization Description:
Compare Similar Equipment
You can compare up to 6 pieces of equipment at a time.
* This calculator is intended for use as a guide only. This simulation and the resulting calculations do not constitute any form of agreement, application, or offer from the seller or Randall-Reilly. The figures and formulae used may change at any time without notice. Calculated results are for illustrative purposes only and accuracy is not guaranteed. Title and other fees are not included in the calculation. Other taxes may apply. Randall-Reilly accepts no responsibility for any losses arising from any use of or reliance upon any calculations or conclusions reached using the calculator.
Listing ID: 100080-e388a348-62ab-4959-a655-6bf9d1f3b401