Search all Equipment Experts Listings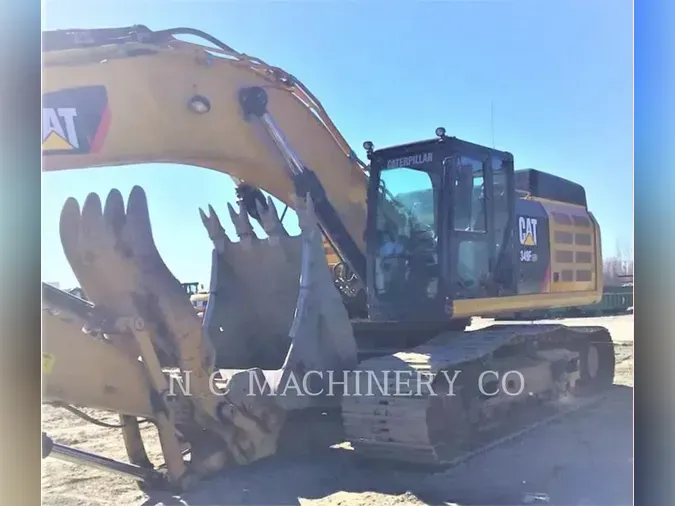 2014 CATERPILLAR 349F For Sale
6,687 hrs
Stock#: 14W76492
VIN#: BZ200178
2014 CATERPILLAR 349F For Sale
6,687 hrs
Stock#: 14W76492
VIN#: BZ200178
Equipment Specification
Description
*349F L FG HYD EXCAVATOR CW RMV *AIR CLEANER, STANDARD *ARRANGEMENT, CTWT REMOVAL ANSI *CAB 70/30 PKG *CAMERA,REAR VIEW, CTWT REMOVAL *CHANGER,HAND CTRL 2-WAY (ANSI) *COLD WEATHER START PKG (NACD) *COOLING, HIGH AMBIENT *COVER, FENDER, STANDARD *COVER, UPPER, STANDARD *CTRL, CENTER-LOCK COUPLER ANSI *GUARD, BOTTOM, HEAVY DUTY *GUARD, SWIVEL (FG) *GUARD, TRACK GUIDING SEGMENTED *INSTRUCTIONS, ANSI FG(OUTSIDE) *LIGHTING, CAB (HALOGEN) *LIGHTS, HALOGEN, R/M-BOOM *LINES,PILOT,BOOM CTWT REMOVAL *LINES-HP, REACH BOOM *MAINE LINES, BUCKET, QC *PANEL, STD START SWITCH *PRODUCT LINK, SATELLITE PL321 *ROLLERS, SINGLE FLANGE, LC-FG *SEAT, H-BACK, W/HEATER,S/AIR *STICK, REACH 12'10\ TB *TRACK, 36\ TG GLT (FG) *WASHER, WINDSHIELD UPPER/LOWER CERT EMISSIONS, EPA/EU COUPLER HYDRAULIC PIN GRABBER INSTRUCTION,NORTH AMERICA ANSI PACK, ROLL ON ROLL OFF-TRUCK STORAGE PROTECTION (DOMESTIC) *COMBINED CIR STP PKG *BKT CYL/LINKAGE W/ LIFT PKG *REACH 22'8\ BOOM PKG *REGIONAL PKG (ADSD-N/CANADA) *LINES-HP R12'10\ STICK *COUNTERWEIGHT, 18,960 LB *IDLERS, STANDARD *INSTRUCTIONS, ANSI (CAB) ENG SN T4F01263 ID#14A19661A SN:NC300134 THUMB, MR PROGRESSIVE LINK(PG) SN:PMZ04821
Specific Details
No specification information is available for this equipment. Consider contacting the dealer to receive additional information.
*349F L FG HYD EXCAVATOR CW RMV *AIR CLEANER, STANDARD *ARRANGEMENT, CTWT REMOVAL ANSI *CAB 70/30 PKG *CAMERA,REAR VIEW, CTWT REMOVAL *CHANGER,HAND CTRL 2-WAY (ANSI) *COLD WEATHER START PKG (NACD) *COOLING, HIGH AMBIENT *COVER, FENDER, STANDARD *COVER, UPPER, STANDARD *CTRL, CENTER-LOCK COUPLER ANSI *GUARD, BOTTOM, HEAVY DUTY *GUARD, SWIVEL (FG) *GUARD, TRACK GUIDING SEGMENTED *INSTRUCTIONS, ANSI FG(OUTSIDE) *LIGHTING, CAB (HALOGEN) *LIGHTS, HALOGEN, R/M-BOOM *LINES,PILOT,BOOM CTWT REMOVAL *LINES-HP, REACH BOOM *MAINE LINES, BUCKET, QC *PANEL, STD START SWITCH *PRODUCT LINK, SATELLITE PL321 *ROLLERS, SINGLE FLANGE, LC-FG *SEAT, H-BACK, W/HEATER,S/AIR *STICK, REACH 12'10 TB *TRACK, 36 TG GLT (FG) *WASHER, WINDSHIELD UPPER/LOWER CERT EMISSIONS, EPA/EU COUPLER HYDRAULIC PIN GRABBER INSTRUCTION,NORTH AMERICA ANSI PACK, ROLL ON ROLL OFF-TRUCK STORAGE PROTECTION (DOMESTIC) *COMBINED CIR STP PKG *BKT CYL/LINKAGE W/ LIFT PKG *REACH 22'8 BOOM PKG *REGIONAL PKG (ADSD-N/CANADA) *LINES-HP R12'10 S

Categorization Description:
Equipment Insights
$194,200
Previous

(05/14/22)
$0
Current
* This calculator is intended for use as a guide only. This simulation and the resulting calculations do not constitute any form of agreement, application, or offer from the seller or Randall-Reilly. The figures and formulae used may change at any time without notice. Calculated results are for illustrative purposes only and accuracy is not guaranteed. Title and other fees are not included in the calculation. Other taxes may apply. Randall-Reilly accepts no responsibility for any losses arising from any use of or reliance upon any calculations or conclusions reached using the calculator.
Listing ID: 100080-9aa068ae-524c-49fa-959e-969ecafc1542