Search all Equipment Experts Listings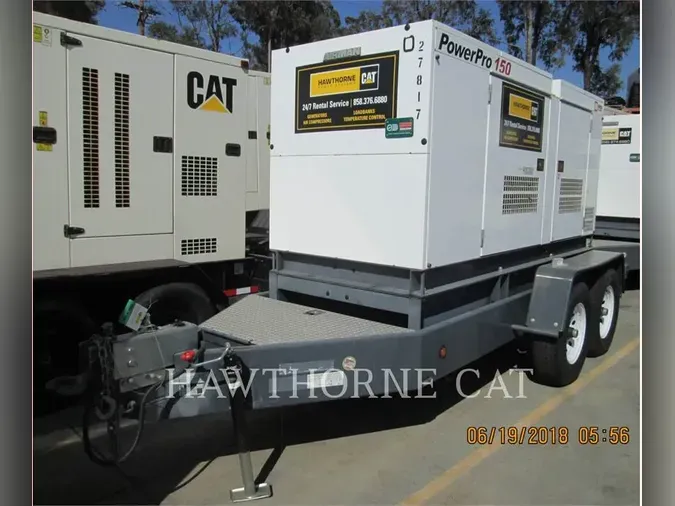 2013 Airman SDG150S For Sale
Stock#: 11201
VIN#: 1728B10469
Equipment Insights
$0
Original (29/06/20)
---
$29,500
Current
2013 Airman SDG150S For Sale
Stock#: 11201
VIN#: 1728B10469
Check for Availability
Detailed Specification
Additional Information:

2013 MMD POWERPRO 150SDG150S PACKAGED DIESEL GENERATOR SETRATED 165 KVA/132 KW STANDBY150KVA/120 KW PRIME120-240 VOLT SINGLE PHASE / 208-480 VOLT 3 PHASE3 PHASE60/50 HZ1800/1500 RPMISUZU MODEL 6HK1X DIESEL ENGINE EPA/CARB TIER 3 FLEXRADIATOR COOLEDTAIYO GENERATORELECTRONIC GOVERNOR24V ELECTRIC STARTCHARGING ALTERNATORBATTERY-RACK-CABLES BATTERY CHARGERJACKET WATER HEATERFUEL / WATER SEPARATORANALOG CONTROL PANEL W/ AUTO-START-STOP AND SAFETIESVOLTAGE CHANGEOVER SWITCHCIRCUIT BREAKERDISTRIBUTION PANEL300 GALLON FUEL TANK BASESOUND ATTENUATED ENCLOSUREEXHAUST SYSTEMMOUNTED ON A RAJYSAN INC. 2-AXLE TRAILERUNIT HAS BEEN REGULARLY MAINTAINED, SERVICED AND LOAD TESTED BY A CAT DEALER WITH 9120 HOURS SHOWING ON SERVICE METER SINCE NEWPACKAGE S/N 1728B10469ENGINE S/N 6HK1-575079GENERATOR S/N UP7608CALIFORNIA EX-RENTAL FLEET PACKAGECARB PERMIT NO. 161950, EXP. 05/31/22DIMENSIONS 16-5 L X 6-7 W X 7-4 HAPPROX 9300 LBS.

Bodyinfo:

AIRMAN SDG150S

Catalog Number:

CU4347458

Category:

GENERATOR SETS

Engine Power:

180 hp

Frequency:

60 Hz

Hours:

9120 h

Meter:

9120

Meter Readout:

9120 h

Tax:

USD

Year:

2013
Average Grade;1=Lowest,5=Highest:

3/5

Brand:

Airman SDG150S

Categorization Description:

Generator Sets

Condition Level Grade(1-5):

3/5

Extra Information:

2013 MMD POWERPRO 150SDG150S PACKAGED DIESEL GENERATOR SETRATED 165 KVA/132 KW STANDBY150KVA/120 KW PRIME120-240 VOLT SINGLE PHASE / 208-480 VOLT 3 PHASE3 PHASE60/50 HZ1800/1500 RPMISUZU MODEL 6HK1X DIESEL ENGINE EPA/CARB TIER 3 FLEXRADIATOR COOLEDTAIYO GENERATORELECTRONIC GOVERNOR24V ELECTRIC STARTCHARGING ALTERNATORBATTERY-RACK-CABLES BATTERY CHARGERJACKET WATER HEATERFUEL / WATER SEPARATORANALOG CONTROL PANEL W/ AUTO-START-STOP AND SAFETIESVOLTAGE CHANGEOVER SWITCHCIRCUIT BREAKERDISTRIBUTION PANEL300 GALLON FUEL TANK BASESOUND ATTENUATED ENCLOSUREEXHAUST SYSTEMMOUNTED ON A RAJYSAN INC. 2-AXLE TRAILERUNIT HAS BEEN REGULARLY MAINTAINED, SERVICED AND LOAD TESTED BY A CAT DEALER WITH 9120 HOURS SHOWING ON SERVICE METER SINCE NEWPACKAGE S/N 1728B10469ENGINE S/N 6HK1-575079GENERATOR S/N UP7608CALIFORNIA EX-RENTAL FLEET PACKAGECARB PERMIT NO. 161950, EXP. 05/31/22DIMENSIONS 16-5 L X 6-7 W X 7-4 HAPPROX 9300 LBS.

G S T:

CAD

Manufacturing Year:

2013

Meter Hours:

hours

Output:

165 kVA

Unit Number:

027817
Description
2013 MMD POWERPRO 150SDG150S PACKAGED DIESEL GENERATOR SETRATED 165 KVA/132 KW STANDBY150KVA/120 KW PRIME120-240 VOLT SINGLE PHASE / 208-480 VOLT 3 PHASE3 PHASE60/50 HZ1800/1500 RPMISUZU MODEL 6HK1X DIESEL ENGINE EPA/CARB TIER 3 FLEXRADIATOR COOLEDTAIYO GENERATORELECTRONIC GOVERNOR24V ELECTRIC STARTCHARGING ALTERNATORBATTERY-RACK-CABLES BATTERY CHARGERJACKET WATER HEATERFUEL / WATER SEPARATORANALOG CONTROL PANEL W/ AUTO-START-STOP AND SAFETIESVOLTAGE CHANGEOVER SWITCHCIRCUIT BREAKERDISTRIBUTION PANEL300 GALLON FUEL TANK BASESOUND ATTENUATED ENCLOSUREEXHAUST SYSTEMMOUNTED ON A RAJYSAN INC. 2-AXLE TRAILERUNIT HAS BEEN REGULARLY MAINTAINED, SERVICED AND LOAD TESTED BY A CAT DEALER WITH 9120 HOURS SHOWING ON SERVICE METER SINCE NEWPACKAGE S/N 1728B10469ENGINE S/N 6HK1-575079GENERATOR S/N UP7608CALIFORNIA EX-RENTAL FLEET PACKAGECARB PERMIT NO. 161950, EXP. 05/31/22DIMENSIONS 16-5 L X 6-7 W X 7-4 HAPPROX 9,300 LBS.
Compare Similar Equipment
You can compare up to 6 pieces of equipment at a time.
* This calculator is intended for use as a guide only. This simulation and the resulting calculations do not constitute any form of agreement, application, or offer from the seller or Randall-Reilly. The figures and formulae used may change at any time without notice. Calculated results are for illustrative purposes only and accuracy is not guaranteed. Title and other fees are not included in the calculation. Other taxes may apply. Randall-Reilly accepts no responsibility for any losses arising from any use of or reliance upon any calculations or conclusions reached using the calculator.
Listing ID: 100080-66270a70-4020-4923-b95f-ff9af803b9b5