Search all Equipment Experts Listings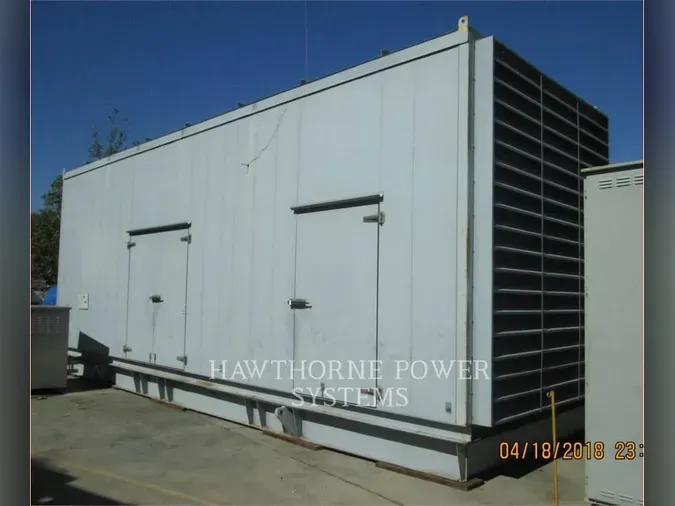 2005 Caterpillar 3512B For Sale
Stock#: 11202
VIN#: CMC01779
Equipment Insights
$189,000
Original (17/07/21)
---
$189,000
Current
2005 Caterpillar 3512B For Sale
Stock#: 11202
VIN#: CMC01779
Check for Availability
Detailed Specification
Additional Information:

2005 CATERPILLAR 1500 KW DIESEL GENERATOR SETPACKAGED BY E & CA ENGINE & COMPRESSOR ACCESSORIESCAT 3512B DITA SCAC EPA TIER I CERTIFIEDRADIATOR COOLEDCAT SR4B HV GENERATOR W/ PMGRATED 1500 KW STANDBY12470 VOLT3 PHASE60 HZ1800 RPMCAT PEEC ELECTRONIC ENGINE CONTROLLER24V ELECTRIC STARTCHARGING ALTERNATORBATTERIES-RACK-CABLESBATTERY CHARGERJACKET WATER HEATERFUEL FILTER / WATER SEPARATORFUEL COOLERGENERATOR SPACE HEATERCRANKCASE VENTILATION FILTERCAT EMCP 3.3 DIGITAL CONTROL PANEL W/ AUTO-START-STOP AND SAFETIESSOUND ATTENUATED WALK-IN ENCLOSURESEISMIC VIBRATION ISOLATORS (BETWEEN GENSET & TANK)MOUNTED ON A 1000 GALLON FUEL TANK BASES/L CRITICAL GRADE EXHAUST SILENCERREMOVED FROM A LOCAL CALIFORNIA MEDICAL PHARMACEUTICAL FACILITY 03 / 2018 WITH 109 HOURS SHOWING ON SERVICE METERPACKAGE S/N CMC01779ENGINE S/N 1GZ02940GENERATOR S/N ACN00248SHIPPING: GENSET33-0 L10-10 W15-8 HAPPROX 73000 LBS.SILENCER W/ FRAME WORK10-10 L10-2 W5-3 HAPPROX 2500 LBS.OPTIONAL S/L : NEUTRAL GROUNDING RESISTOR12 K

Bodyinfo:

CATERPILLAR 3512B

Catalog Number:

CU4330559

Category:

GENERATOR SETS

Engine Power:

2040 hp

Frequency:

60 Hz

Hours:

109 h

Meter:

109

Meter Readout:

109 h

Tax:

USD

Year:

2005
Average Grade;1=Lowest,5=Highest:

3/5

Brand:

Caterpillar 3512B

Categorization Description:

Generator Sets

Condition Level Grade(1-5):

5/5

Extra Information:

2005 CATERPILLAR 1500 KW DIESEL GENERATOR SETPACKAGED BY E & CA ENGINE & COMPRESSOR ACCESSORIESCAT 3512B DITA SCAC EPA TIER I CERTIFIEDRADIATOR COOLEDCAT SR4B HV GENERATOR W/ PMGRATED 1500 KW STANDBY12470 VOLT3 PHASE60 HZ1800 RPMCAT PEEC ELECTRONIC ENGINE CONTROLLER24V ELECTRIC STARTCHARGING ALTERNATORBATTERIES-RACK-CABLESBATTERY CHARGERJACKET WATER HEATERFUEL FILTER / WATER SEPARATORFUEL COOLERGENERATOR SPACE HEATERCRANKCASE VENTILATION FILTERCAT EMCP 3.3 DIGITAL CONTROL PANEL W/ AUTO-START-STOP AND SAFETIESSOUND ATTENUATED WALK-IN ENCLOSURESEISMIC VIBRATION ISOLATORS (BETWEEN GENSET & TANK)MOUNTED ON A 1000 GALLON FUEL TANK BASES/L CRITICAL GRADE EXHAUST SILENCERREMOVED FROM A LOCAL CALIFORNIA MEDICAL PHARMACEUTICAL FACILITY 03 / 2018 WITH 109 HOURS SHOWING ON SERVICE METERPACKAGE S/N CMC01779ENGINE S/N 1GZ02940GENERATOR S/N ACN00248SHIPPING: GENSET33-0 L10-10 W15-8 HAPPROX 73000 LBS.SILENCER W/ FRAME WORK10-10 L10-2 W5-3 HAPPROX 2500 LBS.OPTIONAL S/L : NEUTRAL GROUNDING RESISTOR12 K

G S T:

CAD

Manufacturing Year:

2005

Meter Hours:

hours

Output:

1875 kVA

Unit Number:

P180077T
Description
2005 CATERPILLAR 1500 KW DIESEL GENERATOR SETPACKAGED BY E & CA ENGINE & COMPRESSOR ACCESSORIESCAT 3512B DITA SCAC EPA TIER I CERTIFIEDRADIATOR COOLEDCAT SR4B HV GENERATOR W/ PMGRATED 1500 KW STANDBY12,470 VOLT3 PHASE60 HZ1800 RPMCAT PEEC ELECTRONIC ENGINE CONTROLLER24V ELECTRIC STARTCHARGING ALTERNATORBATTERIES-RACK-CABLESBATTERY CHARGERJACKET WATER HEATERFUEL FILTER / WATER SEPARATORFUEL COOLERGENERATOR SPACE HEATERCRANKCASE VENTILATION FILTERCAT EMCP 3.3 DIGITAL CONTROL PANEL W/ AUTO-START-STOP AND SAFETIESSOUND ATTENUATED WALK-IN ENCLOSURESEISMIC VIBRATION ISOLATORS (BETWEEN GENSET & TANK)MOUNTED ON A 1000 GALLON FUEL TANK BASES/L CRITICAL GRADE EXHAUST SILENCERREMOVED FROM A LOCAL CALIFORNIA MEDICAL PHARMACEUTICAL FACILITY 03 / 2018 WITH 109 HOURS SHOWING ON SERVICE METERPACKAGE S/N CMC01779ENGINE S/N 1GZ02940GENERATOR S/N ACN00248SHIPPING: GENSET33-0 L10-10 W15-8 HAPPROX 73,000 LBS.SILENCER W/ FRAME WORK10-10 L10-2 W5-3 HAPPROX 2,500 LBS.OPTIONAL S/L : NEUTRAL GROUNDING RESISTOR12 KV CONTROL/METERING CABINETNEUTRAL GROUNDING RESISTOR54 L44 W57 HAPPROX 1000 LBS.THOMPSON TECHNOLOGY 12 KV ATS CONTROL/METERING CABINET92 X 8-10 X 9-0 HAPPROX 8,000 LBS.
Compare Similar Equipment
You can compare up to 6 pieces of equipment at a time.
* This calculator is intended for use as a guide only. This simulation and the resulting calculations do not constitute any form of agreement, application, or offer from the seller or Randall-Reilly. The figures and formulae used may change at any time without notice. Calculated results are for illustrative purposes only and accuracy is not guaranteed. Title and other fees are not included in the calculation. Other taxes may apply. Randall-Reilly accepts no responsibility for any losses arising from any use of or reliance upon any calculations or conclusions reached using the calculator.
Listing ID: 100080-1a50aa19-c0be-4695-80e8-dc264f3f88e3