Search all Equipment Experts Listings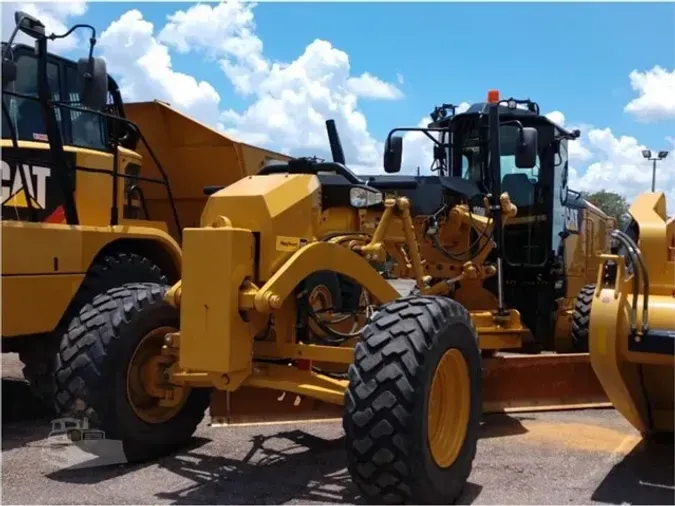 2017 CATERPILLAR 120M2 For Sale
3,893 hrs
Stock#: 194833975
VIN#: M9C00793
2017 CATERPILLAR 120M2 For Sale
3,893 hrs
Stock#: 194833975
VIN#: M9C00793
Equipment Specification
Description
ANTIFREEZE WINDSHIELD WASHERBASE + 1 (MMS)COMFORT PACKAGECOOLANT, 50/50, -35C (-31F)DRAIN, GRAVITY, ENGINE OILLANE 3 ORDERLIGHTS, FRONT HEADLIGHTS, LOWLIGHTS, WORKING, PLUS, HALOGENMID MOUNT SCARIFIER PACKAGEROLL ON-ROLL OFFTIER 4 FINAL AB&T CREDIT USINGHitch: TOWINGMirrors: OUTSIDE MOUNTEDLines: STANDARD W/O ACCUMULATORPrecleaner: SY-KLONEGlobal ArrangementLanguage: ENGLISHStarting: (50 MT)Mounting: WARNING LIGHTInstallation ArrangementEquipment-certification-code: NCRCameraCounterweightDrawbar: 6 SHOE CIRCLE GUIDESCounterweightType
Specific Details
No specification information is available for this equipment. Consider contacting the dealer to receive additional information.
ENGINE OIL LANE 3 ORDER LIGHTS

STANDARD W/O ACCUMULATORMID MOUNT SCARIFIER PACKAGEMIRRORS

(50 MT)TIER 4 FINAL AB&T CREDIT USINGTIRES

STANDARDANTIFREEZE WINDSHIELD WASHER BASE + 1 (MMS) COMFORT PACKAGE COOLANT

ENGINE OIL LANE 3 ORDER LIGHTS
BASICLANE 3 ORDERLANGUAGE

WARNING LIGHTNO ACCUGRADEPRECLEANER

CELLULAR PLE641ROLL ON-ROLL OFFSTARTING

17.5R25 MX XTLA * L2 SPWEATHER

H A L O G E N M I D M O U N T S C A R I F I E R P A C K A G E R O L L O N- R O L L O F F T I E R4 F I N A L A B& T C R E D I T U S I N G Hitch:

TOWING Mirrors: OUTSIDE MOUNTED Lines: STANDARD W/O ACCUMULATOR Precleaner: SY-KLONE Global Arrangement Language: ENGLISH Starting: (50 MT) Mounting: WARNING LIGHT Installation Arrangement Equipment-certification-code: NCR Camera Counterweight Drawbar: 6 SHOE CIRCLE GUIDES CounterweightType
* This calculator is intended for use as a guide only. This simulation and the resulting calculations do not constitute any form of agreement, application, or offer from the seller or Randall-Reilly. The figures and formulae used may change at any time without notice. Calculated results are for illustrative purposes only and accuracy is not guaranteed. Title and other fees are not included in the calculation. Other taxes may apply. Randall-Reilly accepts no responsibility for any losses arising from any use of or reliance upon any calculations or conclusions reached using the calculator.
Listing ID: 26797194833975