Search all Equipment Experts Listings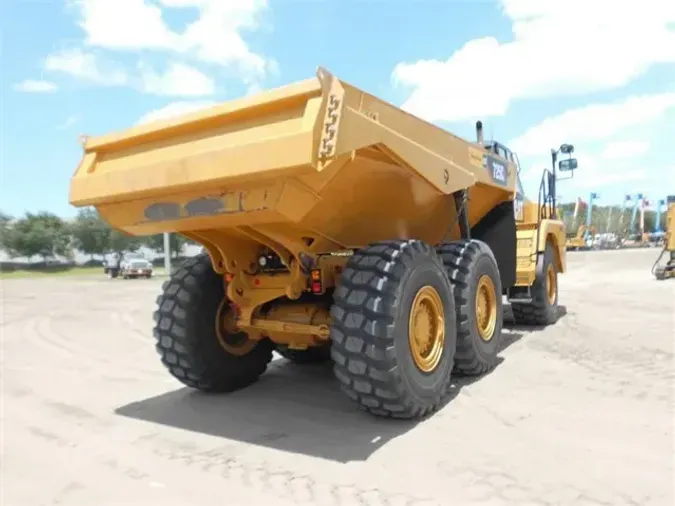 2020 CATERPILLAR 725C2 For Sale
4,778 hrs
Stock#: 2T301035
VIN#: 2T301035
2020 CATERPILLAR 725C2 For Sale
4,778 hrs
Stock#: 2T301035
VIN#: 2T301035
Equipment Specification
Description
LANE 3 ORDERSERIALIZED TECHNICAL MEDIA KITROLL ON-ROLL OFFNO ROOF LIGHTSNO MACHINE SECURITY SYSTEMAM/FM RADIO (BLUETOOTH READY)CMPD SOFTWARENO PAYLOADNO REAR WIPERAID, STARTING, STANDARDHEATER, ENGINE COOLANT, 120VTailgate: SCISSORAntifreeze: -36C (-33F)Fuel Additive: ANTI WAXFilm Group: ANSIBody: STANDARDChassis: STANDARDExhaust: STANDARDLubrication: MANUALMirror: STANDARDTank: STANDARD FUELEquipment-certification-code: NCRTireSize: 23.5R25 BS ** VLT E-3EngineTier: Tier 4
Heaped capacity (2:1) (SAE)
120 V C M P D S O F T W A R E Tailgate:

SCISSOR Antifreeze: -36C (-33F) Fuel Additive: ANTI WAX Film Group: ANSI Body: STANDARD Chassis: STANDARD Exhaust: STANDARD Lubrication: MANUAL Mirror: STANDARD Tank: STANDARD FUEL Equipment-certification-code: NCR TireSize: 23.5R25 BS ** VLT E-3 EngineTier: Tier 4

SCISSOR Antifreeze: -36C (-33F) Fuel Additive: ANTI WAX Film Group: ANSI Body: STANDARD Chassis: STANDARD Exhaust: STANDARD Lubrication: MANUAL Mirror: STANDARD Tank: STANDARD FUEL Equipment-certification-code: NCR TireSize: 23.5R25 BS ** VLT E-3 EngineTier: Tier 4

A N T I W A X Film Group:

ANSI Body: STANDARD Chassis: STANDARD Exhaust: STANDARD Lubrication: MANUAL Mirror: STANDARD Tank: STANDARD FUEL Equipment-certification-code: NCR TireSize: 23.5R25 BS ** VLT E-3

Machine Current Location:

10421 Fern Hill Drive, FL

S T A N D A R D C M P D S O F T W A R E Tailgate:

SCISSOR Antifreeze: -36C (-33F) Fuel Additive: ANTI WAX Film Group: ANSI Body: STANDARD Chassis: STANDARD Exhaust: STANDARD Lubrication: MANUAL Mirror: STANDARD Tank: STANDARD FUEL Equipment-certification-code: NCR TireSize: 23.5R25 BS ** VLT E-3 EngineTier: Tier 4

S T A N D A R D N O P A Y L O A D Tailgate:

SCISSOR Antifreeze: -36C (-33F) Fuel Additive: ANTI WAX Film Group: ANSI Body: STANDARD Chassis: STANDARD Exhaust: STANDARD Lubrication: MANUAL Mirror: STANDARD Tank: STANDARD FUEL Equipment-certification-code: NCR TireSize: 23.5R25 BS ** VLT E-3 EngineTier: Tier 4

S T A N D A R D Tailgate:

SCISSORAntifreeze: -36C (-33F)Fuel Additive: ANTI WAXFilm Group: ANSIBody: STANDARDChassis: STANDARDExhaust: STANDARDLubrication: MANUALMirror: STANDARDTank: STANDARD FUELEquipment-certification-code: NCRTireSize: 23.5R25 BS ** VLT E-3EngineTier: Tier 4
120 V N O P A Y L O A D Tailgate:

SCISSORAntifreeze: -36C (-33F)Fuel Additive: ANTI WAXFilm Group: ANSIBody: STANDARDChassis: STANDARDExhaust: STANDARDLubrication: MANUALMirror: STANDARDTank: STANDARD FUELEquipment-certification-code: NCRTireSize: 23.5R25 BS ** VLT E-3EngineTier: Tier 4

23.5 R25 B S** V L T E-3 Engine Tier:

Tier 4 Telematics: CELLULAR PLE641

C E L L U L A R P L E641 Seat Material:

S T A N D A R D Heated Seat:

S T A N D A R D Seat Type:
About the Dealer
Your nationwide source for quality used equipment. Ring Power strives to pair our quality used equipment with a team of sales and service professionals to make your buying experience one to remember. Used equipment sales are an important part of our business. With a tremendous inventory of previously owned machines and power systems, Ring Power has built a solid reputation as a leading provider of genuine value on quality used equipment. Our used inventory is drawn largely from our own rental fleets, which consist of late model equipment that has been expertly maintained and serviced by our own technicians. Ring Power backs used equipment with the same responsive customer support that has made us an industry leader. This includes Ring Power preventive maintenance programs, comprehensive parts inventory and the expertise of our skilled service teams in the field and in the shop. Visit us at www.ringpower.com for more information.
View more listings from Ring Power CAT
Contact by Text Message
A Virtual Assistant will relay your contact information and message to the dealer.
Listing ID: 26797208193595