Search all Equipment Experts Listings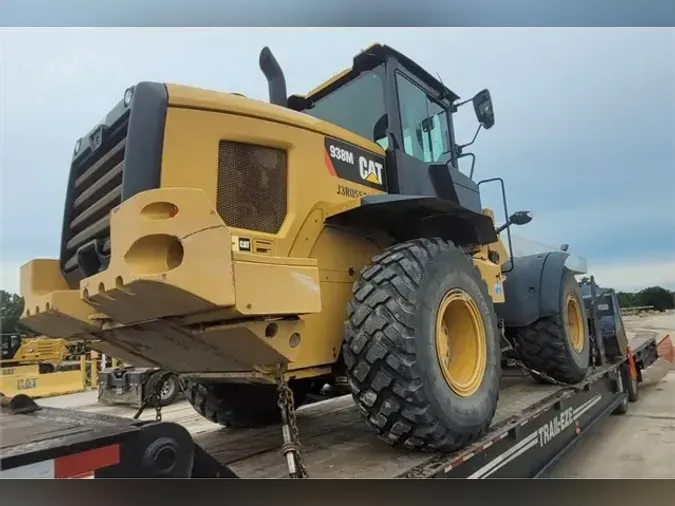 2018 CATERPILLAR 938M For Sale
5,635 hrs
Stock#: J3R05526
VIN#: J3R05526
2018 CATERPILLAR 938M For Sale
5,635 hrs
Stock#: J3R05526
VIN#: J3R05526
Equipment Specification
Description
LANE 2 ORDERBUCKET-GP, 3.2 YD3, FUSHYD,2V,COUPLER READY,STD LIFTCUTTING EDGE, BOLT ON, 4 PIECEGUARD, POWERTRAIN, LOWERGUARD, POWERTRAIN, SIDECOUNTERWEIGHT,3770LBS,HEAV,7PCGuard: CRANKCASE, DRIVESHAFTPack: DOMESTIC TRUCKSteering: STANDARDPrep Pack: UNITED STATESDifferential: OPEN REAREnvironment: STANDARDKit: SERIALIZED TECHNICAL MEDIAFork: 72" CONSTRUCTIONEngine ArToolbox Aux: NONEEquipment-certification-code: NCRStandard Radio (12v): DUAL USBTireSize: 20.5R25 MX XTLA * L2FrontFenders
Reference: Bucket capacity

Length w/bucket on ground
Bucket capacities, min-max

Dump clearance, full height @ discharge

Turning radius, bucket carry
C E L L U L A R P L641 Seat Material:

DOMESTIC TRUCKSteering: STANDARDPrep Pack: UNITED STATESDifferential: OPEN REAREnvironment: STANDARDKit: SERIALIZED TECHNICAL MEDIAFork: 72" CONSTRUCTIONEngine ArToolbox Aux: NONEEquipment-certification-code: NCRTireSize: 20.5R25 MX XTLA * L2FrontFendersCounterweightType: HEAVY

D E L U X E Front Fenders:

D E L U X E Seat Material:

Machine Current Location:

10421 Fern Hill Drive, FL

N O N E Equipment-Certification-Code:

NCR Standard Radio (12v): DUAL USB TireSize: 20.5R25 MX XTLA * L2 Coupler: FUSION

S T A N D A R D Prep Pack:

U N I T E D S T A T E S Differential:
C E L L U L A R P L641 R O P S Type:

C O N S T R U C T I O N Engine Ar Toolbox Aux:

NONE Equipment-certification-code: NCR Standard Radio (12v): DUAL USB TireSize: 20.5R25 MX XTLA * L2 FrontFenders

D R I V E S H A F T Pack:

DOMESTIC TRUCK Steering: STANDARD Prep Pack: UNITED STATES Differential: OPEN REAR Environment: STANDARD Kit: SERIALIZED TECHNICAL MEDIA Fork: 72

O P E N R E A R Environment:

R E A R V I E W Front Fenders:

SERIALIZED TECHNICAL MEDIA Fork: 72

S T A N D A R D Quick Attach:
About the Dealer
Your nationwide source for quality used equipment. Ring Power strives to pair our quality used equipment with a team of sales and service professionals to make your buying experience one to remember. Used equipment sales are an important part of our business. With a tremendous inventory of previously owned machines and power systems, Ring Power has built a solid reputation as a leading provider of genuine value on quality used equipment. Our used inventory is drawn largely from our own rental fleets, which consist of late model equipment that has been expertly maintained and serviced by our own technicians. Ring Power backs used equipment with the same responsive customer support that has made us an industry leader. This includes Ring Power preventive maintenance programs, comprehensive parts inventory and the expertise of our skilled service teams in the field and in the shop. Visit us at www.ringpower.com for more information.
View more listings from Ring Power CAT
Contact by Text Message
A Virtual Assistant will relay your contact information and message to the dealer.
Listing ID: 26797209075045