Search all Equipment Experts Listings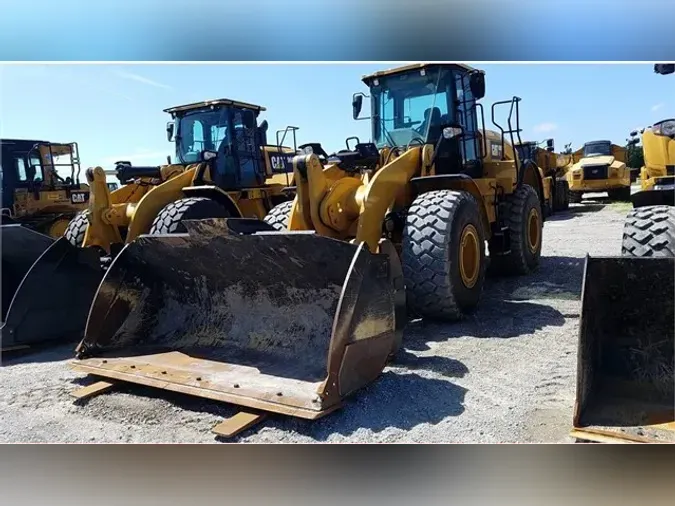 2018 CATERPILLAR 950GC For Sale
1,869 hrs
Stock#: M5T00903
VIN#: M5T00903
2018 CATERPILLAR 950GC For Sale
1,869 hrs
Stock#: M5T00903
VIN#: M5T00903
Equipment Specification
Description
BKT GP ST 114" 4.0 YD3 FUSFAN, REVERSING , ANSIFENDER, ROADING, NON-METALLICHYDRAULICS,2V,W/RIDE CTRL ANSILANE 2 ORDERLINKAGE, STANDARD, 3V/QCLUBRICATION MANUALNO TOOLBOXQUICK COUPLER CONTROLROADING LIGHTS STANDARDROLL ON-ROLL OFFSEAT BELT, 3", AUTO-ANTI-CINCHSERIALIZED TECHNICAL MEDIA KITAntifreeze: -50C (-58F)Cutting Edge: BOLT-ONRadio: AM/FMRegional Pkg: USASuspension Seat: AIRAxles: LSD/OPENTine Group: 72"Carriage Group: 96"Air Inlet Standard: RAIN CAPPkg: COLD WEATHER (AM-N)Joystick W/fnr: 2V CSteering System: STANDARDWorking Lights: HALOGENEquipment-certification-code: NCRTireSize: 23.5R25 MA MS302 ** L3BatteryType: StandardCounterweightType: 3016LBS
Unit of Measurement
W/RIDE CTRL ANSI LANE 2 ORDER LINKAGE

3V/QC LUBRICATION MANUAL NO TOOLBOX QUICK COUPLER CONTROL ROADING LIGHTS STANDARD ROLL ON-ROLL OFF SEAT BELT

3V/QCLUBRICATION MANUALNO TOOLBOXPKG

CELLULAR PL641QUICK COUPLER CONTROLQUICK COUPLER

RAIN CAP Pkg: COLD WEATHER (AM-N) Joystick W

YesAdditional InformationAdditional Information

USA Suspension Seat: AIR Axles: LSD
W/RIDE CTRL ANSIJOYSTICK W/FNR

COLD WEATHER (AM-N)PRODUCT LINK

USAROADING LIGHTS STANDARDROLL ON-ROLL OFFSEAT BELT

AUTO-ANTI-CINCHSERIALIZED TECHNICAL MEDIA KITSTEERING SYSTEM

HALOGENBKT GP ST 114 4.0 YD3 FUS FAN

W/RIDE CTRL ANSI LANE 2 ORDER LINKAGE

3V/QC LUBRICATION MANUAL NO TOOLBOX QUICK COUPLER CONTROL ROADING LIGHTS STANDARD ROLL ON-ROLL OFF SEAT BELT

2V C Steering System: STANDARD Working Lights: HALOGEN Equipment-certification-code: NCR TireSize: 23.5R25 MA MS302 ** L3 BatteryType: Standard CounterweightType: 3016LBS

Machine Current Location:
About the Dealer
Your nationwide source for quality used equipment. Ring Power strives to pair our quality used equipment with a team of sales and service professionals to make your buying experience one to remember. Used equipment sales are an important part of our business. With a tremendous inventory of previously owned machines and power systems, Ring Power has built a solid reputation as a leading provider of genuine value on quality used equipment. Our used inventory is drawn largely from our own rental fleets, which consist of late model equipment that has been expertly maintained and serviced by our own technicians. Ring Power backs used equipment with the same responsive customer support that has made us an industry leader. This includes Ring Power preventive maintenance programs, comprehensive parts inventory and the expertise of our skilled service teams in the field and in the shop. Visit us at www.ringpower.com for more information.
View more listings from Ring Power CAT
Listing ID: 26797189970259