Search all Equipment Experts Listings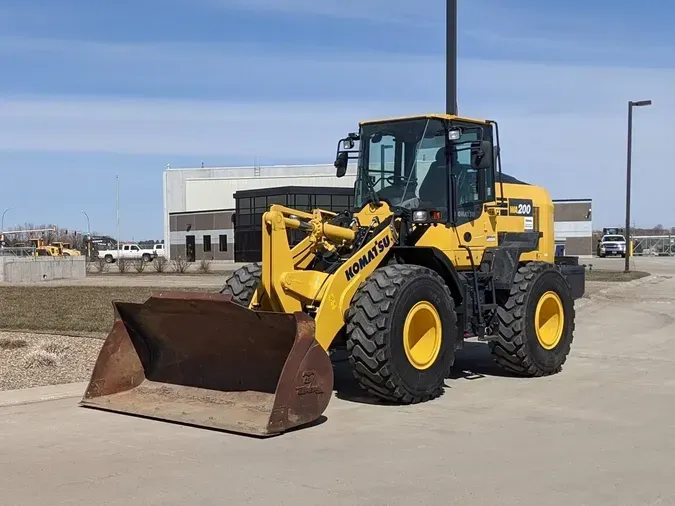 2021 Komatsu WA200-8 For Sale
716 hrs
Stock#: E00055993
VIN#: 86055
2021 Komatsu WA200-8 For Sale
716 hrs
Stock#: E00055993
VIN#: 86055
Equipment Specification
Description
KOMATSU WA200-8 WHEEL LOADER EQUIPPED WITH: ENGINE: - ENGINEKOMATSU SAA4D107E-34 CYLINDER TURBOCHARGEDAIR TO AIR AFTER COOLEDCOOLED EGRDIRECT INJECTION TIER 4 FINAL INTERIM EMISSIONS CERTIFIEDDIESEL. - NET HP: 126HP(94KW) / 2000 RPM (SAEJ1349) ISO / 9249 - AIR CLEANERDRY-TYPETWO STAGERADIAL SEALED - ENGINE SHUT-OFF SYSTEMELECTRIC WITH KEY - FANAUTO-REVERSEHYDRAULIC DRIVEN - KDOC AFTER-TREATMENT ASSEMBLY - SCR - SELECTIVE CATALYTICREDUCTION AFTER TREATMENT WITH DEF TANK ANDHEATED LINES - STARTING AIDINTAKE AIR PREHEATER TYPEELECTRICAL SYSTEM: - ALTERNATOR90 AMPERE24 VOLT - BATTERIES2 X 12 VOLT(92 AH)(680 CCA) - HORNELECTRIC - BACK-UPLIGHTREAR - SEALED DT ELECTRICAL CONNECTORSSTARTING MOTOR5.5KW DIRECT ELECTRIC24V - STOP AND TAIL LIGHT - TURN SIGNAL(2 FRONT2 REAR) WITH HAZARD SWITCH - WORKING LIGHTSHALOGEN (2 FRONTHIGH LOW BEAM WITH INDICATORFENDER MOUNT2 REAR GRILL MOUNT - WORKING LIGHTSHALOGEN (2 FRONT) OUTSIDE OF CAB MOUNTPOWER TRAIN AND CONTROLS: - DIFFERENTIALSTORQUE PROPORTIONINGINBOARD PLANETARY - PARKING BRAKEWET DISC TYPE - SERVICE BRAKESHYDRAULIC WET MULTIPLE DISC TYPEAXLE BY AXLE (INBOARD)- TRANSMISSIONHYDROSTATIC1 PUMP2 MOTORSFULL AUTO SHIFT WITH SPEED RANGE CONTROL - STEERING COLUMN / LOADER CONTROL LEVER SELECTABLE - MAX SPEED CONTROL: ELECTRIC4 SPEED F/R - TRACTION CONTROL: ELECTRIC3 MODEOPERATOR ENVIRONMENT: - CAB(ROPS/FOPS) (INSTALLED)INCLUDES; ADJUSTABLE ARM RESTSCIGARETTE LIGHTER/ASHTRAYDOME LIGHTELECTRICALLY HEATED REAR WINDOWAIR CONDITIONER / HEATER / DEFROSTER / PRESSURIZERFLOOR MATFRONT (INTERMITTENT) AND REAR WIPER/WASHERREARVIEW MIRRORS (2 OUTSIDE2 INSIDE)RIGHT HAND AND LEFT-HAND DOOR ACCESS WITH STEPS AND SUN VISOR - HYDRAULIC CONTROL2 SPOOL (BOOM/BUCKET)MULTI-FUNCTION MONO LEVER CONTROLWITH INTEGRATED TRANSMISSION F/R SWITCH AND INCLUDES INTEGRATED THIRD SPOOL PROPORTIONAL SWITCH (3 SPOOL IS OPTIONAL) - MONITOR7 INCHLCDCOLOR - RADIOAM/FM WITH SPEAKERS AND AUXILIARY JACK - REAR VIEW MONITOR - SEATHEATED AIR SUSPENSION TYPERECLINING WITH ARMRESTS (FABRIC) - STEERING WHEELTILTABLETELESCOPIC OTHER STANDARD EQUIPMENT: - BOOM KICK-OUTAUTOMATIC - BUCKET AND LIFT CYLINDERS - CENTRALIZED GREASE BANKS - COUNTERWEIGHTSTANDARD AND ADDITIONAL - ELECTRONICALLY CONTROLLED SUSPENSION SYSTEM (ECSS) - FENDERSFRONT & PARTIAL REAR - HAND RAILSFRONTLH & RH - KOMTRAXLEVEL 5 - LIFTING EYES - PARALLEL LOADER LINKAGEAND STANDARD LIFT BOOM - PROVISION FOR QUICK COUPLER (MOUNT POINTS FOR PIPINGHARNESS FOR CAB SWITCH) - VANDALISM PROTECTIONINCLUDED OPTIONAL EQUIPMENT: - MICHELIN 20.5-R25 XHA L3 TIRES - KOMATSU HYDRAULIC QUICK COUPLER - 3-SPOOL VALVE WITH MON0-LEVER - STANDARD BOOM - STANDARD BUCKET CYLINDER - STANDARD COUNTERWEIGHT - STANDARD ENGINE INTAKE - LIMITED SLIP DIFFERENTIALFRONT AND REAR
Reference: Bucket capacity

Length w/bucket on ground

Bucket capacities, min-max
Bucket capacities, min-max

Dump clearance, full height @ discharge

Turning radius, bucket carry

Reference: Bucket capacity
About the Dealer
Our company was founded in 1984 by four former employees of General Diesel and Equipment. Our primary focus has been to supply heavy construction and aggregate equipment to the construction, mining, oil exploration industries, as well as the municipal governments in North Dakota, South Dakota, Minnesota and Iowa. Starting with one location and 22 employees in 1984, we have grown to 250+ employees in ten U.S. locations including Fargo, Minot, Bismarck and Williston ND; Rapid City and Sioux Falls, SD; Shakopee, Duluth and Hibbing, MN; and Urbana, IA. We also have two locations in Canada in Regina, SK and Winnipeg, MB.
View more listings from General Equipment and Supplies
Contact by Text Message
A Virtual Assistant will relay your contact information and message to the dealer.
Listing ID: 3643443