Search all Equipment Experts Listings
A B N Services - ABN Wyoming
A B N Services - ABN Wyoming
All A B N Services
Equipment for Sale
1 Listings
13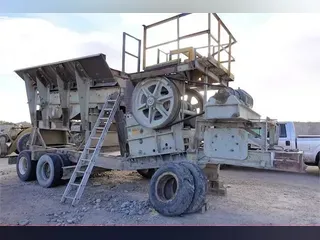 Description
Cedarapids 2236 Portable Jaw Crusher S/N 481002236 Jaw with w/ 75 HP drive motor - new CR Jaw installed in 1998Vibrating Grizzly Feeder w/ 40 HP motor30 Undercrusher Discharge ConveyorTwo Axle CarrierStatic Grizzly structure for oversize materialSales Price at location near Lander, WY$95,000.00The owner replaced the jaw in 1998 with a new Cedarapids 2236 Jaw, replaced the 24 belt with a 30 belt, re-sleeved/machined the flywheel and installed a new toggle plate, upper and lower toggle seats. 2 years ago they rebuilt the feed hopper and installed Corrosion Engineering corroeng com/ high impabyct rubber bonded steel grizzly bars.
You can compare up to 6 pieces of equipment at a time.
ABN Services Inc is a full featured heavy equipment dealer specializing in excavators, bull dozers, and front-end loaders and aggregate equipment. We are located in Olathe, Colorado. Our unsurpassed industry knowledge allows us to supply you leading edge advice and quality used equipment. We look forward to working with you in the future. Feel free to contact us with any questions, suggestions or concerns. ABN Services advertises, lists, and sells equipment primarily as a broker. All equipment is advertised as is where is to the best of our knowledge as provided by the seller. It is the buyer's responsibility to inspect equipment prior to purchase. ABN Services acts as broker only on most equipment. Please do not assume anything without contacting ABN Services or owner of equipment.
LOCATIONS
You can compare up to 6 pieces of equipment at a time.