Search all Equipment Experts Listings
Abell & Son, Inc - Lake Charles
Abell & Son, Inc - Lake Charles
All Abell & Son, Inc
Equipment for Sale
1 Listings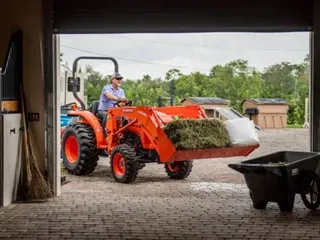 Abell & Son, Inc
Lake Charles, LA
Description
2021 KUBOTA STANDARD L01 SERIES L2501Meet your new favorite piece of equipment: For decades, Kubota's Standard L01 Series has provided the durability and versatility needed to tackle any job for small property owners at an affordable price. The Standard L01 Series continues to carry on this reputation and takes power and reliability to new heights. Designed with you in mind, the Standard L01 Series is built to last to give you the quality and longevity you deserve.FEATURES MAY INCLUDE:* For decades, the Standard L series has been known for its affordability, durability, ease of use, and versatility. Today, the L01 series continues this reputation by providing the same high quality performance in a wide offering of affordable models.#1 SELLING COMPACT TRACTOR BRAND* Theres a reason why Kubota has been the top selling compact tractor brand for over a decade.*Kubotas quality, and the Standard L01 series reputation is known in all circles, whether it be homeowners, rental yards, or contractors.MULTIPLE MODEL OPTIONS TO FIT YOUR NEEDS* Kubota understands that not every customers needs are the same. With that in mind, Kubota offers multiple options for customers throughout the Standard L01 Series lineup.* 2 or 4 Wheel Drive Front Axles Since not everyone needs or wants a 4WD tractor, Kubota offers you the choice of either one.* Gear-Drive or HST Transmission - Having two transmission options allows you to make the choice for what really suits you better, whether it be an economical, comfort, or performance need.* Four Horsepower Models - Ranging from 24.8 to 47.3 gross horsepower, Kubotas Standard L01 series offers four affordable horsepower models to choose from based on your application and implement requirements.KUBOTA DIESEL ENGINE* Because of our reputation for reliability and performance, Kubota is the #1 manufacturer in the world for under 100 HP non-automotive, multi-cylinder diesel engines.*The Standard L01 Series is equipped with the Kubota-built diesel engine. Features include:* Powerful Performance - Kubota diesel engines are known to maximize engine performance.* The Standard L01 series offers 4 horsepower options, ranging from 24.8 to 47.3 HP, to fit a wide variety of performance needs.* Tier 4 Final Emission Compliance - The technology behind Kubota diesel engines comply with emission standards. Our L3301, L3901, and L4701 are equipped with a Common-Rail System (CRS) with electronic controlled fuel injection.* Smooth, Quiet Operation - Kubota Diesel Engines are designed to reduce noise and vibration which provides better comfort when operating.* Fuel Efficiency - Kubota diesel engines are designed not only to maximize performance, but also efficiency and with a large fuel tank and a clean burning engine, the Standard L01 series provides increased fuel efficiency to keep you operating longer.
You can compare up to 6 pieces of equipment at a time.
Abell & Son was started by C.L Abell in 1916 in Welsh, LA. Today we have locations in Welsh and Lake Charles, LA where we offer parts, sales, and service to the agricultural, construction, and consumer industries. Abell & Son offers customer service that is second to none and fiver generations strong.
LOCATIONS
Abell & Son, Inc - Lake Charles
833-570-1466
5325 Highway 90 E

Lake Charles, LA 70615
Abell & Son, Inc - Welsh
833-413-0684
220 S Adams St

Welsh, LA 70591
You can compare up to 6 pieces of equipment at a time.