Search all Equipment Experts Listings
RDO Equipment Co. - Grand Forks
RDO Equipment Co. - Grand Forks
All RDO Equipment Co.
Equipment for Sale
1 Listings
4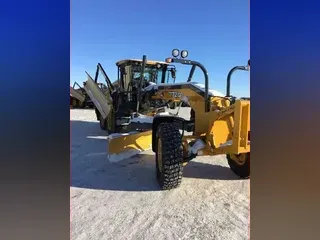 RDO Equipment Co.
Grand Forks, ND
Description
ELECTRO HYDRAULIC CONTROLS | 9.0L ENG,EPA FINAL TIER IV | ALTERNATOR 200 AMP | NO QUICK SERVICE | STANDARD FUEL LINES | HYDRAULIC PUMP DISCONNECT | JDLINK NORTH AMERICA 5 YEARS | BLACK EXHAUST STACK | NO BLADE IMPACT ABSORPTION | 14'X24"X7/8" MB (8"CEX5/8") | NOT TOPCON READY | ENGLISH OPERATOR MANUAL | NO TOPCON RADIO INSTALLATION | SNGL INPUT W/O SLIP CLUTCH | 14R24 G2 1*SNOW MICH 3PC RIM | EH LOW CAB LAMINATED GLASS | AUTOSHIFT TRANSMISSION | TRANS VALVE SOLENOID GUARD | HYDRAU ALL SEASON XR | CAB PRECLEANER | PREM POST/CONT FAB EH CNTRLS | EH FRT W 3AUX/MID W 3AUX | EH PLACE HOLDER | NO FRONT MOUNTED ATTACHMENTS | REAR HITCH AND PIN | DLX LIGHTING PKG W/HAL +8XTR | STANDARD FT FENDERS | CONVERTER, 25 AMP 24V TO 12V | MIRRORS, EXTERNAL HEATED | LOWER FRONT INT WIPER/WASHER | RADIO AM/FM/WB | A/C - CHARGE | NO SOUND ABSORPTION PKG | NO REAR CAMERA | REAR FENDERS NARROW | SUNVISOR-FRONT WINDOW | REAR RETRACTABLE SUNSHADE | PEDAL DECELERATOR | FIRE EXTINGUISHER | SNOWPLOW LIGHTS | RT SIDE ENGINE WORK LIGHT | RH FLIP DOWN BEACON BRACKET | HEATER ENG COOLANT, 120V | ETHER AID - LESS CANISTER | AJUSTING ROTARY EJECTOR PRCL | MOLDBOARD EXTENSION, 2FT LH
You can compare up to 6 pieces of equipment at a time.
Throughout the past 50 years, RDO Equipment Co. has grown and expanded to more than 75 stores across the United States. While our foundation may be built on John Deere agriculture equipment, our expertise extends into construction, environmental, forestry, irrigation, roadbuilding, underground, and several types of machine technology from partners including Vermeer, WIRTGEN GROUP, Topcon, and Carlson.
LOCATIONS
You can compare up to 6 pieces of equipment at a time.