Search all Equipment Experts Listings
RDO Equipment Co. - Moses Lake
RDO Equipment Co. - Moses Lake
All RDO Equipment Co.
Equipment for Sale
2 Listings
44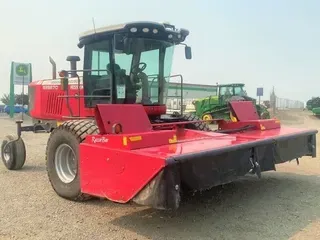 RDO Equipment Co.
Moses Lake, WA
Description
Self Propelled Windrower -Self Propelled -Cab with A/C -Instructional (Buddy) Seat -Standard Radio -With Header -Rotary Header -16 Foot Cutting Width -Steel Conditioning Rolls -Hydraulic Adjustable Reel Speed -Button Tires
Description
Landscape Rake -Base: 1191XF -Tine Dimensions: 5/16 Inch x 1 Inch x 12 Inches Spring Steel -Tine Spacing: 30 at 1 Inch -Working Width: 60 Inches -Tractor Horsepower (Maximum): 25 -Parking Stand: Standard -Raking Positions: 5 Forward (0, 15, 30 Degrees), 5 Reverse (0, 15 Degrees) -3-Point Hitch: Limited Category I (Aftermarket Category 0 Lift Pins Available) -Pivot: 360 Degrees -Operating Weight: 168 Pounds -Warranty: 1 Year
You can compare up to 6 pieces of equipment at a time.
Throughout the past 50 years, RDO Equipment Co. has grown and expanded to more than 75 stores across the United States. While our foundation may be built on John Deere agriculture equipment, our expertise extends into construction, environmental, forestry, irrigation, roadbuilding, underground, and several types of machine technology from partners including Vermeer, WIRTGEN GROUP, Topcon, and Carlson.
LOCATIONS
You can compare up to 6 pieces of equipment at a time.