Search all Equipment Experts Listings
Palmer Trucks - Kenworth of Effingham
Palmer Trucks - Kenworth of Effingham
All Palmer Trucks
Equipment for Sale
2 Listings
RigDig
15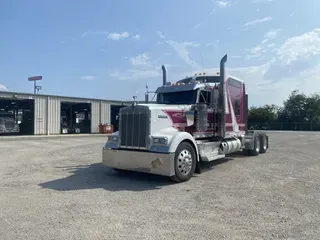 Palmer Trucks
Effingham, IL
Description
2020 KENWORTH W900TRADITIONAL STYLING, KENWORTH CRAFTSMANSHIP. Since the day it was introduced, the W900 has set the standard for long-haul power, performance and reliability. PACCAR POWERTRAIN Innovative technologies and advanced manufacturing processes deliver fuel efficient, light weight designs resulting in a lower cost of ownership.
RigDig
12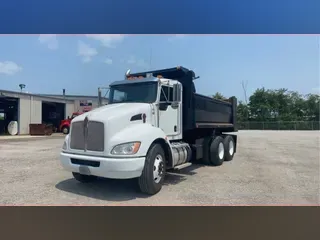 Palmer Trucks
Effingham, IL
Description
2014 KENWORTH T370VERSATILE, RELIABLE, RUGGED CHASSIS. As with all of our medium-duty trucks, the Kenworth T370 will likely outlive the body you put on it. EASY TO MANEUVER, A PLEASURE TO DRIVE. Contemporary styling and great visibility combine with comfort to make the T370 a truck that keeps drivers happy. IF YOU DEPEND ON TRUCKS TO MAKE A LIVING, ITS TIME TO INVEST IN ONE THAT HAS SOME HEAVY-DUTY THINKING BEHIND IT. Do you want a medium-duty truck that will most likely outlive the body you put on it? Then there is some very good news: The Kenworth T270 and T370 are two trucks engineered and built to do just that. Designed and built with your long-term business goals in mind.No matter which model you select, you start with a versatile, rugged and reliable chassis capable of tackling the toughest jobs youve got. Then add advantages like contemporary aerodynamic styling, great visibility, excellent maneuverability, a driver-pleasing premium interior and quick single point daily maintenance checks. These are trucks you can count on day in, day out.The T270 is a true Class 6 vehicle, rated at 26,000 lbs GVW. Available as a straight truck, it can be configured for non-CDL operation to broaden your pool of drivers.The Class 7 T370, as a straight truck or tractor, offers a GVW range from 26,001 to 33,000 lbs. The T270 and T370 are also available as a diesel electric.Custom-built from the ground up for your specific application, you can choose manual or automatic transmissions, air or hydraulic brakes and select from components by proven North American manufacturers.Kenworths legendary conventional cab a strong and quiet environment unmatched in the industry for its longevity and comfort is part of the package. The quiet, fully-trimmed interior is doghouse-free to increase floor space and operating convenience. The wrap-around instrument panel offers large, easy-to-read glare-free gauges and quick access to driver controls. Standard features include power door locks and passenger side electric window SAVING MONEY ON MAINTENANCE STARTS RIGHT HERE The T270 and T370 are full of convenient service features. The hood tilts a full 90 degrees for wide-open access to the engine and all service points. Both models are equipped with the PACCAR PX-7 engine rated up to 325 hp and 750 lb-ft of torque, or with the optional PACCAR PX-9 engine rated to 350 hp and 1,150 lb-ft of torque. The PACCAR PX-7 offers the highest horsepower to weight ratio of any engine in the industry. The optional PX-9 with up to 1,150 ft-lb of torque is the right choice for more demanding applications. Both engines offer extended service intervals, advanced fuel efficiency and a standard of reliability youll measure in peace of mind.
You can compare up to 6 pieces of equipment at a time.
Palmer Trucks is a full-service Kenworth dealership network serving Ohio, Indiana, Kentucky and Illinois with a comprehensive package of products and services. As a family-owned business with more than a half-century history of growth and success, Palmer Trucks has grown to a team of more than 600 individuals. With more than two million trucks on U.S. highways and interstates at any given time, a paramount need exists to keep the industry moving forward – 24 hours a day, 7 days a week. We maintain a commitment to forming authentic and valuable connections through fulfilling the industry's unique, time-sensitive needs as a trusted partner. We accomplish this by providing products and services of the highest quality and value - personalized for you. Because of this philosophy, we develop and nurture long-term, valuable relationships with our partners. The Palmer Trucks team has the utmost privilege and gratitude of doing business, and these core values are what keep customers returning year-after-year, and are what have kept us On the Road Since 1965. Find new and used trucks, service and parts for all makes and models, body shops, rental, lease, contract maintenance, and work truck upfit and equipment at Palmer Trucks.
LOCATIONS
Palmer Trucks - Kenworth of Indianapolis West
833-376-0791
2929 S Holt Rd

Indianapolis, IN 46241
Palmer Trucks - Kenworth of Terre Haute
833-372-0271
6425 State Road 42

Terre Haute, IN 47803
Palmer Trucks - Kenworth of Effingham
833-353-1029
1010 Outer Belt W

Effingham, IL 62401
Palmer Trucks - Kenworth of Indianapolis East
833-376-0831
9704 E 30th St

Indianapolis, IN 46229
Palmer Trucks - Kenworth of Fort Wayne
833-372-0288
3535 W Coliseum Blvd

Fort Wayne, IN 46808
Palmer Trucks - Kenworth of Cincinnati
833-370-0886
65 Partnership Way

Cincinnati, OH 45241
Palmer Trucks - Kenworth of Dayton
833-376-0843
7740 Center Point 70 Blvd

Dayton, OH 45424
Palmer Trucks - Kenworth of Louisville
833-370-0884
4330 Poplar Level Rd

Louisville, KY 40213
Palmer Trucks - Kenworth of Evansville
833-376-0786
8516 Baumgart Rd

Evansville, IN 47725
Palmer Trucks - Kenworth of Bowling Green
833-356-1397
131 Parker Ave

Bowling Green, KY 42101
Palmer Trucks - Kenworth of Fremont
833-376-0795
7267 N Baker Rd Ste A

Fremont, IN 46737
Palmer Trucks - Kenworth of Sellersburg
833-341-1145
1503 Avco Blvd

Sellersburg, IN 47172
You can compare up to 6 pieces of equipment at a time.