Search all Equipment Experts Listings
Rush Truck Centers - College Station
Rush Truck Centers - College Station
All Rush Truck Centers
Equipment for Sale
1 Listings
7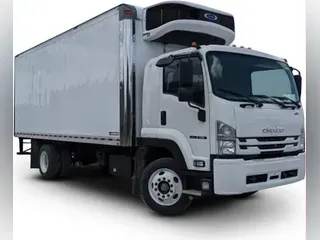 Description
2021 Isuzu FTR -26k GVWR, 215 Hp Diesel engine, Allison automatic transmission, Air brakes, Air ride suspension, 100 gallon fuel tank. 22' Morgan Reefer body, flat anti skid floor, roll up rear door, ICC bumper. Carrier S-9 Reefer unit. All new with Full factory warranty.If you deliver furniture, manage a municipal fleet, operate a moving business or distribute beverages in a tight urban area, the Isuzu FTR chassis is the right choice for your delivery needs. This 25,950 GVWR chassis has a body and payload capacity of up to 15,690 lbs. With body sizes available from 14 to 30, the Isuzu FTR can accommodate a multitude of body types and fits perfectly with any vocation that needs a truck to do the hard work. The fuel efficient Isuzu 4HK1-TC has 215 horsepower with 520 lb. foot of torque. This 5.2L diesel has a long history of durability and reliability with a B10 Rating of 310,000 miles! This truck features the heavy duty Allison automatic 2550 RDS transmission with PTO capability. Designed for dock to dock operations or home delivery, this truck sits on 11R22.5 tires with a Dana 12,000 lb. front axle and a 19,000 lb. Dana rear axle. Standard equipped air brakes in this non-CDL chassis help drive down maintenance costs, along with 10,000 mile engine oil change intervals. The spacious drivers cab seats 3 passengers comfortably and with the best visibility offered in a Class 6 truck along with a 50 degree wheel cut, your crew will always be operating in the safe zone. Lower your cost of ownership with Isuzus three year unlimited mileage powertrain warranty, comprehensive vehicle health reports and the multiinformation display that monitors your trucks status and condition. Isuzu Financial offers competitive financing, TRAC leases and Fair Market Value leases. Call or come by Rush Truck Center - Sealy,to let one of our sales professionals tell you about any of our Isuzu trucks in inventory as well as the great financing options currently available. Delivery available.
You can compare up to 6 pieces of equipment at a time.
With more than 100 locations from coast to coast, Rush Truck Centers is the nation's largest commercial vehicle dealership network and the premier solutions provider for the commercial vehicle industry. We provide our customers an integrated, one-stop approach to the sales and service of new and pre-owned heavy- and medium-duty trucks, all-makes parts, service, collision repair, vehicle upfitting, technology solutions and a range of financial services including financing, insurance and leasing and rental options. We represent the industry's leading brands including Peterbilt, International, Ford, Hino and Isuzu and feature the nation's largest new and pre-owned truck inventory. When it comes to trucking, no one offers you more than Rush Truck Centers.
LOCATIONS
You can compare up to 6 pieces of equipment at a time.