Search all Equipment Experts Listings
Trucks for Sale - Southwest International Trucks - Southwest International Trucks Arlington
Southwest International Trucks - Southwest International Trucks Arlington
All Southwest International Trucks
Equipment for Sale
2 Listings
2019 International LT625
Truck Tractor
Dealer: Southwest International Trucks
Equipment Locations: Arlington, TX
$59,500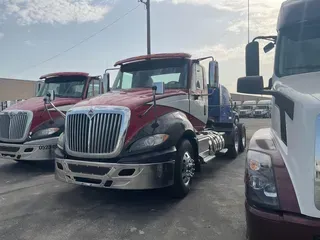 You can compare up to 6 pieces of equipment at a time.
Southwest International Trucks has been proud to serve the Dallas, Fort Worth, and Waco areas of Texas for 40 years. Since our establishment in 1982, Southwest International has been dedicated to providing an outstanding customer experience through quality products, operational excellence, and striving to be the dealership of choice in our market. Russ Trimble became an International Truck Dealer when several truck sales employees took over former International Harvester Company truck sales branches, establishing the first Southwest International dealership. Since then, Mr. Trimble and the dealership have continued to grow and thrive, earning the esteemed International Truck Presidential Award and Circle of Excellence Award more than twenty times. This award honors the top eight percent of International Truck dealerships that achieve the highest level of performance of operating and financial standards, market representation, and most importantly, customer satisfaction. Southwest International finished first of the nine top tier dealers and is one of only fourteen International dealerships in the United States and Canada who earned this prestigious recognition in 2019. In 2010 Southwest was bestowed with the Dealer of the Year Award. Since our establishment, Mr. Trimble and his team have grown Southwest to an operation with more than 400 employees and a total of five locations across North Texas and Waco. Though Southwest International is one of the largest International dealerships in the United States, we are still locally owned and operated. In addition to the five dealerships, Southwest operates three Idealease locations, three Used Truck Centers, and Design Transportation, a long-haul trucking company with over 100 tractors and 120 employees. At Southwest International, we are committed to providing our customers with their comprehensive transportation services while doing it better than the rest. We are focused on what we call the "Three C's": Customer, Cooperation, and Can-Do. To us at Southwest International, this means to take care of the customer with a cooperative, "can-do" attitude. We truly believe that this philosophy separates us and our service from competitors. We pride ourselves on giving the best customer service to everyone that walks in our doors by going that extra mile and truly valuing our customers.
Contact by Text Message
A Virtual Assistant will relay your contact information and message to the dealer.
You can compare up to 6 pieces of equipment at a time.