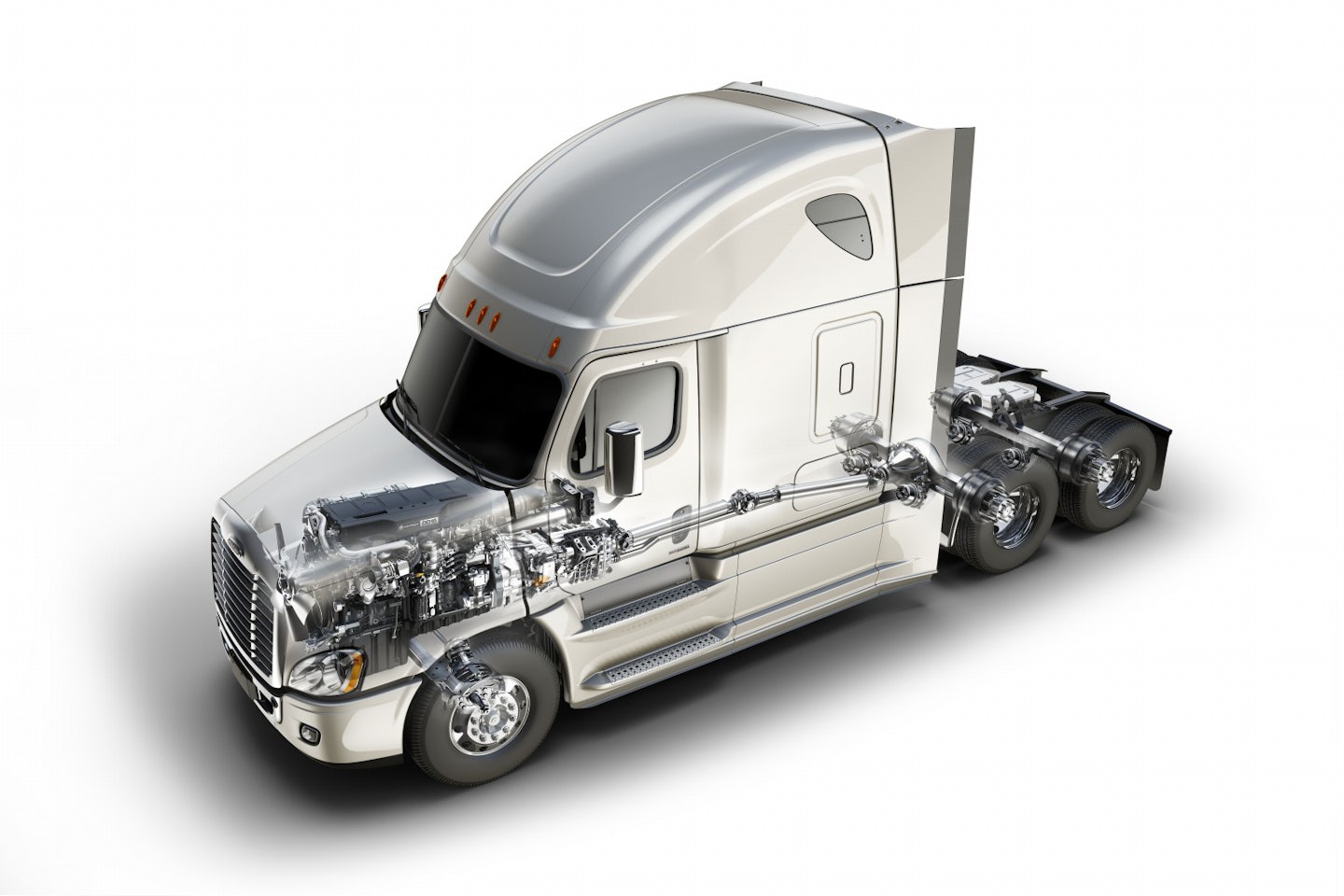 Detroit Diesel Corporation (Detroit) Thursday unveiled the new Integrated Detroit Powertrain (IDP) featuring its DD15 engine, DT12 transmission and Detroit axles.
Detroit says the integrated powertrain delivers lower cost of ownership to its customers.
The package will be available January 2015 for the Freightliner Cascadia Evolution and later next year for the new Western Star 5700.
The IDP features the companys DD15 engine, but offers a new down-sped rating of 400hp and 1,750 lb/ft of torque. The down-sped rating, Detroit says, enables the engine to turn at lower RPMs regardless of road speed, ultimately reducing fuel consumption and friction while delivering the necessary torque at lower RPMs.
Downspeeding improves fuel economy by shifting usable power and torque to a lower RPM range, Brad Williamson, manager, engine and component marketing for Daimler Trucks North America (DTNA). Youre going to get usable torque and power at about 970 RPM. Its not taking away the power (drivers) are used to having, its just shifting it to a different spot in the calibration.
The engine also features a six-blade fan to cut parasitic loss.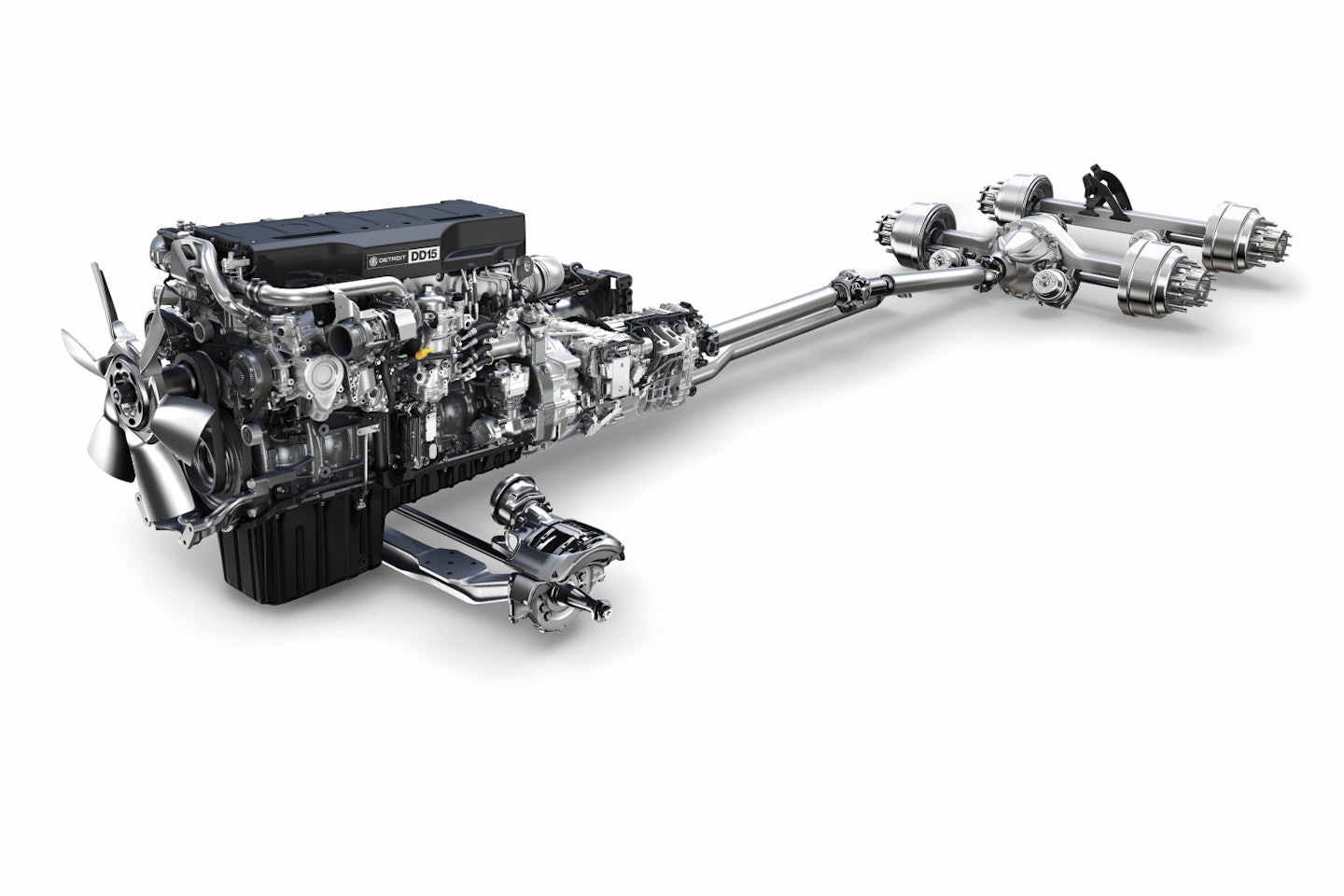 Detroits Virtual Technician On Board Diagnostic System is also integral to the Powertrain. The DD15 features the 1-Box emissions package that combines DOC, DPF, SCR catalyst and DEF doser, creating an optimal solution for a variety of truck configurations. The DD15 also meets OBD13 and GHG14 standards.
The DT12 transmission features Intelligent Powertrain Management (IPM), which uses pre-loaded terrain maps and GPS to know the route ahead and automatically adjust transmission and engine functions.
Features such as eCoast, a technology specific to the DT12 that allows the engine to operate at idle of 500 RPM when road and driver inputs dont require engine power to move the truck down the road, and creep mode, which improves low- speed maneuverability, perform with the Powertrain to benefit performance.
Whether approaching a grade, cresting a hill or traveling along rolling hills, Intelligent Powertrain Management makes sure the truck is carrying the most efficient momentum into the road ahead, Williamson says. The DT12 transmission is the critical link between the engine and the axles, and with the addition of the IPM, we are providing a seamless solution that has a direct impact on fuel savings.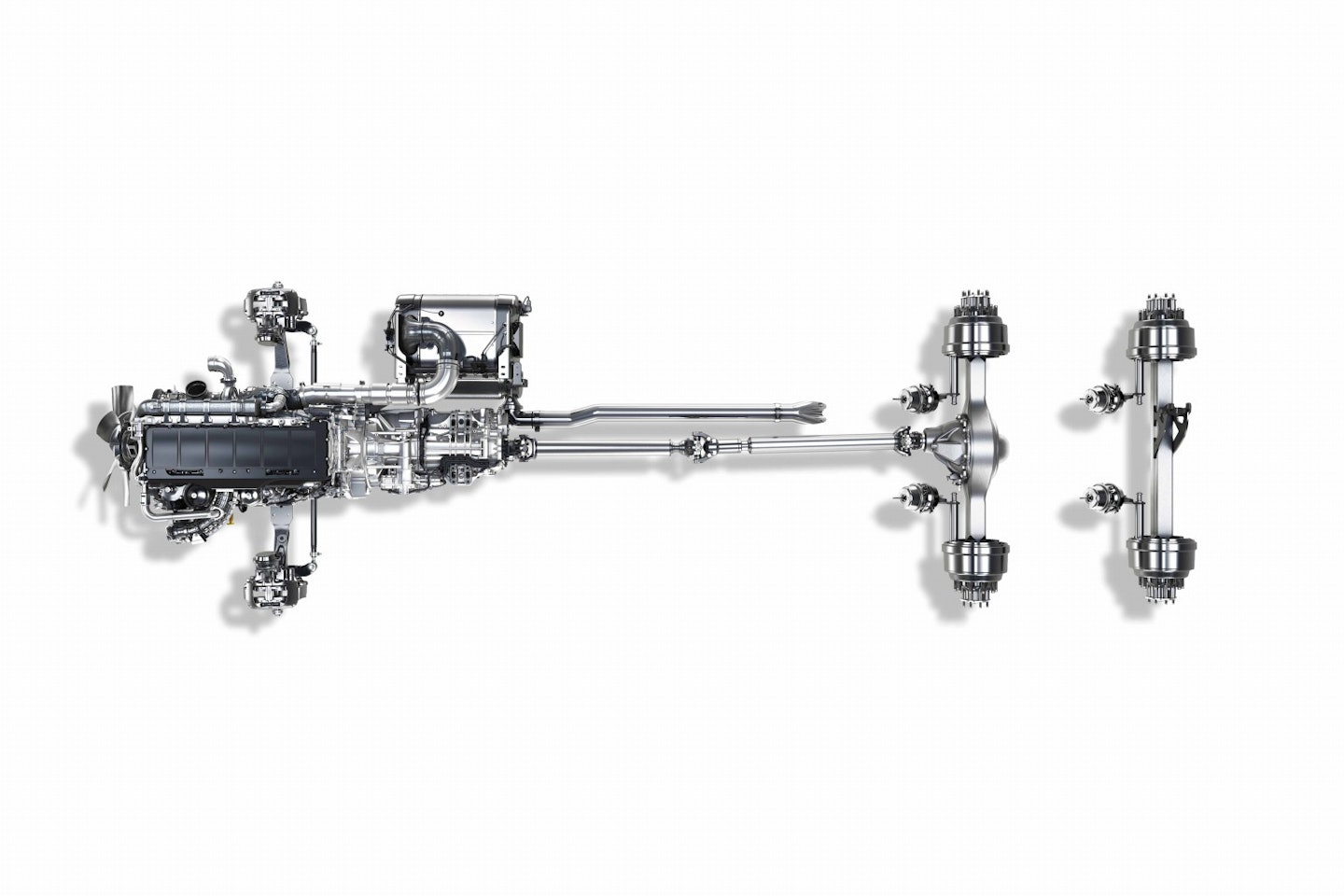 With the new offering, Detroit now has a 62 configuration with a 2.28 ratio specifically designed to work with the downsped engine rating, making it the fastest ratio available in Freightliner and Western Star trucks. The 62 Detroit axle configuration incorporates a non-driven tag axle on the tandem, reducing total weight by almost 400 lbs., while a new 2.41 ratio in its 64 axle configuration is also available for applications requiring more traction, the company says.
The integrated Detroit Powertrain includes steer axles that use low-friction needle bearings for maximum maneuverability and minimal maintenance.
David Hames, general manager of marketing and strategy for DTNA, says the launch of the IDP was the next step in the companys quest for better fuel economy.
We have an internal target of achieving 5 percent fuel economy (savings) every two years, he says. IDP is another 5 to 7 percent, depending on baseline, over Cascadia Evolution.
Were in good shape (with regard to GHG 2017), just with Evolution, so this only helps our position, Hames adds. Our strategy with GHG is to stay in a position where we have pull-through technology as opposed to having to force technologies on customers that they dont want in their operations.
A new Demand Detroit app will be available in early June for Android and iOS devices, which Williams says will be the first time Detroit has ever had a consumer-facing app.