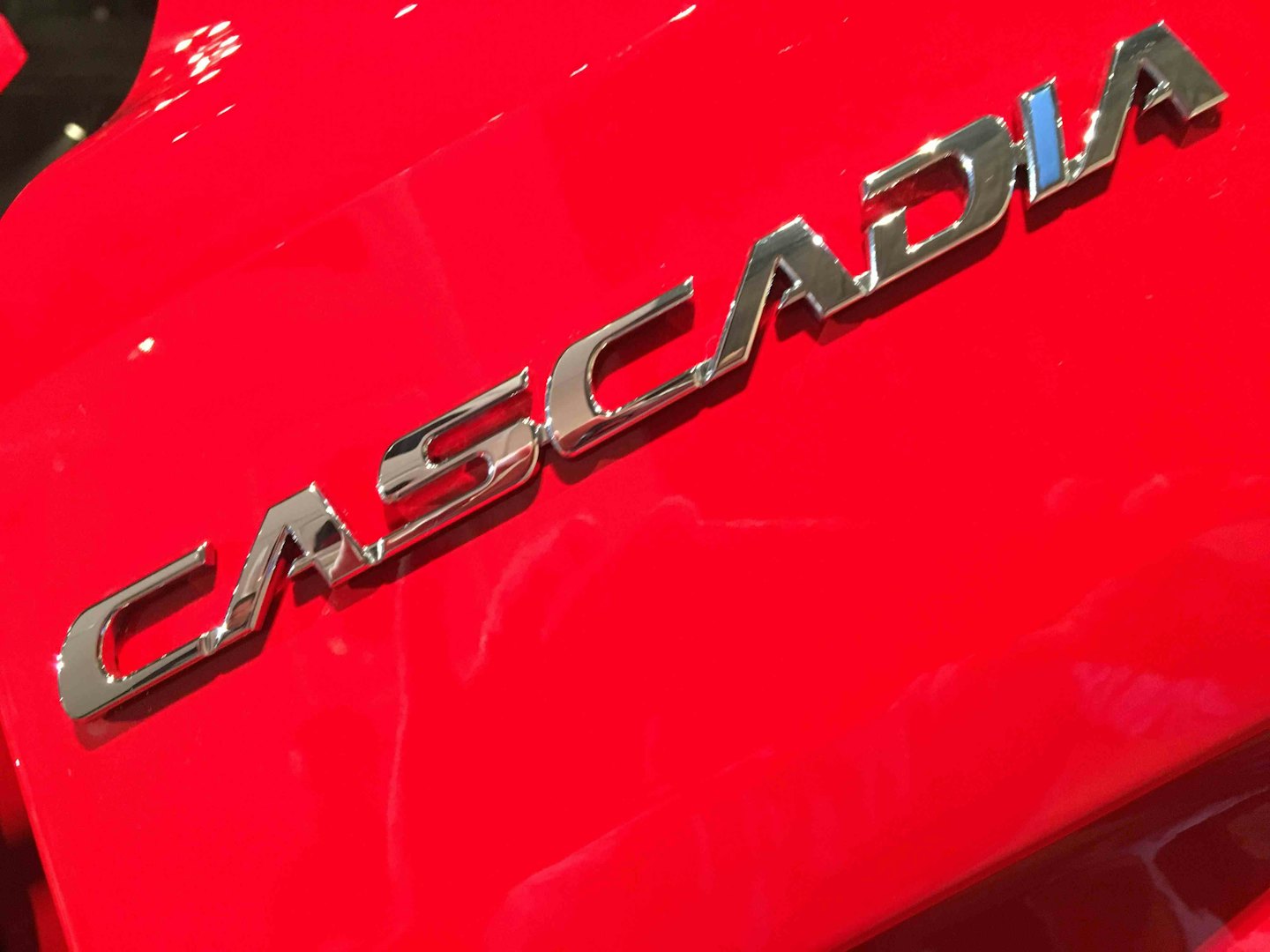 Not resting on its 42.6 percent U.S. and Canadian Class 8 year-to-date market share, Daimler Trucks North America (DTNA) unveiled Wednesday its reimagined 2018 Freightliner Cascadia tractor, ushering in what DTNA President and CEO Martin Daum calls the new frontier for fuel efficiency, with up to 8 percent better fuel economy performance over the current-model Cascadia Evolution.
Every aspect of the truck has been re-imagined, says Richard Howard, senior vice president of sales and marketing for DTNA. We are raising fuel efficiency, connectivity, safety, quality and uptime performance to even greater levels.
Read more on the new Detroit Connect platform, unveiled alongside the new Cascadia, at this link:
Freightliner shared the spotlight Wednesday night at Broadmoor Arena in Colorado Springs with 12 of the companys largest volume customers U.S. Xpress, Heartland Express, Schneider, Bison Transportation, Old Dominion, Prime, Inc., Werner, Swift, Knight Transportation, C.R. England, Crete and J.B. Hunt each of whom purchased the new Cascadia sight unseen early in the development process.
Collectively, these 12 customers have ordered one of every four of the 275,000 Cascadias built since 2011, investing more than $9 billion into Freightliner trucks in that time.
Cascadia powertrain
The new Cascadia is available with the integrated Detroit Powertrain that includes GHG 2017-compliant Detroit DD15 or Detroit DD13 engines, updated Detroit DT12 automated manual transmission, fourth-generation Intelligent Powertrain Management (IPM4) and Detroit steer and rear tandem axles.
The updated IPM4 transmission management software now uses GPS-based technology to maximize the DT12 fuel economy performance by anticipating changes to road terrain. The transmission also has super-finished gears to allow for lower-viscosity transmission oil.
Changes to the rear axle include a lower sump volume, gear-set coating, friction reducing gear cutting and optional Axle Lubrication Management that reduces parasitic loss.
New Detroit rear drive axle ratios 2.28 and 2.16 are available in the new Cascadia to further promote downspeeding and thus improved fuel economy.
Updated to the DT12 improve fuel efficiency and reduce friction by using super- finished gears and use of low viscosity transmission oil. It also features the latest generation of IPM4, which uses a GPS-based system to anticipate upcoming road terrain and maximize the powertrains ability to utilize fuel most effectively.
Exterior styling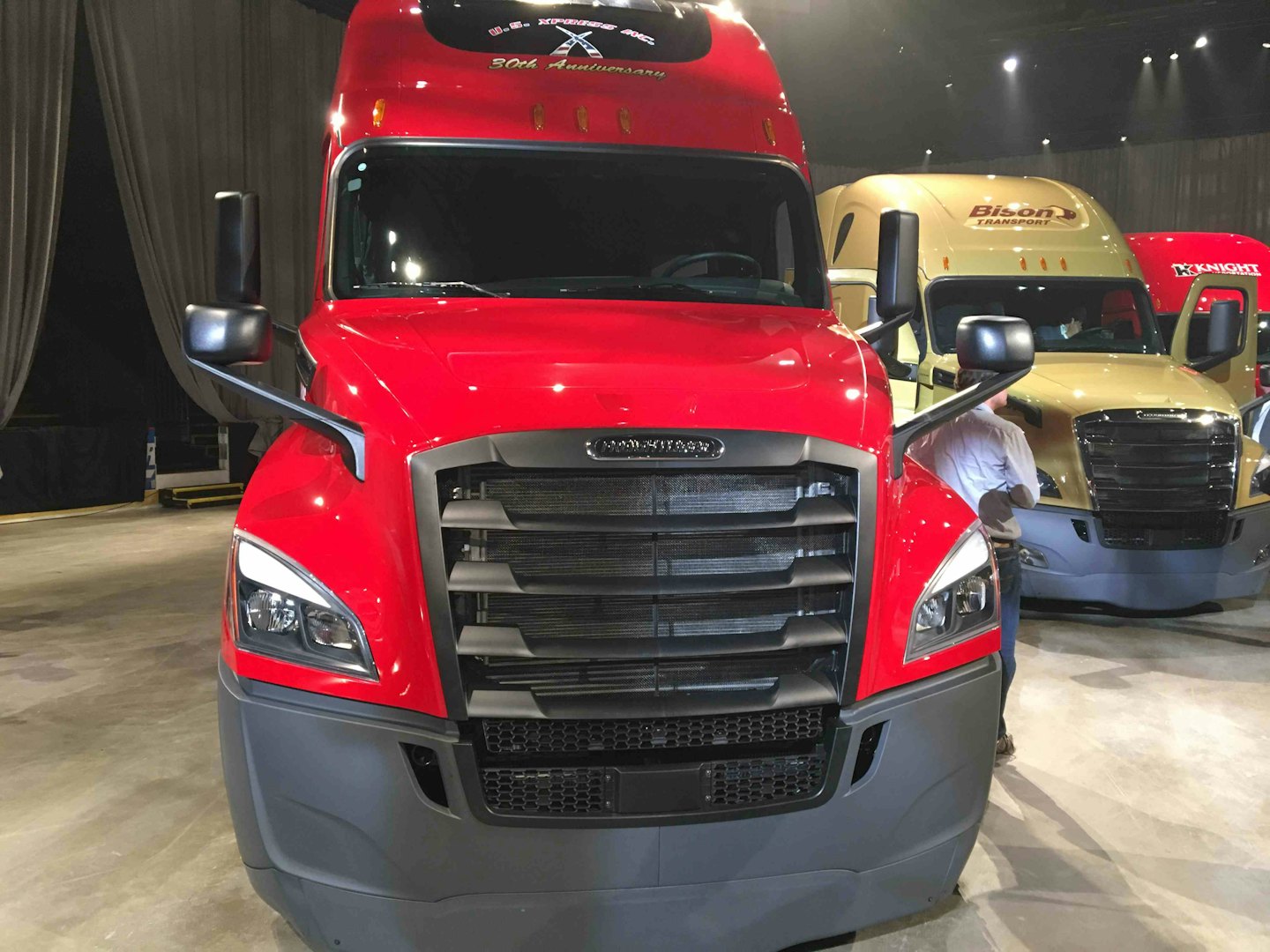 On the outside, the new Cascadia gets a fresh, aerodynamic shape with dozens of sleek new updates, designed to specifically to drive fuel efficiency gains.
Standard enhancements such as an upper door seal, elliptical-shaped mirrors, sloped hood, bumper with integrated air deflector and integrated antennas all minimize drag. Optional Aero and AeroX packages provide additional aerodynamic benefits to manage airflow, including longer side extenders, lower chassis fairings, drive wheel covers and proprietary-designed wheel fairings.
Interior enhancements, improved ergonomics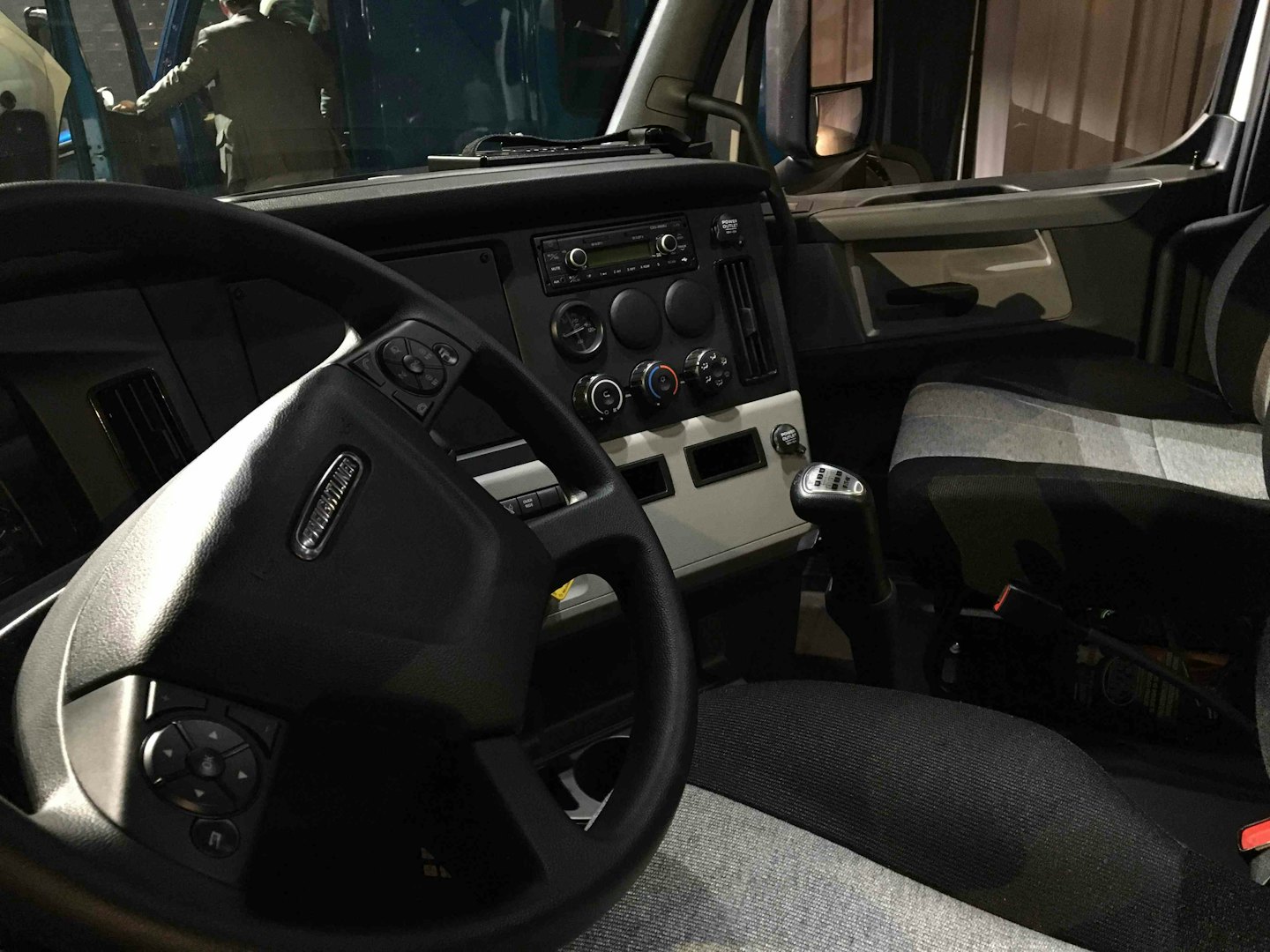 While the exterior styling is a notable departure from previous generation Cascadias, Daum says DTNA recognizes its role in helping customers with driver recruiting and retention, and much of the design process was focused behind the steering wheel.
Drivers are our job, too, said Daum. Being on the road for 10 days and sleeping in a truck can be brutal, and we have to make that job easier for drivers. [Truck driving] is potentially one of the toughest jobs you can have in North America. We invested a lot of money in the sleeper, the dashboard into the human machine.
DTNA partnered with Teague, designer of Boeing airplane interiors, to develop the interior of the new Cascadia on lighting, storage and ergonomic features. Additional grab handles improve driver ingress and egress, and new ceiling-mounted LED lights offer more diffuse ambient cabin illumination to reduce eye strain.
An ergonomically designed wraparound dashboard includes switches and steering wheel controls that are designed to allow drivers of all sizes to work without leaning and stretching. The instrument cluster features digital smart gauges and information displays.
A new front suspension provides a smoother ride and improved roll stiffness, and the steering gear is now located further forward to help improve steering precision and ultimately lead to less driver fatigue.
A new 5-inch display on the instrument cluster panel provides plain text messaging rather than numeric fault codes and is navigable with steering wheel-mounted controls that also handle phone and radio commands.
The new Cascadia is even quieter than prior generations. Kary Schaefer, DTNA general manager of product marketing and strategy, credits noise abatement to an insulation package using 3M Thinsulate technology. A new engine mount design provides better vibration isolation and the engine tunnel cover is now constructed using Quiet Steel technology. DTNA also added a third door seal to lower interior cab noise.
Available in a variety of cab configurations, the new Cascadia offers customizable living-space options, including a redesigned sleeper area that include more cabinets, as well as larger spaces that can accommodate standard appliances. For entertainment, a television swivel bracket can hold up to a 26-inch flat panel TV for movie- theater-like viewing.
Double-bunk and Driver Loft options are also available. The Drivers Loft features a dinette table/work table and opposing seating with seat belts. The seats can be folded flat to allow for a murphy-style bed to drop down. The Drivers Loft also comes standard with aircraft-inspired LED ceiling-mounted ambient lighting at provides more diffuse illumination for reduced eye strain and a dimmer switch so drivers can personalize their light level.
A new cargo shelf option allows drivers to store containers or duffle bags easily. If an upper bunk is specd, it will come standard with a telescoping aluminum ladder to aid egress into the upper bunk.
An uptime design
Toby Faulkner, director of the new Cascadias development, says the new truck was designed with input from nine Freightliner master technicians, who each inspected and rated components for ease of serviceability and maintenance improvement recommendations.
The technicians looked over 72 key points during the design and prototype phases, which helped drive designs innovations for the new model.
Among the first changes was the integration of splayed frame rails versus the straight frame rails on todays Cascadia, which create more room in the engine compartment to allow technicians easier access for maintenance.
Most electronic control units are now stored in the cab in the new eVault for easier convenience and protection from the elements. In front of the eVault is the fuse and relay box which is accessible without hand tools. To increase dash component accessibility, the dash panel was designed to be easily removed. Additionally, the standard two-piece front bumper of the Cascadia can be quickly removed within two minutes.
It says it best when a guy who actual does the work comes back and says its a game-changer, Faulkner says.
An updated, larger, engine air filter increases airflow and requires less frequent replacement intervals. Standard, interior and exterior LED lights further add to the Cascadias ease of maintenance.
Faulkner says the new generation truck was heavily tested in extreme temperatures designed to stress the trucks performance in worse-case scenario real world conditions.
We spent a lot of months in really cold temperatures to see what kind of traction control issues we might have, issues with any fuel line freezing, he says, adding the truck was also tested in Arizona in temps upwards of 125 in order to tax the HVAC system and other internal components in extreme heat conditions.
Improved safety
The new Cascadia uses a full LED system, including headlights that incorporate LEDs in the low beam, high beam, daytime running lamp, park lamp and turn signal lamp.
A one-piece windshield design increases wiper coverage by 12 percent over the current Cascadia and is specially constructed to provide increased resistance to breakage. Both the one-piece windshield and one-piece door glass provide an unobstructed view to the mirror and road. Theres a significant improvement in visibility, Schaefer says.
The optional Detroit Assurance 4.0 suite of safety systems includes Active Brake Assist that now provides full braking on stationary objects, Adaptive Cruise Control and Lane Departure Warning with optional video capture. The proprietary safety suite includes driver-friendly controls and is seamlessly integrated into the trucks dashboard, engine and transmission electronics and can enhance driver safety by mitigating collisions.
Detroit Assurance safety event reporting can be accessed using Detroit Connect Analytics, which will be available to customers early next year. Safety event reporting available through Analytics can be viewed using the new Detroit Connect portal, informing fleet managers and further enhancing driver safety performance.
Always connected, always online
The 2018 Cascadia features an exclusive proprietary connectivity platform introduced by Detroit just for the new model. The new platform will facilitate the delivery of current Detroit Connect features, such as Virtual Technician remote diagnostic service, as well as new features designed to provide deeper insights on fuel efficiency and safety performance.
The biggest mobile device on the road will be the new Cascadia, says DTNA Senior Vice President of Sales and Marketing Richard Howard.
Welcome to real connectivity, says Matt Pfaffenbach, DTNA director of connectivity. It is both hardware in the tuck as well as user experience in the back office.
The introduction of the new platform also marks the debut of Detroit Connect Remote Updates, which enables over-the-air engine parameter programming and Detroit-initiated remote engine and other powertrain electronic controller firmware updates. Remote Updates features will be available to customers mid-next year.
Also available as an option with the new Cascadia, Detroit Connect Analytics provides users with on- demand, automated fuel efficiency and safety analysis and reports featuring key insights from Detroit and DTNA engineers.
The connectivity platform will be available with start-of-production of the new Cascadia in January. A five-year standard base package includes Virtual Technician, access to the new Detroit Connect portal and later in 2017 Remote Updates.
Detroit Connect Analytics will be available within different service option packages with the new Cascadia, one that will deliver the fuel efficiency features only and one that will include both fuel efficiency and safety features. Detroit Connect Analytics will be available for use with the new Cascadia in early 2017.
Pfaffenbach says Detroit Connect Analytics offers the ability to see and consume information on fuel economy and safety performance of a trip, the life of the truck or for the entire fleet.
What we do with the tool is not only gather the information, but also attempt to explain why a certain vehicle performed well or did not perform well, he says.
Fuel economy improvements, independent testing
DTNA conducted hundreds of hours of testing in its proprietary, state-of-the-art wind tunnel and millions of miles of real-world on-highway testing, to evaluate and design the new Cascadia, Schaefer says.
A pre-launch test that spanned six days and 2,400 miles in a trip from Detroit to Portland, Ore. pitted a 2018 Cascadia against a 2016 Cascadia Evolution, currently the most fuel efficient truck on the road. The new truck, Schaefer says, proved to consume 8 percent less fuel than the Cascadia Evolution.
While the 2018 Cascadia does offer improvement over its Cascadia Evolution sibling, Daum says there are no plans to stop building Cascadia Evolution for at least the next two years.
Production on the new Cascadia begins in January and will ramp up through Spring 2017.