Call it what you will multiple personality disorder, dissociative identity disorder, split personality wheel loaders in the 3- to 4-cubic-yard reference bucket capacity size have it bad.
While larger loaders typically focus on production, loaders in this size perform lots of different jobs. These loaders find their way into almost all applications, says Stefan Salomonsson, Volvo Construction Equipment product manager for wheel loaders. Theyre doing construction and demolition, recycling and refuse transfer, logging, agriculture and some landscaping.
The collapse of the housing market strengthened this diversity, says Gary Bell, vice president and general manager of KCMA, the parent corporation for Kawasaki loaders. While the traditional markets of quarry, road building and material production have slowed, specialty markets have emerged, such as refuse, scrap and agriculture.
The collapse of the housing market strengthened this diversity
The good news is that customers can find loaders and attachments and add-ons to accomplish almost any task. Manufacturers and dealers are prepared for unusual requests. The bad news is that despite the flexibility of these machines, they do have limits and some customers exceed those limits.
Misuse and abuse
Loaders in this size range see many different uses but also many misuses, often because the customer bought the wrong loader. The most common error is buying a loader thats undersized and then trying to make that machine do the work of a larger machine.
Some customers add calcium carbonate to the tires or counterweights to the rear of the loader, says Rob Marringa, brand marketing manager at Case Construction Equipment. This allows the use of a larger bucket but depending on the material being loaded, may result in changes to the center of gravity, which introduces balance issues that compromise safety.
Misuse often means pressing a loader into a task for which its not intended
Scott Britton, small wheel loader product specialist at Caterpillar, cautions buyers to also correctly match the bucket to the machine. The most common mistake is using too big of a bucket for the application for that size of machine. Sometimes it just requires a bigger machine and no other safe, efficient solution exists.
Misuse often means pressing a loader into a task for which its not intended, according to Shane Sirmons, national sales and marketing manager for Hyundai Construction Equipment Americas. Wheel loaders are designed to load and move loose materials and, with the proper attachments, palletized loads and similar objects. Theyre not made to cut into virgin material. Use your dozer or excavator for cutting ground. Kawasakis Bell warns against prying with one corner of the bucket, which generates torsional loads in the lifter arm beyond its design parameters.
Marringa also notes that customers sometimes spec the wrong tires on their loaders. High-flotation tires reduce ground pressure and provide performance advantages in soft underfoot conditions and on sensitive surfaces, such as lawns. But they are not designed to be operated at high roading speeds.
When a loader is just a loader
Although most customers will put these loaders to use in a wide range of applications, there are those who will use them just as loaders. Shane Reardon, wheel loader product specialist at Doosan, and Chad Ellis, heavy products manager at Doosan, have advice for these customers. Specing the right loader is accomplished with simple math, they say.
Figure the weight of the material and bucket size, the desired number of passes to load a truck, and the number of truckloads per day to determine the size of loader needed to attain those numbers. Then move on to such specs as hinge pin and bucket dump heights. Cycle time is another important consideration but is often overlooked. Maneuverability, expressed as turning radius, is also an important spec but Ellis says theres little variability among loaders these days.
Even machines used only as loaders sometimes have unique specs, especially when used for waste hauling and industrial environments. Examples include semi-pneumatic tires and additional guards. These extreme-duty applications require a robustness not normally seen in this size class of machine, says Britton.
Regardless of whether a loader will be used in a production loading application or something entirely different, the key is to clearly define the application and spec the right machine for that task. Again, dont make the mistake of buying an undersized unit in an attempt to save money. The decrease in productivity and increase in maintenance and repair costs will quickly erase any short-term savings. And any savings that remain will disappear when the unit is sold or traded; residual values for overworked, undersized machines always suffer.
Time to trade?
New loaders share the benefits associated with other types of new equipment: improved overall performance, greater operator comfort, and better management of owning and operating costs. There are also features unique to loaders that make new models appealing.
Product manager Jamie Wright cites SP kinematics on larger Terex loaders as an example. The SP design combines the main advantages of both Z and parallel kinematics in a single machine. You get power at the bucket like a Z provides and precise handling of the bucket or forks over the entire lifting height as you would get with a parallel design. Caterpillars new optimized Z-bar linkage offers similar benefits while retaining the simplicity of the Z-bar design. And of course, Volvo loaders have long featured its Torque Parallel Linkage.
Sirmons says integrated weighing systems are another example of how new machines offer higher value. While theyre not accurate to the pound they are within a range of accuracy that allows many users to benefit from them.
How can you tell if its time to part with your current loaders? There are multiple approaches, says Chris Cline, product marketing manager for four-wheel-drive loaders at John Deere. Some owners replace based on the age of the equipment, others on the hours, still others on the increased frequency of repair-related downtime. I wouldnt argue against any of those methods. But the practices we typically see are 10,000 to 12,000 hours or 5 to 7 years as being a reasonable replacement cycle.
Britton says that some customers trade every three to five years while theres still good machine life remaining for the second owner and good residual value available to the first owner. Others hold their loaders well past 15,000 hours. Its really up to the business model the owner follows.
When it comes time to part with your old loader remember that while records of use, service and repair always help establish a used machines value, thats even truer with wheel loaders of this size since their duty cycles vary so much. Bell also notes that the closer a used machine is to stock configuration, the higher its value will be. If a machine is highly customized for a special application or heavily equipped with options that are not popular, its residual value will be impaired, he says.
Or time to wait?
If you hold onto your current loaders for a few more years or are trading them soon and are looking ahead to the next trade cycle, some interesting developments should arrive in the marketplace by then.
These go beyond the expected further development of productivity, safety and efficiency. Most center on fuel. Research is proceeding on all types of drives including electric and hybrid and the use of hydraulic accumulators to augment the performance and efficiency of other systems.
Natural gas is a big part of the plan. Hydraulic fracturing (fracking) of rock and other newly-developed technologies make it possible to recover natural gas that would have been economically impractical to pursue just a few years ago. The result is a domestic energy source that is abundant and relatively low cost.
Theres a move toward gas, says Volvos Salomonsson, whether CNG (compressed natural gas) or LNG (liquefied natural gas). But there are significant challenges associated with storage, delivery and handling that need to be addressed before natural gas can be a viable alternative to diesel.
Energy density is lower with natural gas than with diesel, so it takes a greater volume of gas to do the same amount of work as diesel. Fuel tanks on loaders would have to be bigger or machines would require more frequent refilling or both conditions would occur if run times were to be anywhere near what they are with diesel. In addition, CNG has to be stored under high pressure and LNG must be stored in extremely cold conditions. An on-board diesel fuel tank is simple and inexpensive compared to the tanks required with either type of natural gas.
Roundup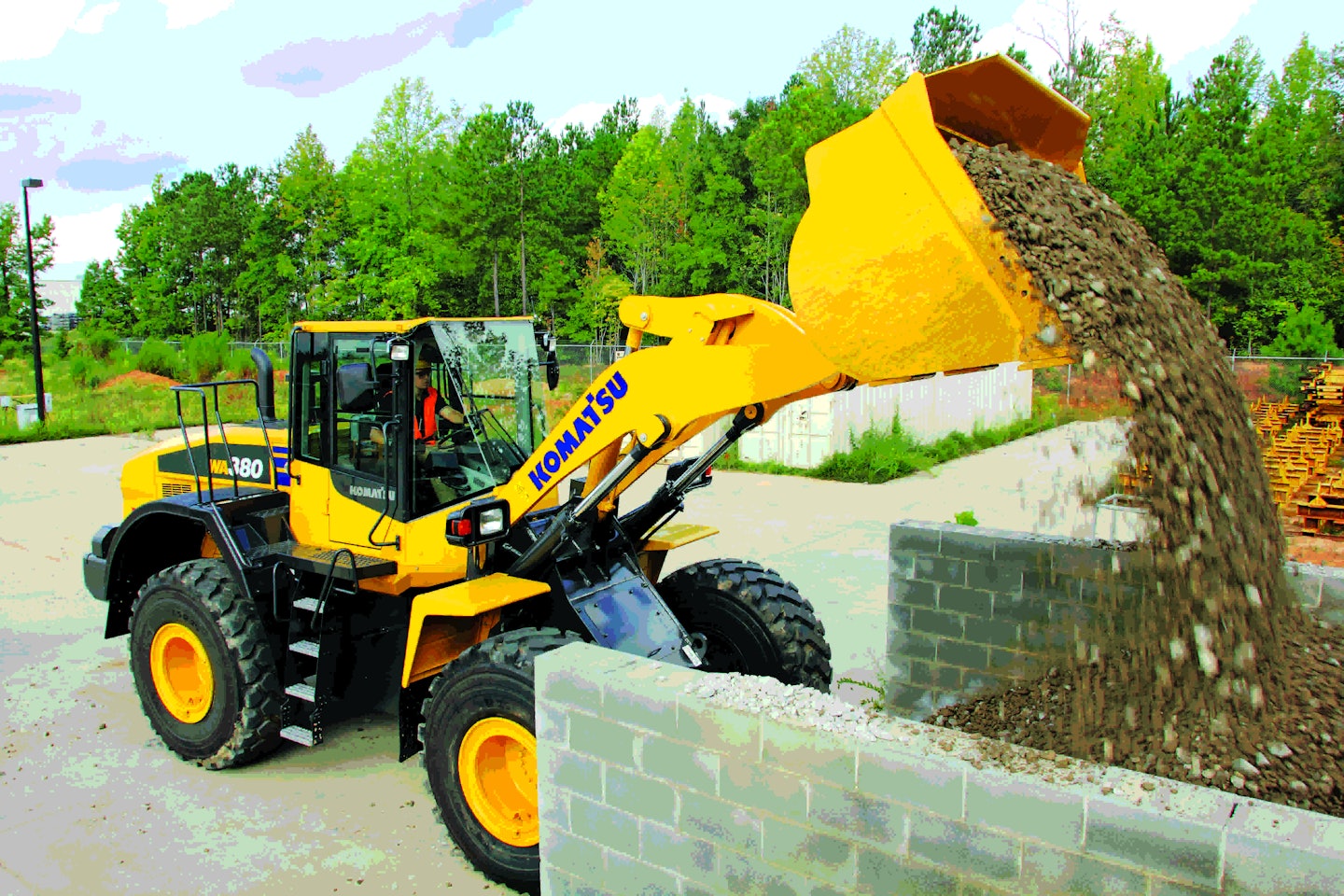 Komatsu Americas 191-horsepower WA380-7 offers 10 percent lower fuel consumption compared to its predecessor WA380-6. Weighing 39,900 pounds, the loader comes standard with the Komatsu CARE program, which includes free factory scheduled maintenance for 2,000 hours or the first three years (whichever comes first) and two free diesel particulate changes within the first five years. The machines KOMTRAX technology records operating hours, fuel consumption, location, cautions and maintenance alerts, which can be analyzed online. The Komatsu engine uses a hydraulic-actuated variable geometry turbocharger and an exhaust gas recirculation valve for longer component life. SmartLoader Logic saves fuel by matching engine torque to job demands. A standard torque converter with lock-up in gears two through four gives improved acceleration, hill climbing ability and a higher top speed, all while lowering fuel consumption. In the cab, the front glass is lower, and combined with the redesigned dashboard, improves visibility.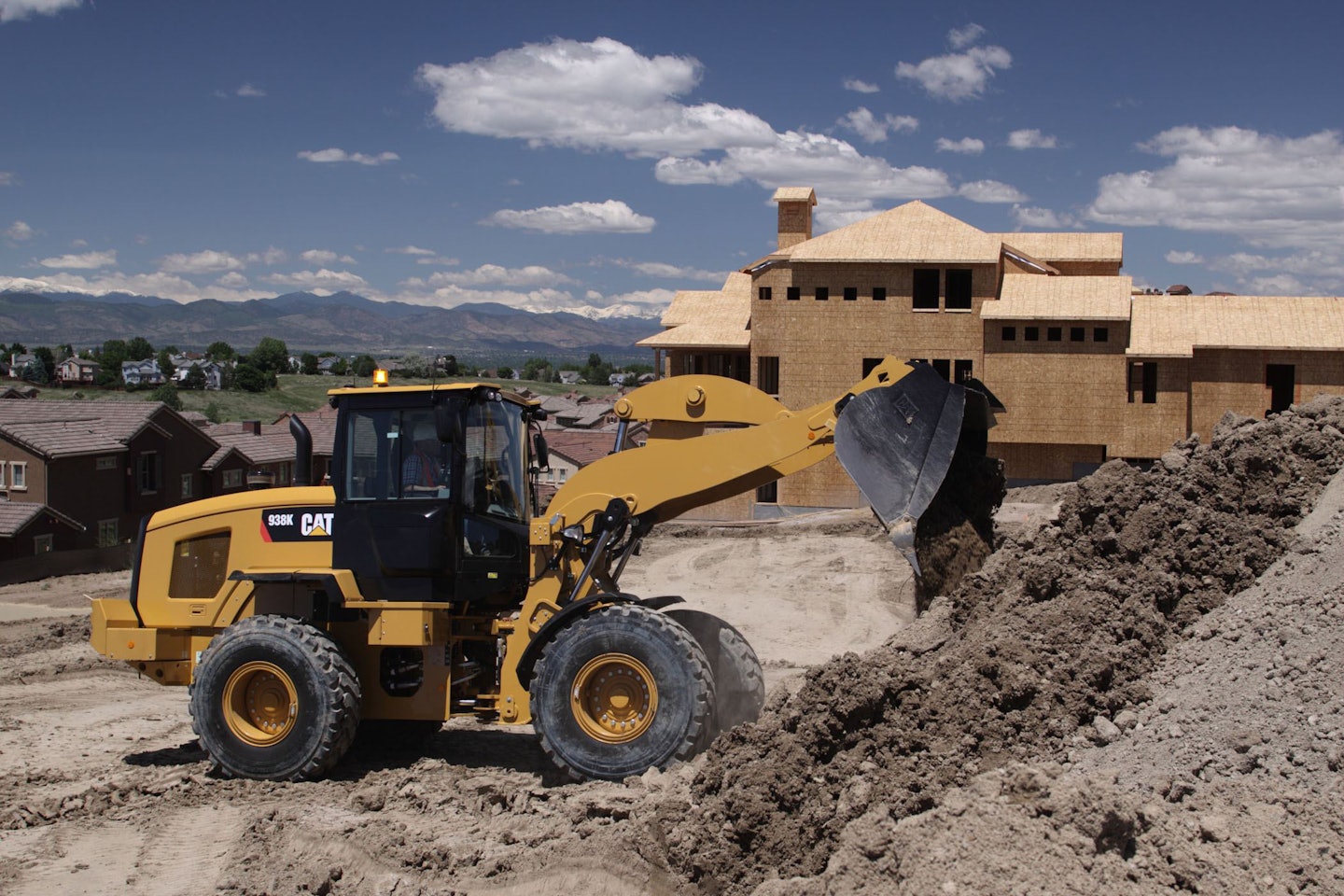 Caterpillars small wheel loader lineup, introduced last year, includes the 924K, 930K and 938K. An electronically controlled hydrostatic drive system and an Optimized Z-bar loader linkage are new, plus the models offer fuel savings of up to 30 percent compared with previous H-Series models. A significant part of this fuel savings is achieved by an 1,800 rpm rated speed setting on the C6.6 ACERT engine, compared with H-Series 2,415 rpms. The loaders diesel particulate filter automatically regenerates without interrupting normal operation. The Optimized Z-bar loader linkage, available in standard and high-lift configurations, blends the breakout power of a conventional Z-bar linkage with the parallel-lift and load-handling characteristics of Cats VersaLink, used on its toolcarrier models. A step-less, four-range, hydrostatic drive system allows independent control of ground and engine speed to efficiently power hydraulic work tools. The new creeper control lets you to adjust maximum ground speed down to 1 mph, and a rimpull-control system reduces wheel spin and tire wear.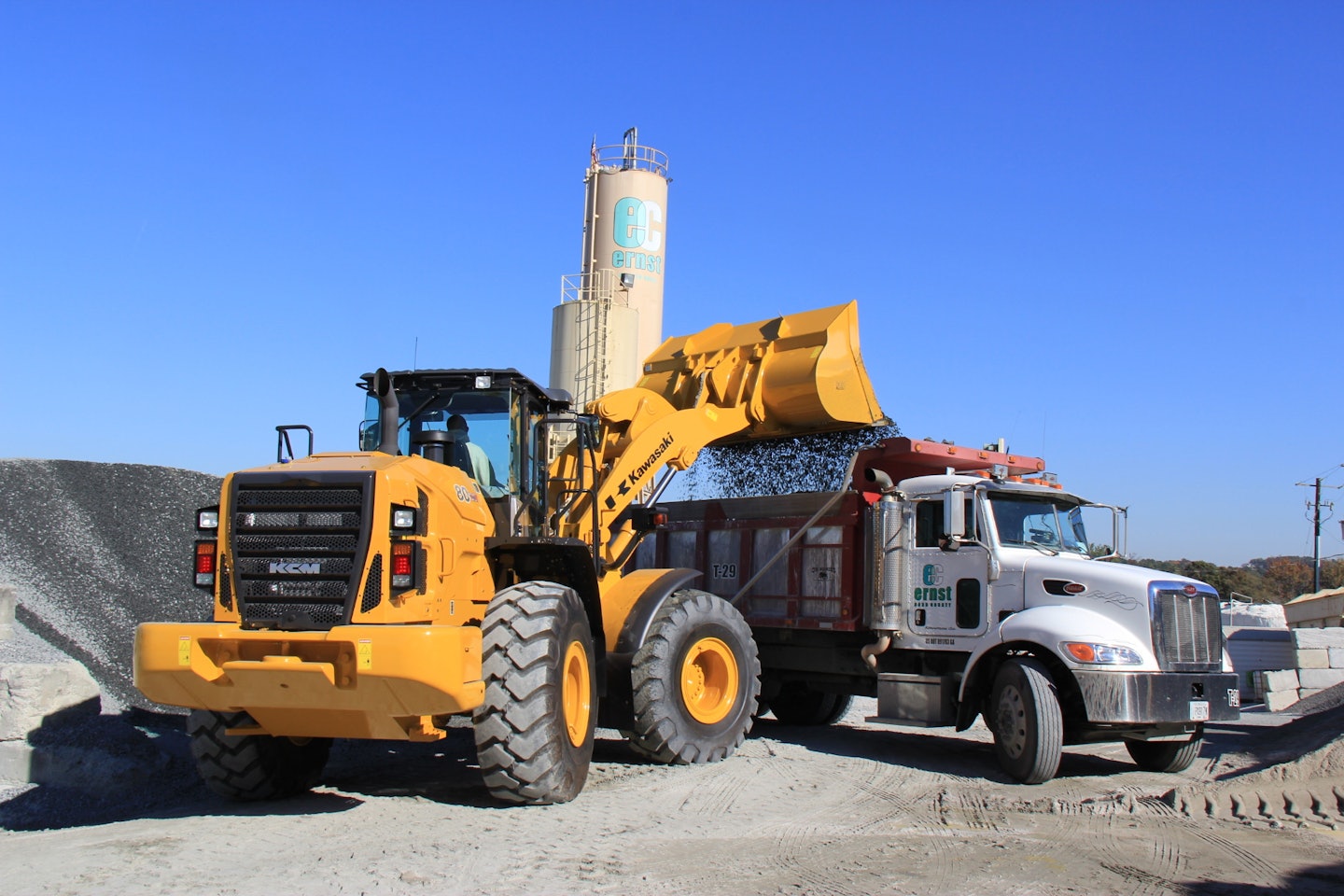 The new 4.2-cubic-yard Kawasaki 80Z7 now incorporates the companys IntelliTech features, which use logic to adjust machine operating characteristics, sensing working conditions and adjusting the powertrain and hydraulics accordingly. Fuel consumption and hydraulic performance is enhanced by the open-center, load-sensing, excavator-style hydraulic system. Now including a standard rearview camera, the cab has a pilot-assisted joystick hydraulic control with nine operating functions. A pedal pops up the tilt/telescoping steering column to make getting in and out of the machine easier. Oil change intervals have increased from 250 to 500 hours when using CJ-4 low ash oil. Use non-zinc hydraulic oil and you can double the time between hydraulic oil changes from 2,000 to 4,000 hours.
Volvos L60G, L70G and L90G loaders showcase the companys Torque Parallel Linkage, which delivers power through the lift cycle, parallel movement and long reach. The G-Series machines have an electrically operated hood, offering both increased visibility and easy access to under-the-hood service points. Powered by a 6-liter, 6-cylinder turbocharged Volvo V-ACT engine, the loaders produce between 161 and 173 horsepower, depending on the model. Working hydraulic pressures have been increased from 3,771 to 4,496 psi, providing higher breakout forces and faster lift and tilt functions. The Automatic Power Shift offers operators a choice of four gear-shifting programs, resulting in lower fuel consumption and wear. A load-sensing steering system only activates when the steering wheel is turned.
The 163-horsepower John Deere 544K loader gives serviceability a boost with same-side ground level service access. Excavator-style hydraulics sense the job at hand and deliver needed flow for smooth, fast work flow. Choose between a single-lever joystick or two-lever fingertip pilot-operated controls, both of which offer a quick-shift feature for push-button gear changes, one gear at a time. The PowerShift torque-converter transmission features SmartShift technology, which evaluates load and speed on the go, adjusting the clutch-pack engagement to match. Deeres rear-axle disconnect turns four-wheel-drive into front-wheel drive, eliminating power losses when four-wheel-drive is not needed and decreasing fuel consumption.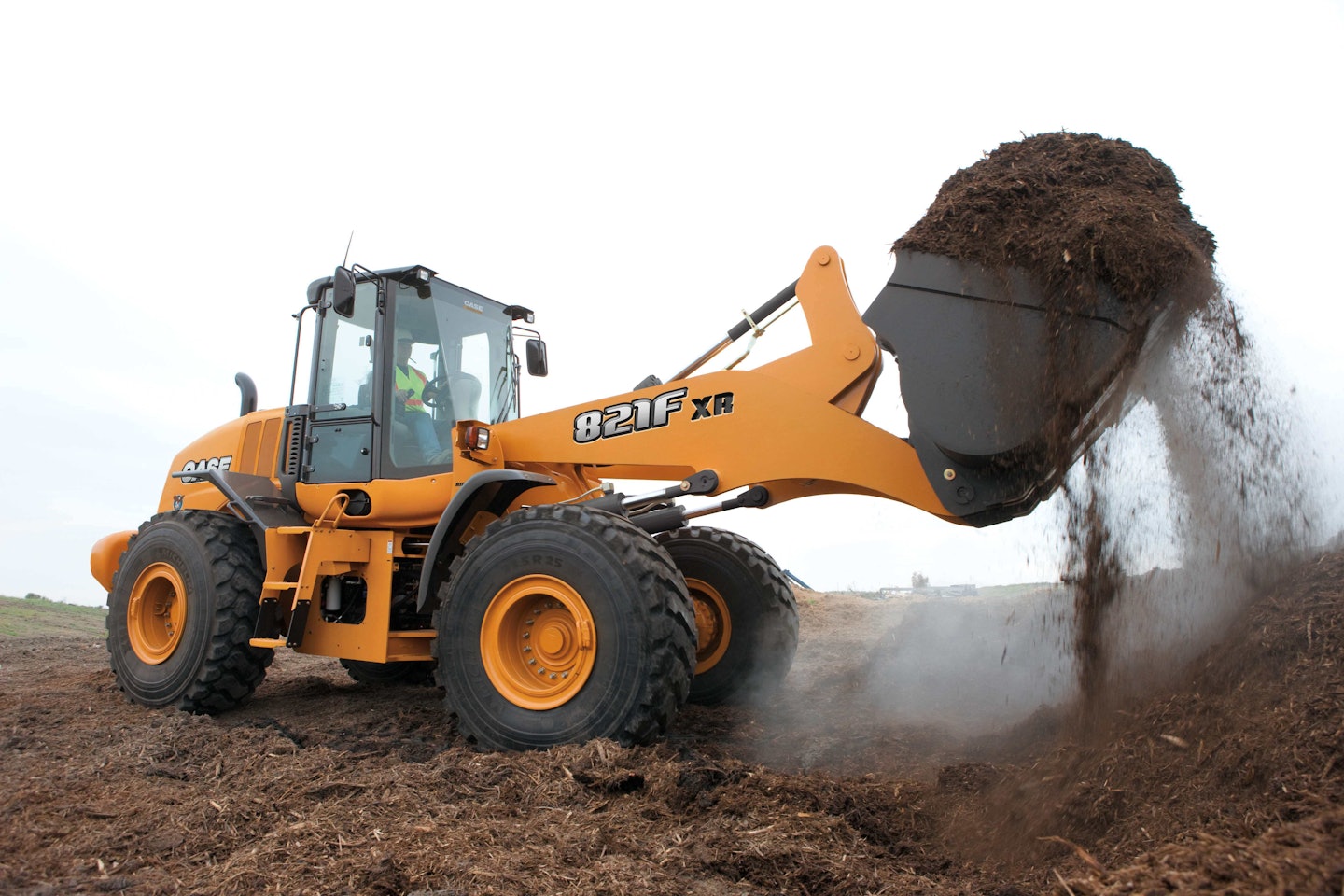 The F Series wheel loaders from Case use selective catalytic reduction engine technology to meet Tier 4 emissions standards, offering up to 20 percent better fuel economy than the E Series. Four programmable power modes economy, standard, auto and max are designed to save fuel and increase power. An optional five-speed transmission with lock-up torque converter allows faster cycles. The Powerinch intelligent transmission de-clutch aids in truck loading and hopper charging. The 3.25-cubic-yard 721F (pictured) features a 6.7-liter engine rated at 179 horsepower.
The Terex TL310 loader, with bucket capacities of 4 to 6 cubic yards, has a bucket breakout force of 34,534 pounds. Powered by the 203-horsepower Cummins, the TL310 features a load-limit-controlled hydrostatic VarioPower system, giving the loader the ability to quickly accelerate to 25 mph. The loaders SP-kinematics combines the breakout advantages of the Z linkage with the lifting advantages of parallel lift linkage. Lifting and tipping cylinders have wear resistant end-position damping. Automatic self-locking differentials on both axles enhance traction in difficult ground conditions.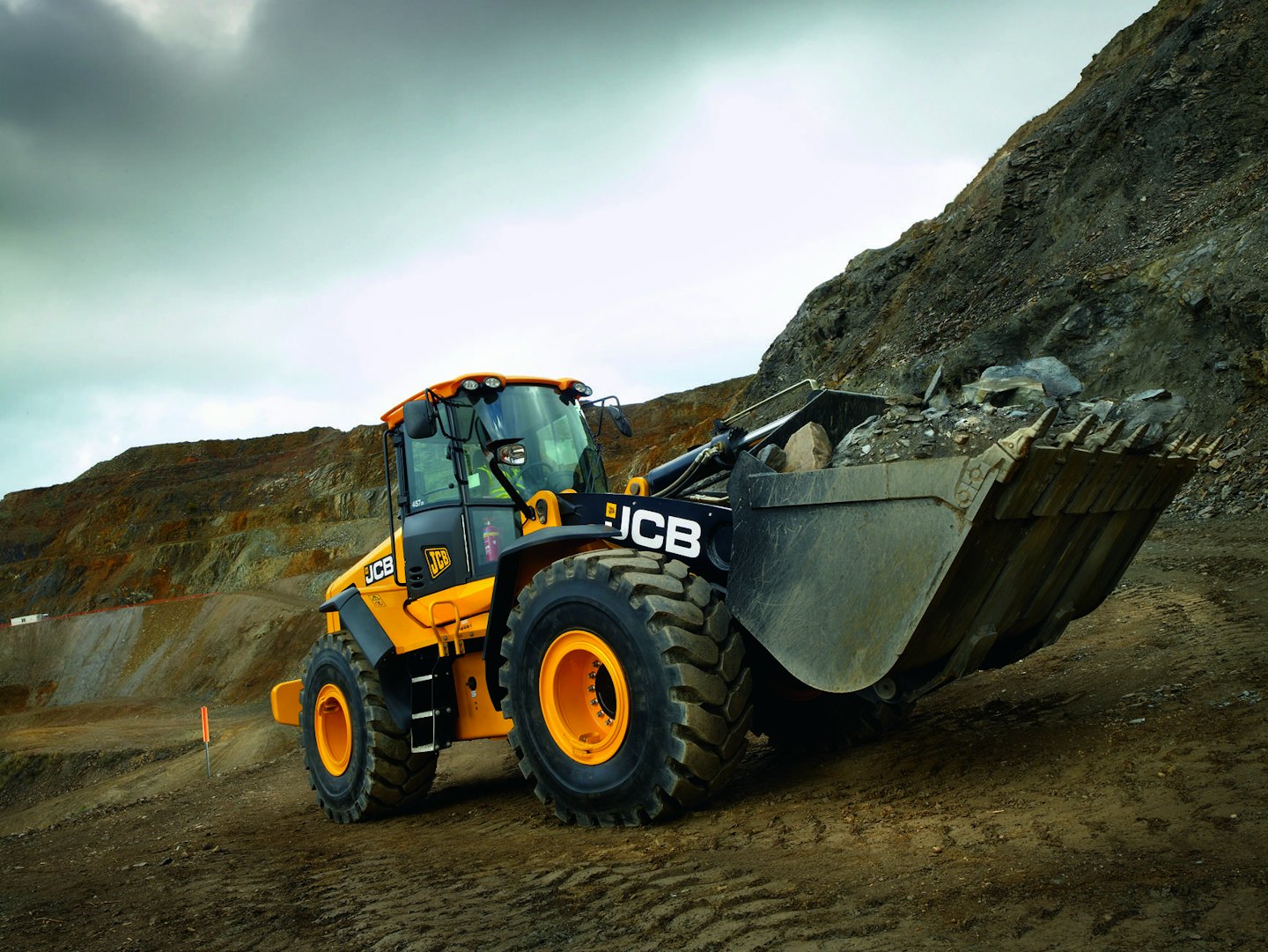 JCB introduced its 457 wheel loader which offers 16 percent more horsepower than the previous 456 model last summer in North America. The loaders 8.9-liter Cummins engine is the largest in JCBs equipment range and incorporates a high-pressure common rail fuel injection system, exhaust gas recirculation and diesel oxidation catalyst and diesel particulate filter. The 457 has 800 foot pounds of torque, an increase of 18 percent over the 456. The addition of a new Economy mode, which reduces engine output for lighter duties, gives the 457 fuel savings of up to 6 percent. Other fuel saving features include a low idle feature and an engine shutdown mode, which kicks in after a pre-determined idle period. The loader comes in either a standard four-speed automatic or optional five-speed power shift transmission. On the five-speed transmission, a lock-up torque converter activates in gears two through five, offering a noticeable difference on hill climbing, roading and load and carrying performance.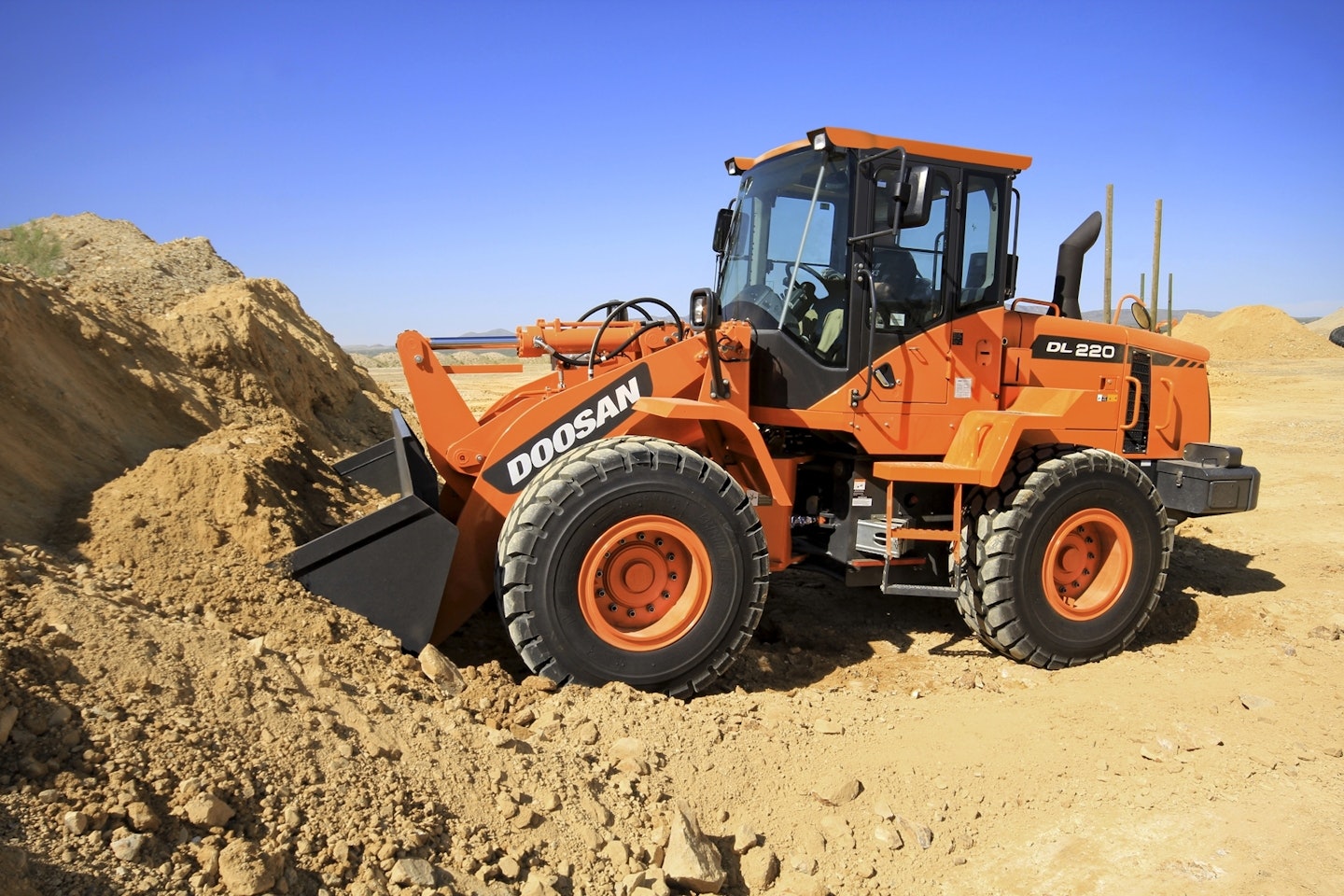 The 3-cubic-yard Doosan DL220 has been relaunched as a 160-horsepower Tier 4 Interim loader, offering a 6-cylinder cooled exhaust gas recirculation engine. The loader has a breakout force of 23,650 pounds, and a full-turn tipping capacity of 18,480 pounds, with a 9-foot, 3-inch dump height. An auto-idle feature reduces the working idle from 950 rpms to 750 rpms after the machine has been idled for a short time. Operators can set upper and lower limits for both the lift arm and bucket stop positions from inside the cab. Additional attachment capabilities are offered with an optional fourth spool control valve.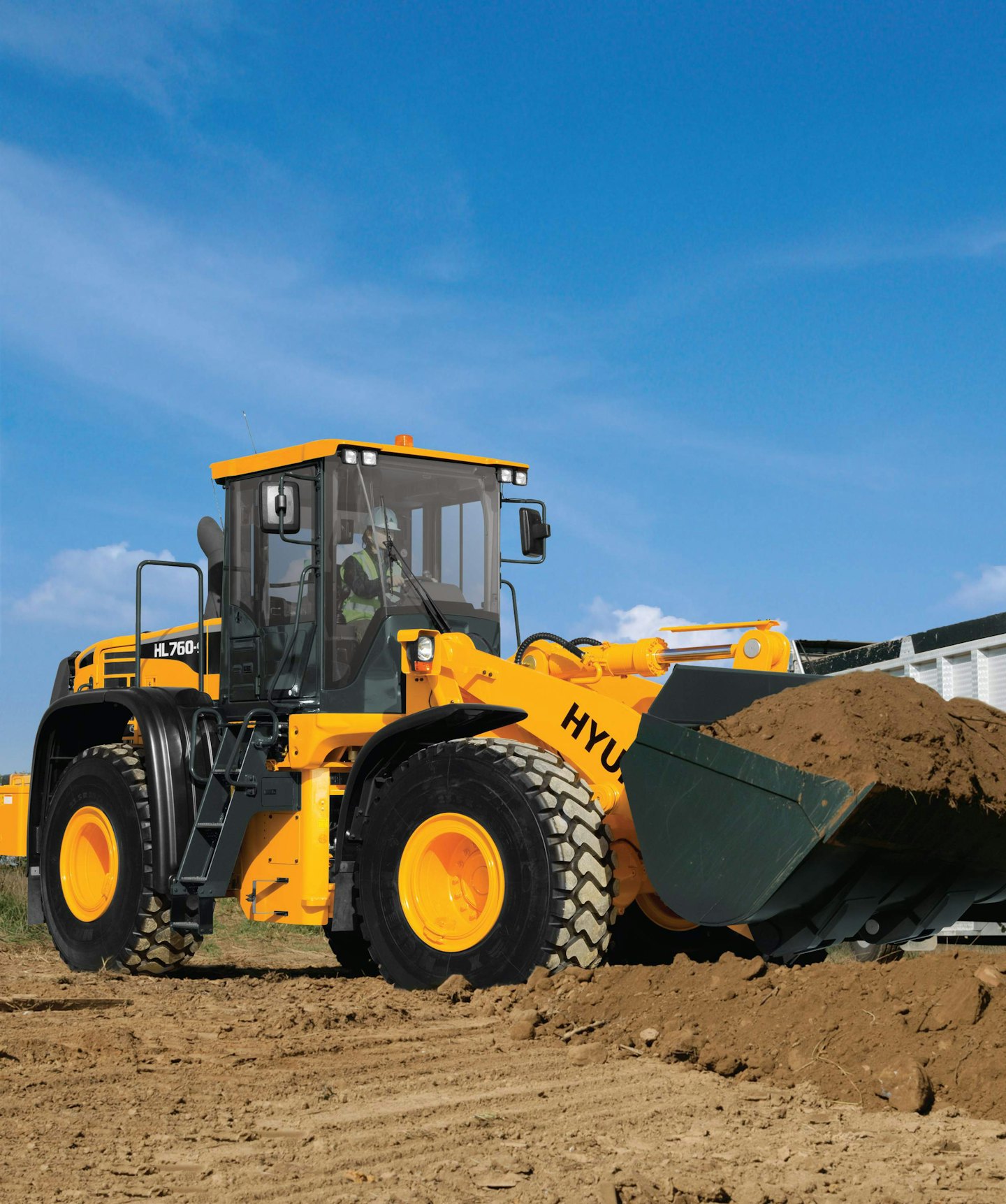 The 212-horsepower HL 760-9 loader from Hyundai Construction Equipment Americas is powered by a Cummins QSB6.7 engine and features three engine modes power, standard or Econo. The 39,460-pound machine has a breakout force of 35,780 pounds and a 9-foot 9-inch dump height. An extended reach XTD version is available for jobs requiring a higher dump height. A 5.7-inch wide LCD color monitor is mounted on adjustable swivel mounts for reduced glare. The machine comes standard with Hi-mate, a remote management system that gives owners and dealers access to online service and diagnostic information.