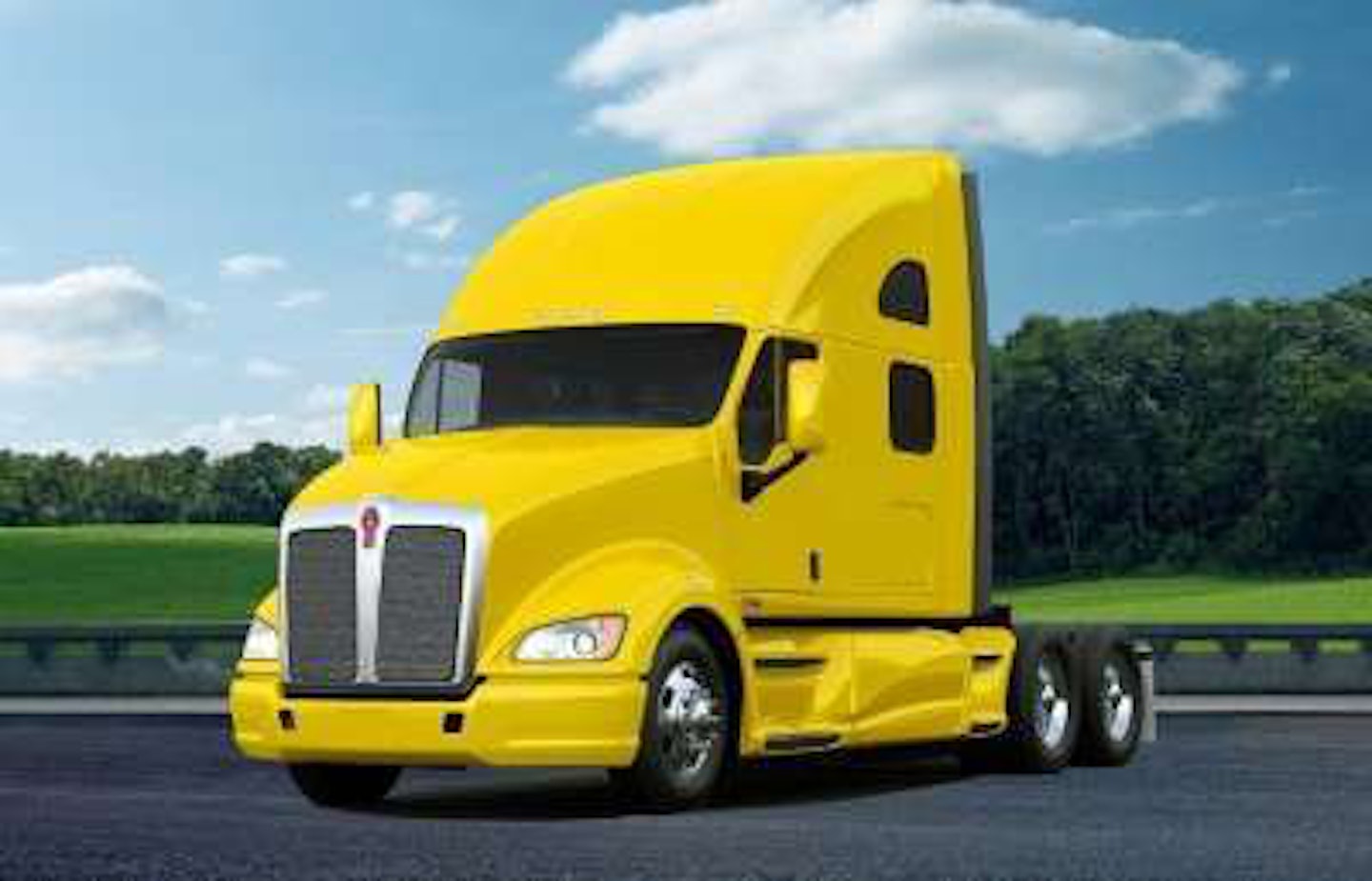 Expanding its lineup of aerodynamic Class 8 trucks, Kenworth Truck Co. introduced the T700 today, March 24, at the Kentucky Fair and Exposition Center in Louisville.
In addition to the new over-the-road model, Kenworth also introduced the 2010 Paccar MX engine for its Class 8 models and the Kenworth NavPlus, a navigational and entertainment system for Class 5-8 trucks.
Kenworth also announced a natural gas-powered version of its T440 model, suited for local and regional haul and vocational applications; the Kenworth Extended Day Cab and Kenworth 38-inch AeroCab FlatTop sleeper are available as options.
Kenworth also introduced a lightweight AG230 single-axle rear air suspension, a nontorque-reactive parallelogram suspension suited for weight-sensitive fleets and truck operators; and added two options, Eatons UltraShift Plus automated transmission and Bendix Wingman ACB Active Cruise with Braking.
Designed through the extensive use of computational fluid dynamics, Kenworth engineers have optimized aerodynamics for the T700, which is SmartWay-certified by the U.S. Environmental Protection Agency. The T700 has the lowest aerodynamic drag of any Kenworth truck in our history, said Preston Feight, Kenworth chief engineer.
Exterior features include a corrosion-resistant aluminum wire mesh grille that provides protection for cooling system components. The aerodynamic hood consists of three pieces to enhance repair, while its ball-and-socket closing system is designed to ensure proper hood placement. To help maximize airflow, the aerodynamic high roof has flush-mounted LED marker lights and no exterior sunvisor.
The aerodynamic bumper and chassis fairings are made of a material that helps minimize fading and has improved impact resistance. Thermal Plastic Olefin is UV stable in nonpainted form, which allows Kenworth to offer the T700 bumper and fairings with painted and nonpainted options. The light texture on the bumper and fairings also is designed specifically to reduce the visibility of small scrapes and scuffs.
The T700 provides standard Halogen projector headlamps and optional Xenon headlamps that offer a 3-fold and 11-fold increase, respectively, in bulb life compared to conventional sealed beams. LED turn signals are used.
On the inside, the T700 sleeper offers an 8-foot cathedral ceiling, with adequate space to sit upright in the upper bunk of the standard 75-inch Aerodyne sleeper. The sleeper includes a 42-inch liftable lower bunk, pull-out desk, full-length door-enclosed hanging closet, 60-plus cubic feet of storage choices and Xenon incandescent lighting bulbs. Among optional amenities are a drawer-style refrigerator and an adjustable flat-panel TV mount to secure and view up to a 16-inch screen.
The major interior feature is the new PC-based in-dash Kenworth NavPlus system, an 8-gigabyte-memory system that includes truck-specific navigation, vehicle data, hands-free phoning, audio controls, camera inputs, roadside assistance and optional Internet access. Kenworth NavPlus is standard on T700 premium trim offerings and optional for all other trim levels.
Developed on the Windows Embedded Automotive software platform, Kenworth NavPlus can be updated and its features and functionality set expanded over time.
Six virtual gauges provide current information on truck operation. Oil temperature, transmission temperature, manifold boost, current and average fuel economy, diesel particulate filter status and fuel pressure come preloaded. NavPlus uses the commercial vehicle J1939 SAE standard for communication, full vehicle monitoring (including hybrid system status) and diagnostics. The system is fully compatible with the Kenworth Electronic Service Analyst, a computer-base diagnostics tool that simplifies troubleshooting.
Kenworth NavPlus offers truck-optimized navigation routes from Garmin customized to a specific truck and its load. The system effectively navigates routes based on truck type, load, height, weight, length and hazardous load restrictions information entered by the fleet or driver. Drivers receive voice-prompted turn-by-turn directions, up-to-the-minute alerts on traffic conditions, plus a comprehensive guide to Kenworth dealerships in the United States and Canada.
Leading Kenworths engine lineup is the new 2010 Paccar MX engine on Kenworth Class 8 trucks. The engine is available with a horsepower range of 380 to 485 hp and torque outputs up to 1,750 lb-ft.
The companys Kenworth T700 and Paccar MX Engine Road Tour will launch in April and visit nearly 90 Kenworth dealer locations throughout the United States and Canada during the next six months. The tour will feature a T700 model equipped with a 75-inch Aerodyne sleeper and new 2010 Paccar MX engine. The tour trailer will showcase information on the two new products in addition to the new Kenworth NavPlus, AG130 front air suspension and other Kenworth products. The Eaton UltraShift automated transmission also is showcased. For dates, locations and other information, go to www.kenworth.com.
The T440s ISL G engine, which operates on either compressed natural gas (CNG) and liquefied natural gas (LNG) and is rated at 320 hp and 1,000 lb.-ft. of torque, is 2010-compliant without the use of selective catalytic reduction or a diesel particulate filter. CNG and LNG fuel tanks can be configured to suit customer applications and range requirements.
The T440 has a GVWR ranging from a heavy Class 7 vehicle at 33,000 pounds to a light Class 8 truck at 68,000 pounds and is available with 12,000- to 22,000-pound rated front axles, 21,000- to 26,000-pound rated single rear axles, and 40,000- to 46,000-pound rated tandem rear axles. Other features include an aerodynamic sloped hood, a three-piece bumper, Halogen projector headlamps, a multiplexed dash and the Kenworth Driver Information Center.
The four-bag AG230 has a capacity of 23,000 pounds in a single-axle configuration and is for on-highway and vocational applications. The fully disc brake-compatible AG230 is available for the T440, T470, T660, T700, T800 and W900 models.
The Eaton UltraShift Plus automated transmission, a new option for Kenworths Class 8 trucks, is available in 10- to 18-speed configurations with torque capabilities ranging from 1450 to 2050 lb-ft.
Another new option, Bendix Wingman ACB Active Cruise with Braking, is an adaptive cruise control system available for the T660, T700 and T800 Class 8 models. The system helps drivers maintain a set following distance behind a vehicle aided by visual and audible always-on warnings, which are available whenever the truck is in motion. Upon engaging the cruise control, the system also then provides active interventions including dethrottling, engaging the engine retarder and applying the brakes to help maintain the set following distance. The system includes stationary object alerts that help drivers by providing warnings on metallic objects, such as stalled cars, in their lane of travel.