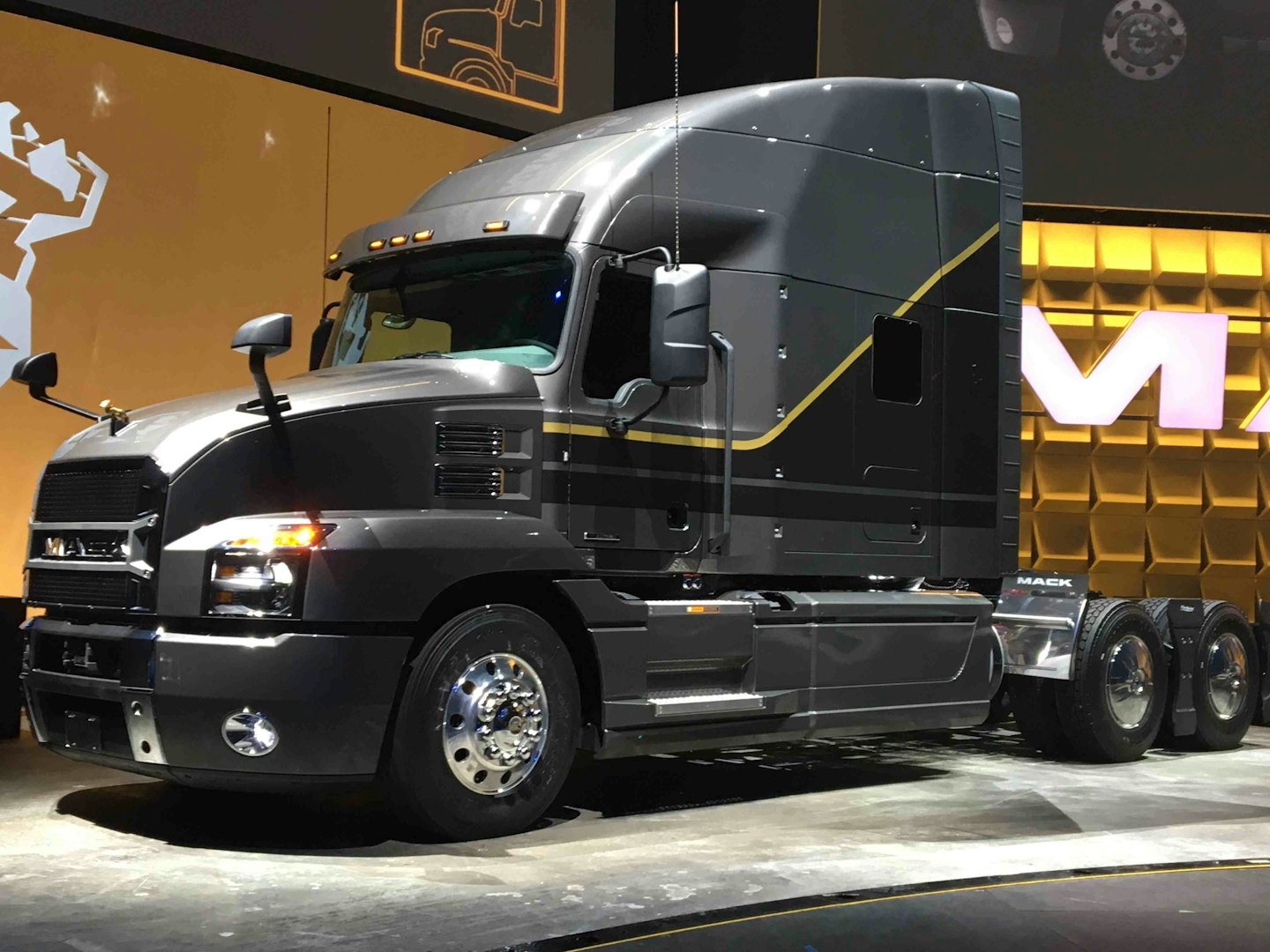 Mack Trucks on Wednesday upped its ante in the companys on-highway business with the debut of Macks newest, most driver-centric tractor to-date.
The Anthem model was unveiled at Macks Global Dealer Summit in Allentown, Penn. amid much fanfare and following nearly two months of teasers.
For me, this is almost like Christmas Day, Volvo Group CEO Martin Lundstedt said shortly before unveiling the truck to the companys dealer force and gathered media.
Mack Anthems enhancements help improve fuel efficiency by up to 3 percent, mostly through a redesigned hood and bumper that not only improve aerodynamics, but also cut service time thanks to their three-piece design.
Designers managed to pull better fuel economy out of the truck, Mack Vice President of Global Marketing and Brand Management John Walsh said, without sacrificing Macks traditional body lines.
[The Anthem] proves that a truck doesnt have to look like a jelly bean to get great fuel economy, he said.
It was just fantastic, Lundstedt said of his first reaction when he first saw the design of the new truck months ahead of its debut Wednesday. This [truck] is Mack, and this is a platform that expresses where we are coming from but also where we are heading for the future. Its a platform that will provide all the things we need to move forward.
The trucks model name, Anthem, is an homage to the company itself, which builds all its North American trucks in the Lower Macungie Township, Penn., plant.
[The Mack Anthem] is the right highway truck for North America, said Mack Vice President of Global Marketing and Brand Management John Walsh. We are an American brand. We were born here. We were raised here, and we literally helped build this country. The name Anthem speaks to that American spirit.
If any truck deserves to be called Anthem, it is a Mack, Mack President Denny Slagle added.
The truck was engineered with an emphasis on driver comfort and productivity and is available in day cab, an all-new 48-inch flat top sleeper and an all-new 70-inch stand-up sleeper that features 35 percent more space than previous models and 27 cubic feet of storage.
The Anthem is available with the 13-liter Mack MP8 engine with up to 505 horsepower and 1,860 lb.-ft. of torque depending on spec. Also available as an option is Macks 11-liter MP7 with up to 425 horsepower and 1,560 lb.-ft. of torque.
Slagle called Wednesdays launch a new day and a new start.
When truckers get a full view of these products, [the truck dealers] phone wont stop ringing, he adds.
Anthem ultimately will replace the Pinnacle axle back model.
Note: CCJ has been invited for an extended test drive of the Mack Anthem through this weekend. A full review of the truck, along with additional details, will be published over the next several days.