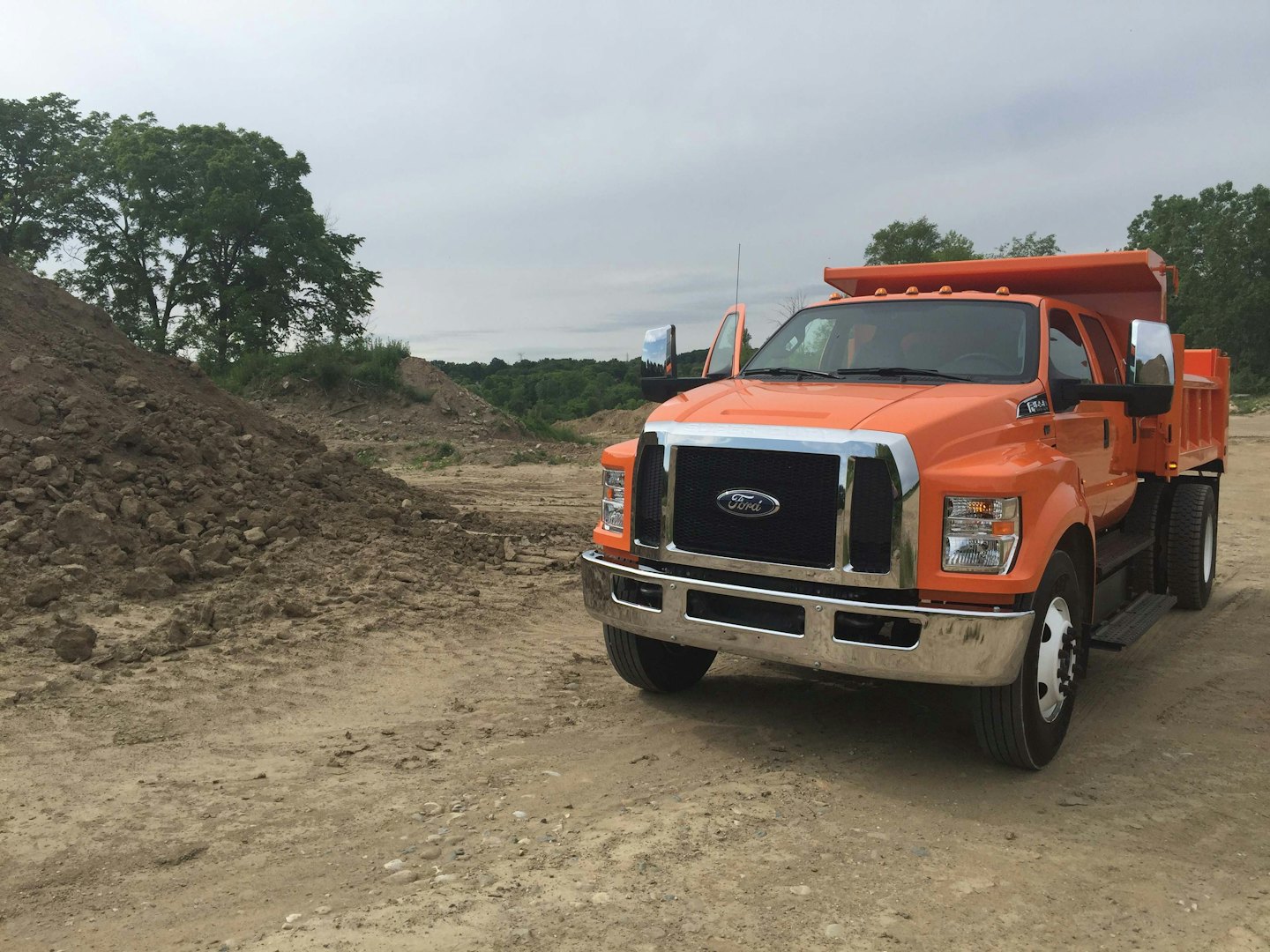 Sitting in Fords F-650, towering above the surrounding traffic, feels strangely familiar. Strange only because I havent driven the truck before, but familiar because of how much of its design is shared with its Super Duty siblings.
This generation F-650 gets a facelift that puts exterior styling and interior comforts more inline with the rest of the Super Duty lineup.
The bright orange 2016 F-650 dump truck I piloted through the greater Ann Arbor, Mich., area featured Fords Triton V-10 gasoline engine. Pumping out 320 horsepower and 460 lb.-ft. of torque, the 6.8 liter is the only gasoline engine offered in a Class 6-7 truck.
Whether in or outside of the cab, engine sound is minimal hardly louder than you would expect from any standard size pickup and that offers additional benefits.
Pulling up on a job site before 7 a.m., people really appreciate not hearing the diesel clatter coming down the road, says Kevin Koester, Fords medium duty truck and Super Duty fleet brand manager.
An optional 6.7-liter Power Stroke V-8 turbo diesel is also available with three power ratings. For anyone whos driven the current generation Power Stroke diesels, you know diesel clatter is pretty minimal as well.
Regardless of which engine you choose, youll wind up with a fully integrated Built Ford Tough powertrain. The Cummins inline-six and Allison automatic transmission are no longer available. After the dissolution of Blue Diamond Truck Company a partnership between Ford and Navistar Ford went all-in on its own gasoline and Power Stroke diesel engines along with its built-in-house TorqShift HD 6-speed automatic transmission.
Inside my 4-door Crew Cab test truck, many cues are again borrowed from smaller Super Duty models, like the XLT cloth seats. Gauges, auxiliary switches and controls including power window and locks were all conveniently located and within reasonable reach for the driver.
The ergonomics are very similar to Super Duty, Koester adds. Youre just riding higher.
The air conditioning was cold on a cool June afternoon and the truck is standard with Fords SYNC system, which offers hands-free calling, AppLink and Bluetooth capabilities. If creature comforts are important, youll find plenty in the new F-650.
The chrome snout brings a little bling to a truck otherwise designed to be battered around a construction site, but the white 22.5-inch steel wheels bring you crashing back to the reality that this really is a work truck.
Egress in and out of the truck is surprisingly easy thanks to strategically located grab handles and side steps.
The front axle, a 8,500-lb. Dana D-850F, features 8,500-lb. parabolic taperleafs while the rear gets a 17,500-lb. Dana S17-140 (6.50 ratio) on 19,000-lb. multi-leafs.
Longer leaf springs versus prior generation models give the F-650 a smoother ride, almost like youre driving your pickup if your pickup was huge and had a GVWR of upwards of 26,000 pounds. Okay so it doesnt ride or handle exactly like a pickup, but it does drive more like one than you otherwise might expect. Steering was tight for a truck of its size.
Maneuverability, thanks in part to the massive windshield and the visibility it provides, was incredible. Navigating some of Michigans rural roads in a truck with a 194 inch wheelbase loaded with 5 yards of top soil was surprisingly easy and comfortable and posed little challenge to the rear springs. Ride and handing actually improved significantly with a dump full of dirt.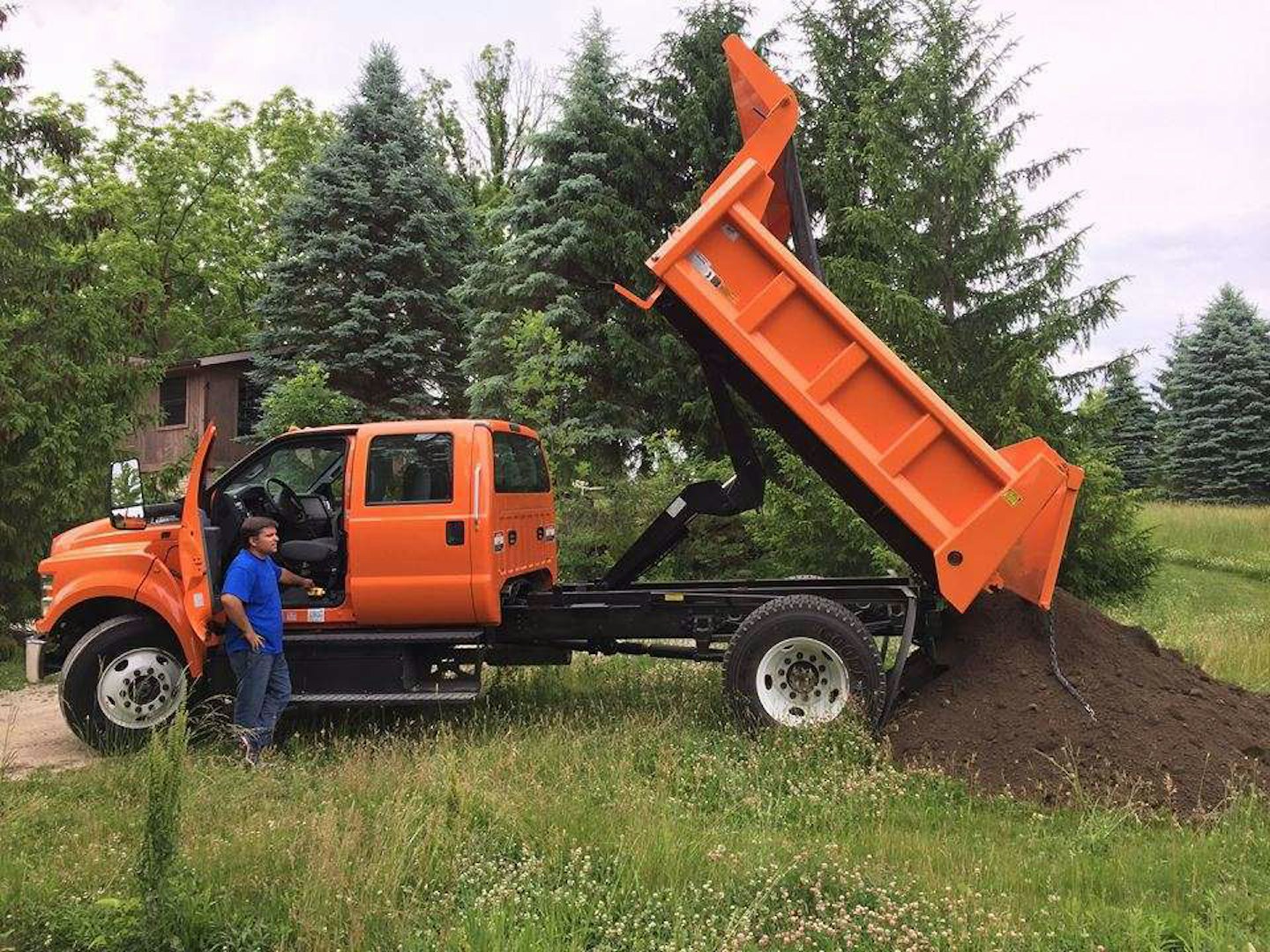 Delivering the dirt and backing the truck down a tight driveway while simultaneously trying to avoid trees and a barn was hardly a challenge. The oversized side mirrors provided great perspective and a wide view of the obstacles at rear.
Controls to the hydraulic Rugby 10-foot dump body were conveniently located on the drivers side, and with the press of a button the top soil was unloaded in less than a minute. Maybe 120 seconds later (at most) the bed was empty, lowered, locked in place, and I was ready to get back on the road.
Ford has spent a lot of time and money re-inventing the companys trucks over the last few years and really hit a home run by aligning their Ohio-built F-650 with other, more consumer-friendly F-Series models. Getting employees safely and more comfortably to the job site will pay dividends in both improved productivity and lower turnover rates.