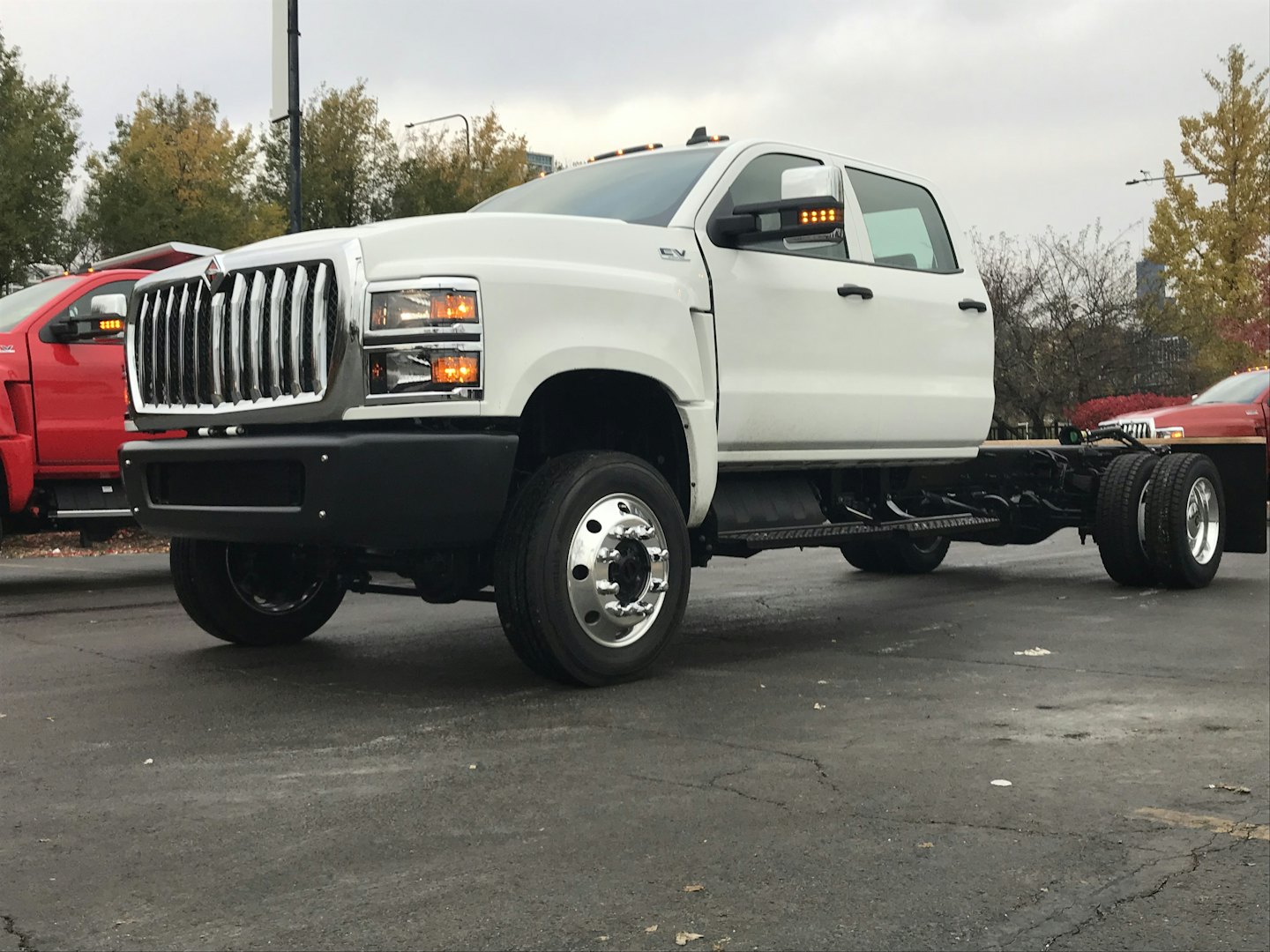 International bowed out of the medium duty vocational segment when it mothballed its TerraStar model in 2015, but the Lisle, Ill. truck maker is taking a curtain call nearly 4 years later with a new Class 4/5 truck.
The final piece of Internationals completely revamped truck lineup, the CV Series is not a consumer-grade vehicle and International says it was not designed for average joes.
This week, I took a collection of CVs for a spin around Chicagos Soldier Field home of Da Bears to get a feel for just how International plans to separate itself from the likes of Ford and its Super Duty and Rams 4500/5500 pickups.
Part of that plan doesnt have anything to do with the truck itself. International says it will lean heavily on the expertise of its dealership network, banking on the industrys largest commercial dealer network and more than 7,600 service bays.
[Commercial truck] customers dont want to do business with dealers who dabble in commercial trucks, says Navistars President of Truck and Parts Michael Cancelliere. They want a true commercial partner that will take their business from start up to scale up.
Part of scaling up is having tools that offer flexibility. Vocational customers often operate a small number of trucks that need to do multiple jobs, but with that flexibility there has to be some guarantee of reliability.
Three years ago as Navistar was winding down TerraStar and its problematic MaxxForce engine the company joined forces with General Motors, reaching a long-term agreement to develop and assemble a medium-duty, conventional cab Class 4/5 commercial truck.
The move allowed Navistar to strengthen its product lineup and GM to expand its Chevrolet commercial truck portfolio under the Silverado flag. The end result of that marriage were trucks that let each company put their best foot forward: a GM cab with an International chassis.
The CV Series features an Isuzu/General Motors-engineered 6.6 liter diesel matched with an Allison 6-speed a familiar configuration on the jobsite. Its 350 hp and 700 lb.-ft. of torque is power upgrade over the 6.4-liter MaxxForce 7 and its 300 hp, 660 lb.-ft. of torque originally found in TerraStar.
Throttle response was fantastic in all the units I tested regardless of body upfit. I drove a mixture of chassis cab, bucket trucks, flat decks and dump trucks in both two- and four-wheel drive.
Among the things that lift the CV Series over some of its Detroit-based competitors is one seemingly small detail that you might glance over unless you closely study the spec sheet.
Four-wheel drive units get a gear-driven transfer case, which are known for durability and simplicity. Theyre also known to be noisy on the low end and for making shifting on the fly the equivalent of sinking a basketball from full court. I wasnt able to test four-wheel drive mode on the asphalt around Soldier Field but I like the strategy here.
Gear-drives have largely been replaced by lighter and more user-friendly chain-drive units but in this truck, which is designed to be a workforce powerhouse, a gear driven transfer case make a lot of sense. Chain drive transfer cases are more sensitive to poor lubrication and chains can stretch over time under heavy power demand. Internationals strategy with the CV Series is to understand this truck will almost always be under heavy power demand.
Designed as a blank canvas for body up-fitters, CV offers seven available wheel bases for regular cab models and three for crew. The trucks rivetless frame rail top flange provides a clean area from cab to axle that makes it easier to mount a variety of bodies, and in order to provide flexibility for the many available upfit options the CV Series offers a dual battery box mounted under the cab and includes multiple fuel tank options and optional exhaust outlets.
Standard, self-cleaning, metal, high-grip steps are ideally placed to allow drivers and passengers better egress and ingress. Many trucks in this segment feature plastic steps which offer less of a grip for muddy work boots
A forward-tilting hood provides easy access to the engine and routine service points. On most trucks this size, a traditional rear-hinge hood makes servicing the engine difficult for anyone under 7-feet-tall.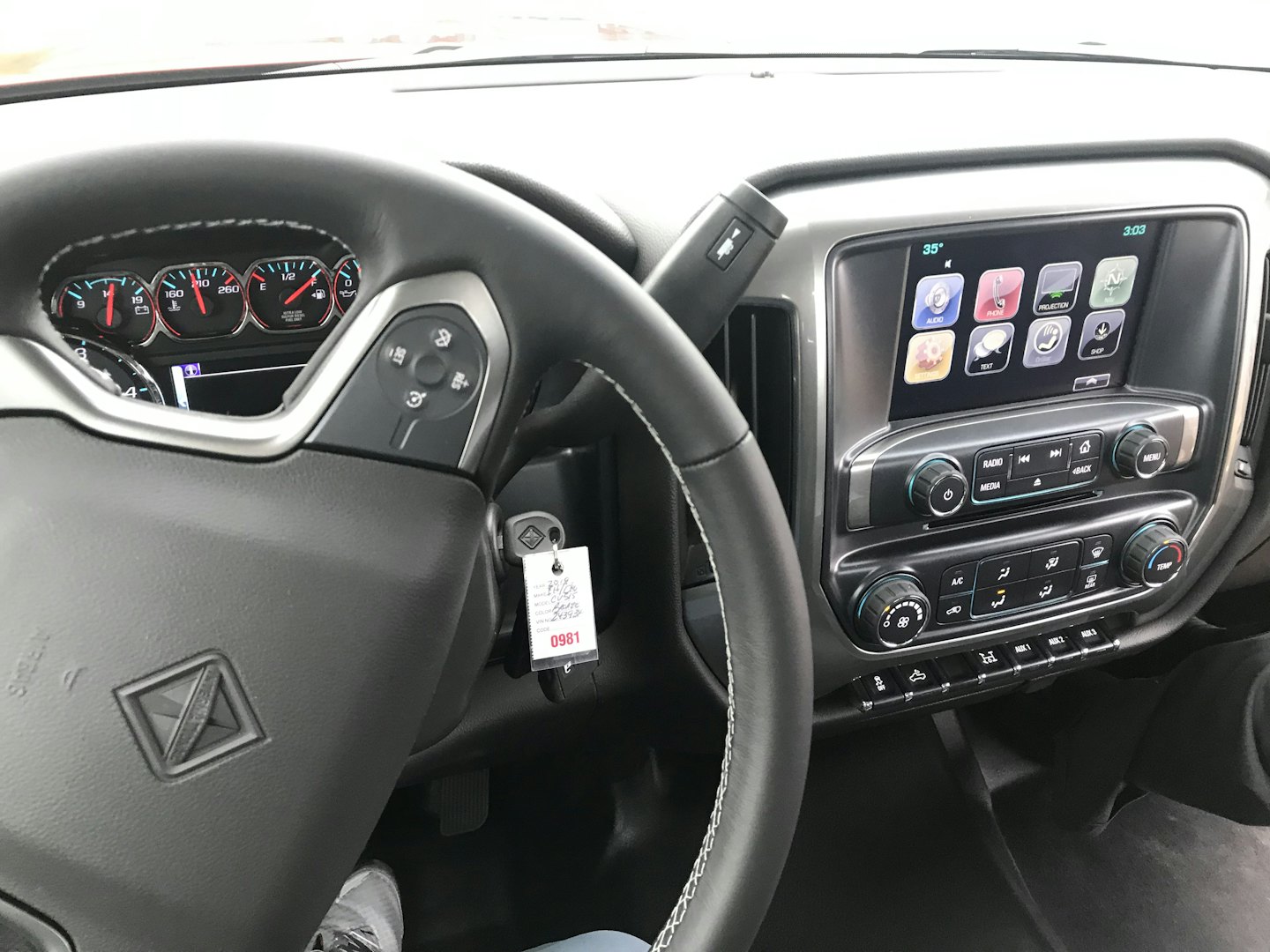 The DEF tank refill is mounted by the passenger side door to help avoid mixing the wrong fluid and that also allows the tank to be filled without opening the hood.
The trucks backbone may its ruggedness but the interior isnt lacking for finesse. Just because its not a consumer-grade truck doesnt mean it cant offer consumer-grade comfort.
Given that the CV is attempting to supplant consumer-friendly pickups, creature comforts are practically mandatory.
CV Series offers a factory-installed rear air suspension with an engine-driven compressor for a smooth ride and height adjustability. The only other truck from the Detroit Big 3 that offers this option is the CVs Silverado HD cousin.
Navistar Vice President of Product Development David Majors says the interior builds on the refinements debuted in Internationals on-highway LT and RH trucks.
The inside features supportive, high-wear cloth seats. Inlaid, triple seal doors and a dense, standard rubber floor help keep the cab quiet from wind and road noise.
Controls and switches are wide and designed to be easy to operate while wearing gloves. One to four auxiliary switches are available for specific needs depending on trim level. An available center console features hanging file folder capability.
The CV Series offers comfortable, three-across seating and the center seat back can be lowered and used as an armrest and beverage holder.
In crew cab modes, a floor-mounted center console is available with movable cup holders, cell phone storage, 12-volt charger, two USB ports and hanging file folder capability.
A 50-degree wheel cut offers excellent maneuverability for such a large vehicle and lessens the likelihood a driver will smack something on crowded jobsites. A rearview camera is also available as an option. The truck may not be considered consumer-grade but its drivability and pleasant on-road manners certainly are.
From behind the wheel, its easy to forget that the CV Series is a new model. Its powertrain has been proven for millions of miles over the past 17 years and through its partnership with General Motors, International has managed to introduce a truck with nearly a generation of baked-in legacy and reliability.