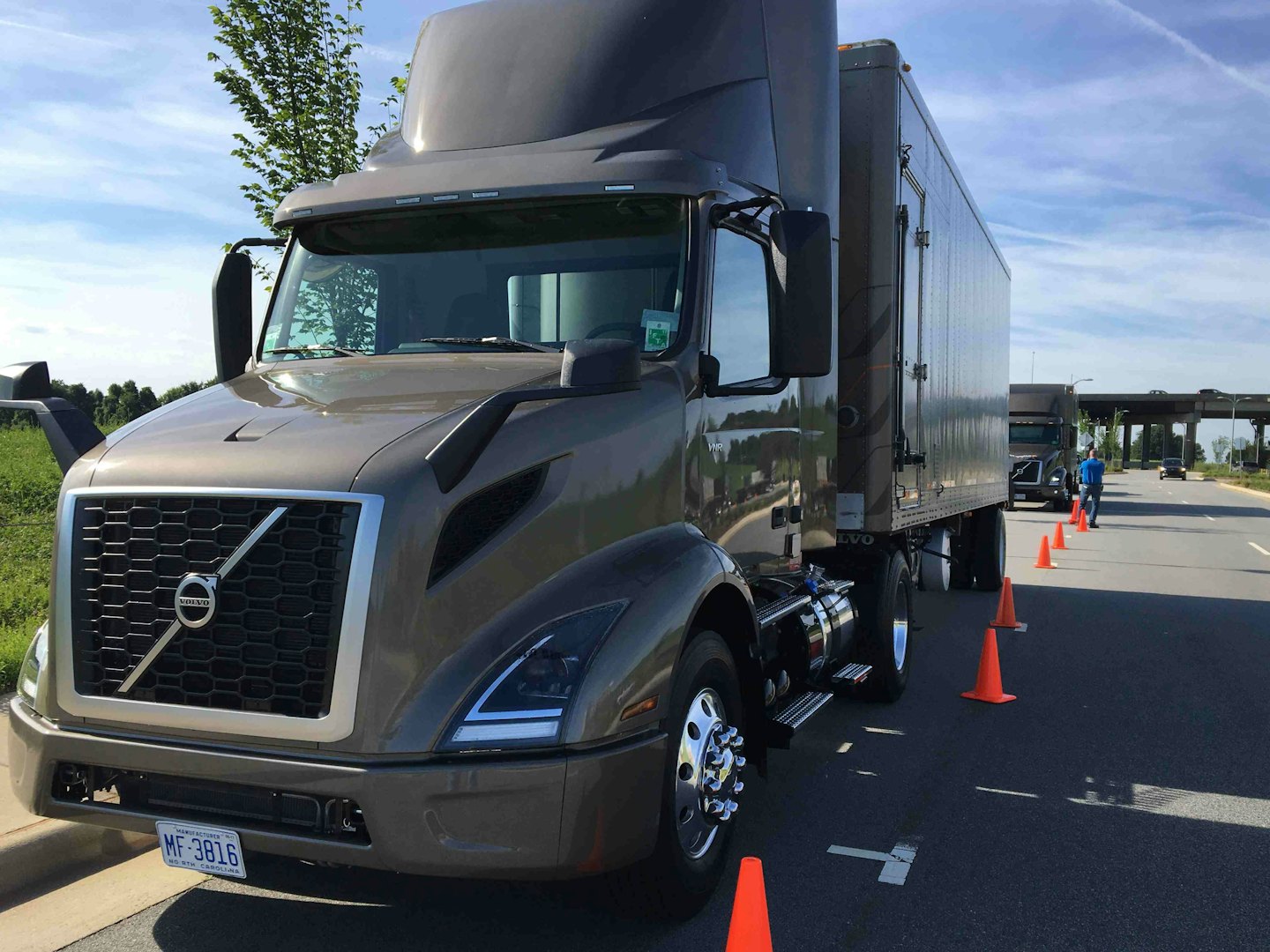 Volvo bills its new VNR tractor, which debuted publicly in April as the heir apparent to the VNM, as the future of regional haul.
Regional trucks rarely get the same attention to fuel economy and driver comfort as their long-haul siblings, but in the future with lengths of haul shrinking and drivers cries for home-time increasing amenities and aerodynamics get major consideration.
Chris Stadler, Volvo Trucks North America product marketing manager for regional haul, says many fleets suited for VNM trucks were opting to spec VNL tractors just to get the improved look and driver amenities. On the market for more than two decades, Volvos VNM tractor was dated and overdue for a refresh but VNR designers did much more than simply modernize body lines.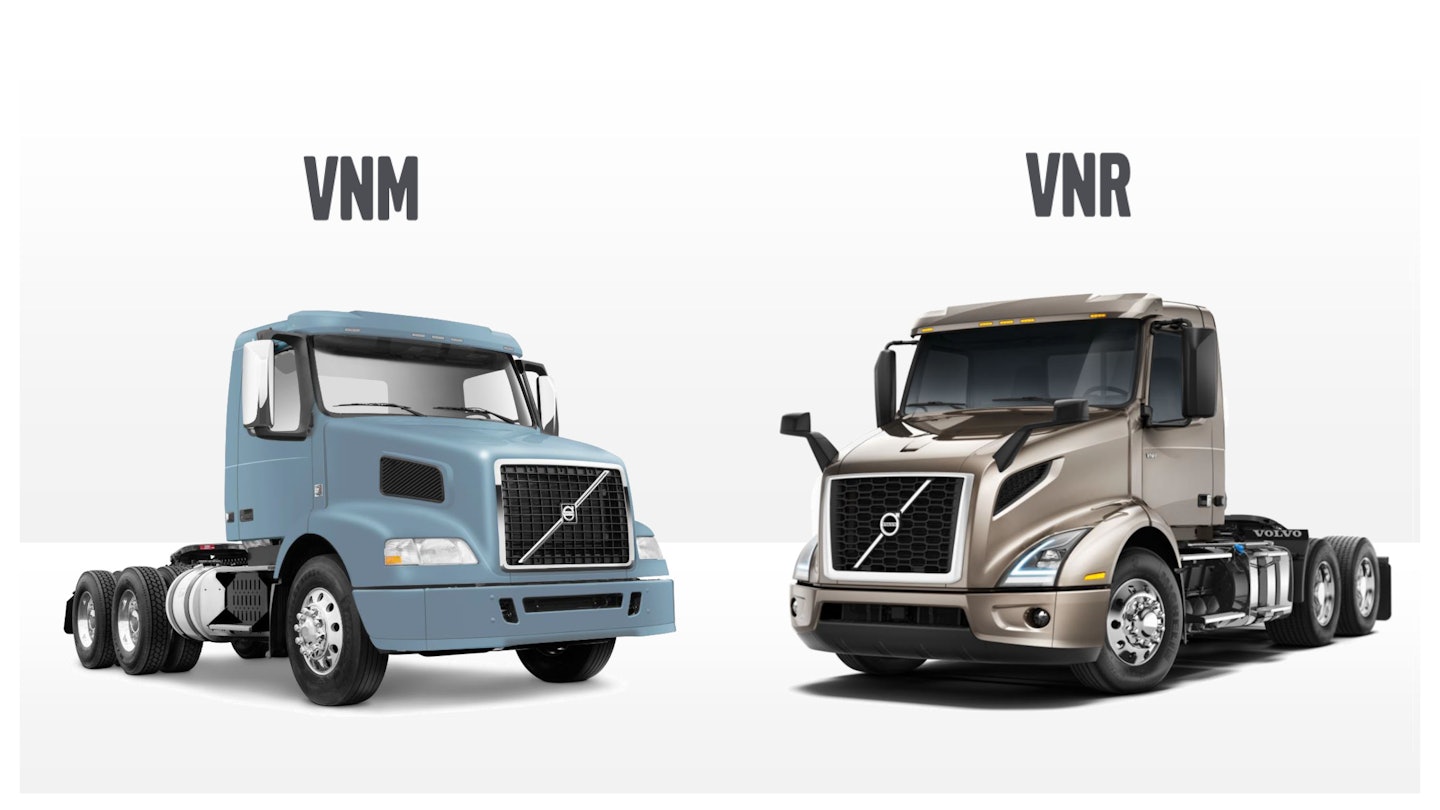 Available in three models daycab (VNR 300), 42-inch flat roof sleeper (VNR 400) and 61-inch mid-roof sleeper (VNR 640) the biggest exterior change centers around the trucks hood, which improves sight-lines by adding four extra inches of corner visibility while also weighing-in 70 pounds lighter than the VNM hood.
Aerodynamically designed LED headlights rated for 10,000 hours were pulled into the front of the truck rather than mounted along the side, lessening the likelihood of damage. A redesigned grille features a new honeycomb style that optimizes airflow under the hood, and its matte chrome bezel looks pretty cool while also boosting serviceability.
The trucks steel bumper is shaped around the truck, which further contributes to the more than 1 percent fuel economy boost from aerodynamics alone, and is equipped with removable end caps.
Updates are also plentiful inside the cab. The VNR adds two additional inches of seat travel, improving the drivers position and lowering the hip point, which makes for a more comfortable position for smaller drivers.
A new three-motion adjustable steering wheel a design borrowed from the automobile side offers a 4.5 inch telescoping range, while also providing a 30-degree head tilt relative to the position of the steering column. This allows drivers of any size to manipulate the steering wheel angle not only for comfort but also to better see the Driver Information Display (DID), and is especially helpful in slip-seat operations.
The steering wheel can accommodate up to 19 buttons for easy access to controls, which isnt as overwhelming as it sounds. Most of the buttons on the right control the DID and the buttons to the left mostly deal with cruise control and Bluetooth. The dash features an intelligent switch layout, putting switches within easy reach of the driver while also minimizing the number of blanks.
Movable modular cupholders are rail-mounted and slide via toggle switch release. An insert is available for a rail-mount electronic logging device (ELD).
An infotainment system is optional in every VNR, featuring a 7-inch color touch screen and an integrated premium audio system. Drivers can also install navigation tools and other third-party apps.
Volvo added enough USB and 12-volt power sources within the drivers reach that you can easily charge a phone and/or tablet while also powering an ELD and GPS.
With the debut of its 2017 engine lineup, Volvo was able to reduce the amount of noise filtering into the cab from the engine, and the VNRs use of a dense floor covering and insulation dampens road noise even further. Acoustics from the sound system have been improved by relocating the speaker lower on the door, and the door also features deeper pockets for storage.
Each VNR comes with an option of three interior trim levels: Fleet, Express and Premium. Seven different seat options are available independent of trim level selection. I tested a VNR 400 outfitted in Fleet trim, and the lowest cost option doesnt look or feel cheap. Its really well done and nicely appointed.
A holdover from the VNM, all three VNR models measure 51.1 inches from bumper-to-front-axle and feature a 50-degree wheel cut, but the VNRs extra 4-inches of corner visibility really shines in tight spaces and in urban traffic. At 113-inches, the VNRs bumper-t0-back-of-cab is about 9-inches shorter than the VNL, making tight turns far more uneventful.
I put the VNR 300s maneuverability to the test during a white-knuckle drive hauling a 28-foot trailer through crowded urban roads around Winston-Salem, N.C., this week and found its ability to fight traffic on narrow streets surprisingly effortless.
The VNR comes standard with a 12 speed I-Shift transmission and Volvos D11 engine (up to 425 horsepower and 1,550 lb.-ft. of torque) that, when compared to a VNM specd with an EPA 2014 engine, features a fuel efficiency improvement of about 2.5 percent. Equipped with 425 hp, my truck was a little over-specd for its 43,680 GVW, but Stadler says one of Volvos goals in developing the VNR was to build in enough flexibility including offering a large sleeper and optional D13 engine that the truck could adapt as a fleets load type and length of haul changes.
The extra horses came in handy when I jumped into a VNR 400 tasked with hauling nearly 76,000 of concrete block on the highway, and they effortlessly dragged the load to and from the skirts of Mount Airy, N.C.
Both the D11 and the optional Volvo D13 engine (up to 500 horsepower and 1,850 lb.-ft. of torque) can be matched to either the standard 12 speed I-Shift, a 12 speed Severe Duty I-Shift, either a 13 or 14 speed I-Shift with Crawler Gears or a 10, 13 or 18 speed Eaton Fuller manual.
Outside of a few niche operations, why you would opt to shift gears is beyond me, especially in a downtown start-and-stop application. The I-Shift is flawlessly smooth and precise. Additionally, my VNR 300 was equipped with Volvos Hill Start Assist, which prevents roll-back when the driver takes their foot off the brake to start up a steep grade. This feature came in handy as traffic began to stack up in heavy construction zones downtown.
The future of regional haul will officially succeed the VNM as Volvos regional flagship truck later this year, and should prove that even short hauls can be long on comfort and design.