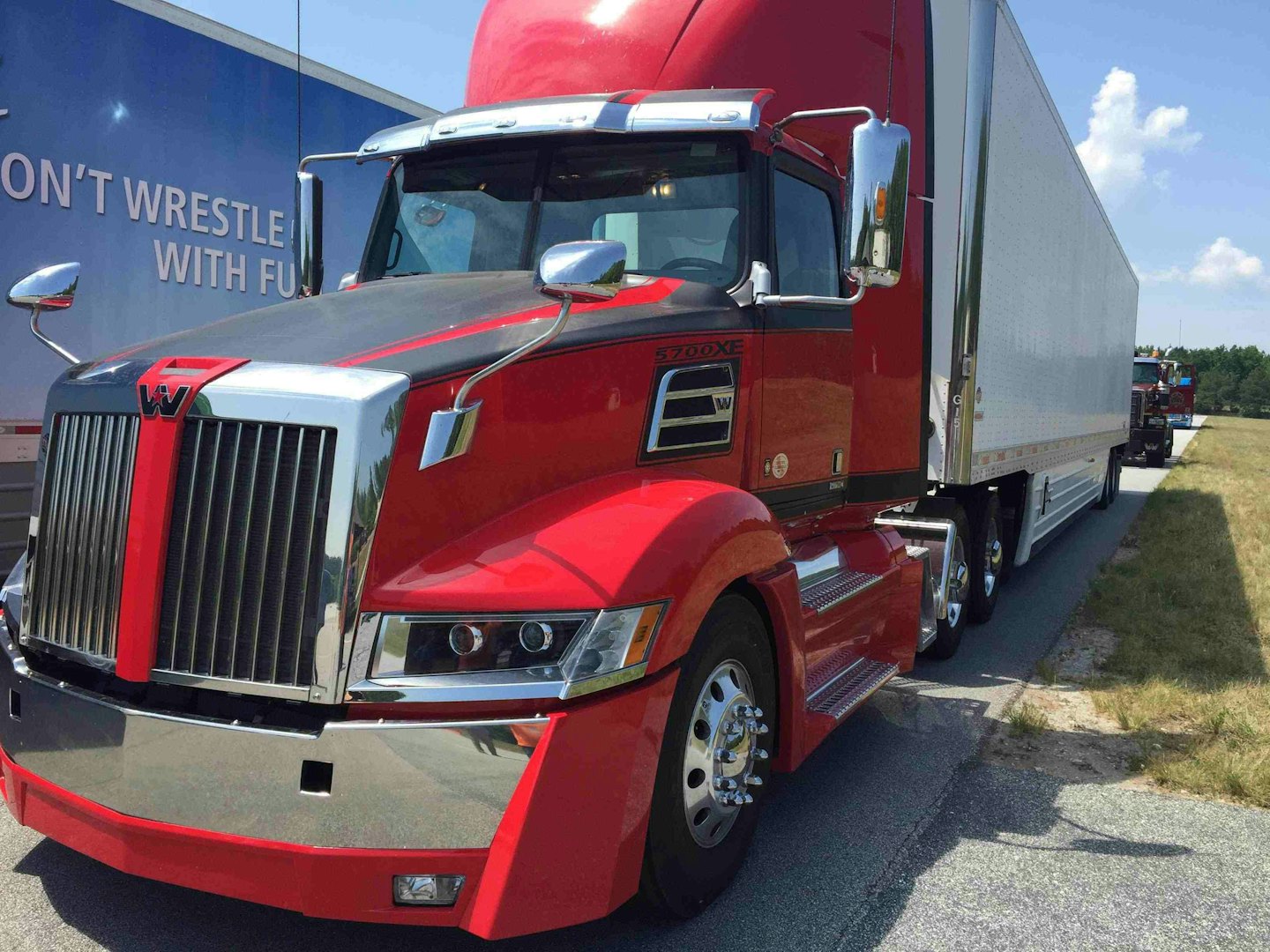 Its not impractical to assume that when aero engineers get an eyeful of Western Stars 5700XE, they flinch. Its not exactly your cookie cutter aerodynamic truck, but thats exactly what makes this truck ooze Western Star defying convention and doing things its own way.
With efficiency and aerodynamics industry buzzwords XE stands for extreme efficiency, after all Western Star needed a seat at the aero table, but was unwilling to sacrifice its unique styling cues to get there.
In fact, as much work went into making sure the truck look like a Western Star as went into getting the wind to whip around it.
Mike Guarino, on-highway and municipal segment manager with Western Star, says the company wasnt interested in a jelly bean shape just for the sake of boosting MPGs. Instead, they clung tightly to refining Western Stars trademark boxy design and sharp edges and leaned heavily on Detroit powertrain integration.
Boosting powertrain efficiencies, coupled with exterior aerodynamics improvement, has made the 5700XE the second most efficient truck on the road behind only Freightliners Cascadia.
And with the Phantom Package, a hot rod-inspired throwback decal kit available as an option, drivers can push 8MPG and look cool in the process. Kelley Platt, Western Stars president, calls the truck badass. She winces as the words come out of her mouth but shes right. Everything about this truck is uniquely Western Star and, yes, badass.
Take, for example, the distinct visor. Rather than tossing the classic accent piece into the trash, Guarino says it was specifically re-engineered to work with the slope in the hoods rear air ramp to direct airflow over the cab.
Roof and cab fairings sweep back to tighten the trailer gap and direct air flow over and around the trailer. The Western Star Twin Force dual air intake feeds a large centrally mounted air filter to further improve efficiency, along with a new sweptback four-piece bumper with an under-bumper valance.
Recently, I was able to drive three models of the 57ooXE around Michelins Laurens, S.C. proving grounds a day cab, a 68-inch high-roof and an 82 inch sleeper.
The DD15 engine (14.8 liters, 505 hp) powering the two larger units provided ample power for the two maxed out trailers, and the DT12 automated manual transmission (AMT) was more than responsive.
The day cab model was outfitted with an equally impressive DD13 (12.8 liters, 450 hp), again with a DT12 AMT.
As of this fall, Western Star Trucks will offer Eatons UltraShift Plus transmission in the 5700XE, allowing the truck to operate with an AMT in several new applications that require PTOs and higher gross combination ratings. The new Eaton Advantage 10-speed AMT will be available for the 5700XE after the first of next year and available with multiple PTO locations. This transmission model line-up lets customers spec a 10-speed transmission up to 110,000 lbs. GCVWR, a 13-speed transmission up to 140,000 lbs. GCVWR, and an 18-speed transmission with no published GCVWR limit.
Barely a quarter-mile into the drive and its easy to see why many fleets have gravitated to the 5700XE as reward for top drivers. Its comfortable and not physically taxing to drive. And, of course, its badass.
Cabin noise is shockingly low, even with the three-stage engine brake on the DD15 helping aggressively slow the truck ahead of a turn.
Western Star is going all-in with its aero-model truck, hitching its marketshare growth to the fifth wheel of the 5700XE. Dealers have 100 5700XE demo units in the field and fuel economy numbers have landed well into the 7 MPG range on many trucks. One of the companys largest fleet customers recently reported a 7.86 MPG average on their own independent fuel economy test.
Nearly 1,400 XE units were ordered in 2015 and through mid-March, more than 750 units have been delivered to 331 different customers.
With positive customer testimonies pouring in almost daily, and dealers pushing one of the most efficient and comfortable trucks on the market, I think there are a lot of good things in store for Western Star and its badass 5700XE.